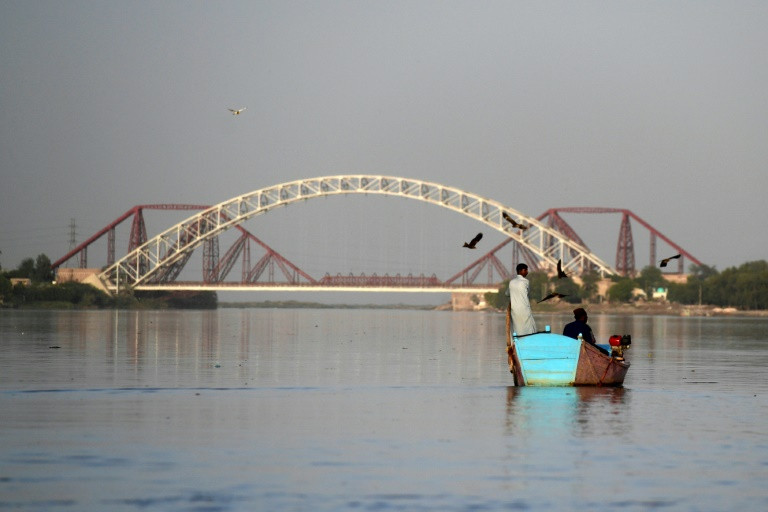 ---
KARACHI:
The Flood Forecasting Division (FFD) on Sunday issued a high-level flood warning in the Indus River at Taunsa Barrage and Chashma Barrage, located in Punjab.
According to Express News, the water levels in rivers and dams across the country are reaching a dangerous rise with the Kabul River experiencing a high flood as well.
The FFD further issued directives for the inhabitants to evacuate the area and move to safer regions.
Meanwhile, the Indus River System Authority (IRSA) too has issued a warning of a high level of flood in the Indus River at Taunsa Barrage and Sukkur Barrage.
As per IRSA, the inflow of water at Taunsa Barrage is 515,000 cusecs while at the Sukkur Barrage, it is 562,000 cusecs.
Read: K-P overwhelmed by deluge
In a statement issued, IRSA said that there is a medium level of flood at Chashma Barrage where the flow of water is 461,000 cusecs, whereas at Nowshera, Khyber-Pakhtunkwa, it is at 305,000 cusecs.
It was further reported that the inflow of water at Tarbela in the Indus River is 311,000 cusecs, at Mangla Dam in Jhelum it is 53,000 cusecs and at Kala Bagh, it is 425,000 cusecs.
Moreover, at Marala in the Chenab River, the flow is 66,000 cusecs, at Guddu Barrage, it is 485,000 cusecs and at Kotri Barrage, it is 334,000.
The statement furthered that since April 1, almost 13.8 million acre-feet of water has been diverted to the sea as the total water storage in the dams is 9.2 million acre-feet.