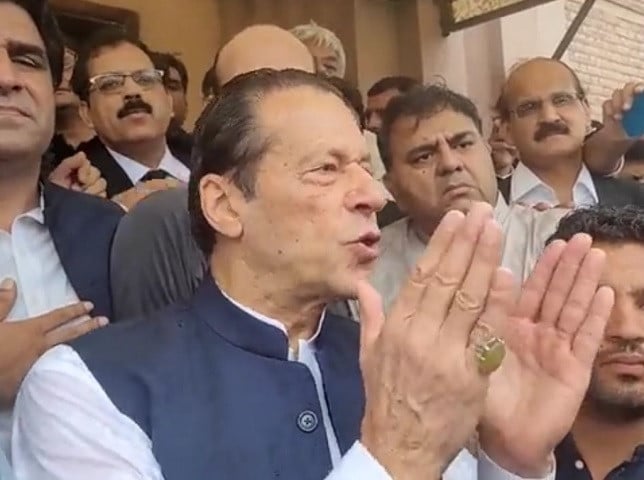 ---
JHELUM:
PTI chief Imran Khan has demanded that the federal government should hold talks with the International Monetary Fund (IMF) for relief and concessions as devastating floods wreak havoc across the country.
Speaking at a public gathering in Jhelum on Saturday, the former prime minister recalled that his government had successfully persuaded the global money lender during the Covid-19 pandemic to give concessions on its tough conditions for the bailout programme. He urged the incumbent government to do the same.
"I spoke to the head of the IMF and explained to him the difficulties people were going through. I would ask Finance Minister Miftah Ismail to show some courage and talk to IMF for relief during these testing times," Imran stressed.
Imran's demand for the government to negotiate with the global money lender for concessions in its loan tranche to the flood-battered country comes as more than half of Pakistan remains under water and millions of people have been rendered homeless as flash floods triggered by unprecedented monsoon rains enter their eighth spell with no signs of subsiding.
Lashing out at the ruling coalition for its fundraising calls for the flood victims, the former prime minister scoffed that "no one will give money to this corrupt group".
"Tomorrow, the entire nation will see when I collect funds for my people," he said, referring to his planned telethon to generate funds for the flood victims scheduled to be held on Monday night.
Imran said that his teams were working to help the flood victims, adding the efforts will yield results soon. "We will get them out of this difficult time soon, God willing."
The former prime minister also questioned the government on what it was doing for the nation as the flood warning had come a long time ago, adding that the government was making conspiracies instead of making policies to deal with floods.
Imran Khan also berated Finance Minister Miftah Ismail for accusing Khyber Pakhtunkhwa's (K-P) Finance Minister Taimur Khan Jhagra of "jeopardising" the IMF programme ahead of its Executive Board meeting scheduled for Monday (August 29).
"Taimur Jhagra is demanding the right of the province and asking time for meeting with finance minister over the past two months."
Imran, who had come under attack for holding rallies as floods of biblical proportions hit the country, asserted that his struggle against the "thieves" will continue unabated and would brave all sorts of weather, regardless of whether it is raining or hot weather.
"I have struggled for 26 years while remaining within the boundaries of law and Constitution," he said.