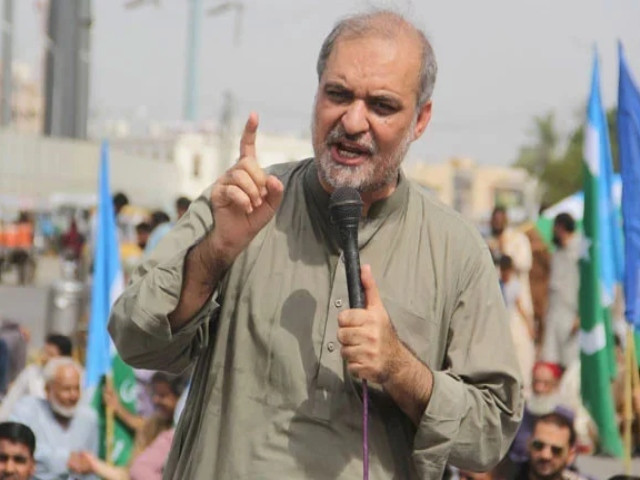 ---
KARACHI:
Hafiz Naeem ur Rahman, Ameer of Jamaat-e-Islami's Karachi chapter, has threatened that his party will stage a sit-in like its previous 29-day historic dharna in front of the Sindh Assembly if the Election Commission of Pakistan (ECP) does not hold the second phase of local body (LB) elections within the next 10 days.
He has also said that Jamaat-e-Islami would organise a public referendum in the city on K-Electric's non-payment of excess money collected from consumers in their electricity bills owing to illegal taxes and fuel adjustment charges.
About the unprecedented floods, Rahman said that Jamaat-e-Islami and its charity wing Al-Khidmat were providing aid to the affected people.
The people of Karachi should help the flood victims who have lost everything.
He expressed these views while addressing a huge protest sit-in at the office of the Provincial Election Commission on Saturday.
A large number of people from across the city participated in the sit-in.
They shouted slogans against the Sindh government and the ECP and demanded immediate holding of the LB elections.
Rahman said that Federal Energy Minister Khurram Dastgir should listen that K-Electric would not be allowed to renew its contract under any circumstances.
K-Electric's licence should be revoked immediately, and a forensic audit should be conducted, he demanded.
"Karachi runs the country's economy, yet more than 30 million people lack access to even the most basic facilities. The city has no public transport, while the roads network is in a dilapidated condition," he further said, adding, "People lack access to water and power, although K-Electric is supported by all of the main parties and governments. They are improperly collecting money under the guise of fake fuel adjustments and other taxes."
Rahman alleged that the second phase of LB elections was postponed because the ECP was acting as an agent of the Pakistan People's Party-led government in Sindh. "Karachi has been deprived of its fundamental, constitutional and legal rights. The Chief Election Commissioner should tell us under whose pressure he succumbed to the pressure and postpone the elections overnight?"
Other Jamaat-e-Islami leaders also spoke on the occasion. They said that 3.5 million people of Karachi have been deprived of their basic constitutional, legal and democratic right to elect their representatives by postponing the LB polls for a second time.
They said the Pakistan People's Party and its allied parties are afraid of defeat in the elections. They added that Jamaat-e-Islami's public movement and struggle would continue.
Published in The Express Tribune, August 28th, 2022.