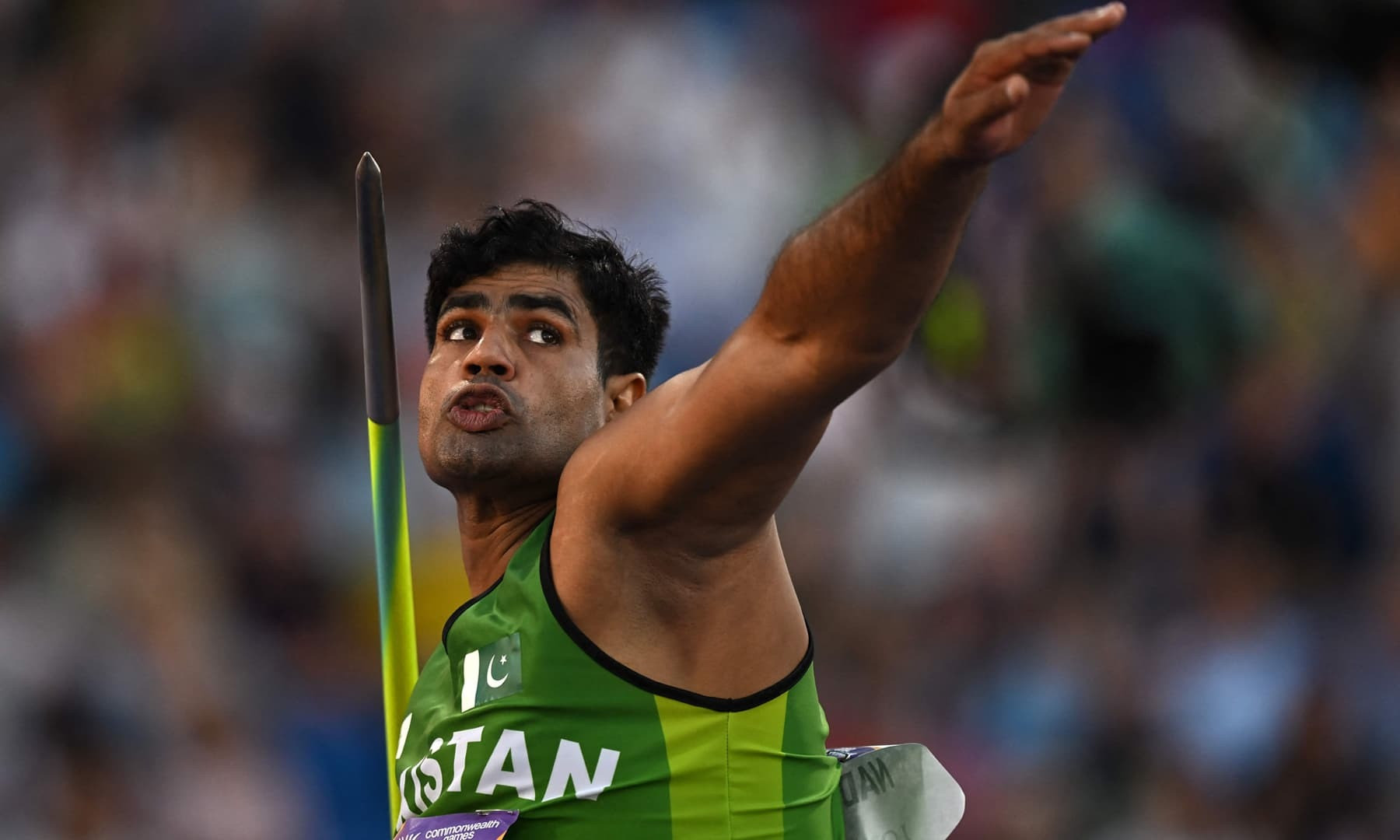 ---
KARACHI:
"I wonder if I'd be able to throw the same way after this surgery or treatment, because right now even with the pain, I feel I can make the world record," reflected Olympian javelin thrower Arshad Nadeem, as he had made back-to-back records at the Commonwealth Games and the Islamic Solidarity Games earlier this month.
In the space of less than six days, Arshad has given the world a vignette of not just his talent but a living proof of what determination can do.
He truly showed how mind over matter works, as he defied norms and at times even logic, as he threw his spear to record breaking distances in Birmingham and then Konya.
He became the first South Asian to cross the 90-metre barrier in Birmingham as he clinched the gold medal with 90.18m, breaking the Commonwealth Games record on August 7, with a heavily taped elbow and a knee injury. He then shocked the world with another gold in Konya with 88.55m, just six days later, and that too without having any of his personal coaches with him.
Looking back at his massive feat in Birmingham, his performance was out of this world given the circumstance of him competing with a long-standing elbow injury that he picked during the preparations for the Tokyo Olympics last year and then another injury on the knee few months ago during the training.
Looking at him during the event with his pacing and saying prayers, it looked more like he was running on spiritual energy than anything else.
"This is a way for worship for me, my sport, this whole training and performing with my javelin," Arshad told The Express Tribune, right after his monumental feats.
"I was very much in prayer while I was competing in the Commonwealth Games. When I threw my spear, I thought it had gone to 92-95 metre mark, but I had a feeling that it has gone beyond 90m. It was a state where I was in surrender, I was in another world. I felt like I was with Allah in that moment, because that is a certain kind of experience. After I threw it that far, I saw everyone congratulating me and there was this awe.
"Anyone else who would have thrown more than 90m would be jumping up and down and would have celebrated this in a very different way, but I was just in that state, experiencing the blessings, the beauty of this experience. It was divine for me. I was looking back at the footage and it was visible. The moment I threw it, I knew it was my best throw."
Arshad's phenomenal performance came while he was competing with the World Athletics Championship gold medallist Anderson Peters, the 2012 Olympic gold medallist Keshron Walcott and the 2015 World Champion Julius Yego.
"Peter told me after the final that he was very much amazed. The 90m throw was truly a magical number and anyone who would throw beyond it would go crazy," said Arshad.
"The pain was excruciating for me, but I just led myself to focus on the moment and that this is bigger than myself," said Arshad.
It had been a year of learning and growing and mostly getting better at managing the pain. The 25-year-old did not compete due to the elbow injury in any event till the World Athletics Championship that took place in July in Eugene, Oregon, where, on his comeback Arshad became the first Pakistani to compete at the final of the event.
His target for 2022 was the World Championships, the Commonwealth Games, and finally the Islamic Solidarity Games, before he surrenders to the treatment for the elbow, whether it be surgery or otherwise. He had said earlier that he did not go for any surgery before these events because he wanted to do something for his country, especially at the Commonwealth Games.
The boy from Mian Chunnu has proven to be an icon already in a country that manly idolises cricketers, while other sports go unnoticed and mostly the sportspersons struggle to get attention, funding and even basic facilities that are required for training.
Arshad too trained in Lahore, struggling to get the appropriate facilities that the world class athletes receive. He was training with his coach Salman Butt after returning from South Africa, where he spent two months with Terseus Liebenberg.
Arshad and Butt would go to Punjab University gym as there had been no gym provided for him despite showing his worth and breaking into the global elite circuit with his performances at the Tokyo Olympics, where he finished fifth.
Prior to that, he became the first Pakistani to ever directly qualify for Olympics in athletics. He also took the Asian Games bronze medal in 2018, while steadily coming to a point where he is now throwing beyond the 90m mark, which is actually even more than the distance covered in Tokyo Olympics for the gold medal.
No coach, no doctor in Konya
Arshad's throw at the Islamic Solidarity Games, which was another record-breaking performance was more than the 87.58m, the best at 2020 Olympics.
At the Islamic Solidarity Games too, Arshad bettered his previous performance. He had won the bronze medal at the games in 2017, and in the latest edition he left behind Ahmed Magour, who held the games record with 83.45m from 2017, by more than 14.27 meters.
After the Commonwealth Games, Arshad flew to Konya without any sleep or rest and within six days, he produced another spellbinding performance. It would not be unfair to say that his determination at the Islamic Solidarity Games was even more fascinating.
"There was no coach for me in Konya either. At least in Commonwealth Games, I had doctors for me, but here there were no doctors either. I have been in so much pain, then here things were so different from all the previous international events I competed in. They didn't understand English much, neither did I and the language was a huge barrier," said Arshad.
Arshad did not have his coaches Butt or Liebenberg with him at the World Championships, Commonwealth Games or in Konya.
But he had Dr Ali Bajwa with him in Eugene, then in Birmingham he had Bajwa and Pakistan Olympic Association Medical Committee Member Dr Asad Abbass, who had treated him primarily since 2021 before the Tokyo Olympics.
In Konya there were no doctors to treat him. "I almost thought I wouldn't compete, but then I made up my mind that I will go through like I wanted to. The injury wasn't helping but I thought since I am here, I will compete," explained Arshad.
He believes the experience here too was rewarding, in the city of Moulana Rumi.
"At first Magour was amazed and he came over. We spent 10-15 minutes just communicating with gestures. He was happy for me. He didn't know English much, neither did I but this was heartfelt," said Arshad.
"I usually don't go site-seeing much when I am competing. I stay back, but this time I went to the mosque here, prayed Zuhr and I enjoyed that part," said Arshad, who is a practicing Muslim.
The thing about maturity
Covering Arshad over the last few years, one thing strikes hard, and that is his ability to stay motivated despite the hurdles.
With competition comes toxicity too, and Arshad has been keeping his mind only to his performance.
One of the bigger attentions in the media comes with his and Tokyo Olympic gold medallist Neeraj Chopra's interactions as well, to that Arshad believes it only adds to the culture of friendship and love.
However, his mind is not set on beating anyone but himself.
"I focus on my own performances and on how I can push my body at times. I was happy that Neeraj interacted with me on Instagram. In fact, he only started to follow me on Instagram after that 90.18m throw of mine, but it is all good, he is great," said Arshad.
In the year since Olympics, Arshad is dedicated to his own growth. "I learned a lot. I am now starting to understand what it is to throw the spear more effectively. I was just throwing it like anyone would before. But now I am understanding what the techniques are, at what point should I release it for a better throw, so that is a change I am seeing in myself, that is the kind of growth that is exciting me, I do not look at others in a way that I want to beat them only, I am trying to just beat the odds in every way, pushing myself," said Arshad.
Meanwhile, he is more interested in the technique and sometimes chuckles at the commentary too.
"They say I run like fast bowlers do. I find that to be interesting. My technique I feel is more natural. So far it has worked for me. I know it looks like a bowling style, but I also know there is a lot of will power, a lot of effort there. I might change it later, maybe, I don't know, but I want to improve for Asian Games next year. There will be championships and the Olympics 2024," said Arshad touching upon how once he wanted to be a professional cricketer in his younger days.
At the age of 25, Arshad is a family man with two children a beautiful daughter and a son.
For now, his eldest child does not understand what her father has achieved.
"My daughter is very intelligent, but very young. I learn from my children too, but she thinks I'm on some duty. When I have to leave for training and for the competitions for extended period of times, I miss my family and children a lot. That is one of the challenges for me that gets bigger with time.
"I do this thing that when I leave home for my training and sports and all the travel, I do it while my children are asleep. I pray and I leave," said Arshad. "I have a very big family, so time management is important for me in that respect too. If I am with them, I don't want to engage with anything else really, but when I am training, I focus on that."
Discipline is to respect oneself
Arshad believes that his success depends on his teachers and one of the ways he makes sure to gather the blessings is by calling his coaches before the events, be it World Championships, Commonwealth Games or the Islamic Solidarity Games.
"Teachers are the most important individuals. Even now I called Terseus sir, Fiaz Bokhari sir, Salman sir before each event and I remember all my coaches, Rasheed Ahmad Saqi as well," said Arshad.
He added that this is one of the rituals he follows, apart from praying and "asking Allah for help".
On the other hand, when asked how important it is for Arshad to engage in self-care, he feels being detached from things helps at times.
"One of the things I do now is switch off my phone before the event. That helps me focus. Disengaging from the technology helps at times," said Arshad. "I like to be disciplined about this. I maintain a certain decorum, because it is important to live like humans you know. We are not living properly if we don't have discipline. It is a part of caring for oneself and others.
The youngster does unwind with music: "I am not too big on sight-seeing when I am away. I stay in. But I find music to be helpful in calming myself. I don't really listen to Punjabi music like that, which has a naughtier element to it, I listen to more calming tunes. I like more low-fi, calming music. That is my go-to when it comes to self-care at times, apart from keeping my diet in check. I like desi food, I like roti (flatbread). I feel it has nutrients like nothing else really."
However, he feels there is a responsibility for him to be a good influence on others and stay humble. He said that with popularity now, he tries to respond to all who message him especially children and youth.
"I don't think I have ever felt like I am a champion or anything big really. I still think that all of this is just something that comes with hard work. It is not a miracle like that, but there is a lot of hard work, so I remember that and when people say they feel proud of me for this, it really motivates me. It shows that my hard work is paying off even at times when it doesn't feel like it is," said Arshad.
Government should come forward
Arshad believes that now there is scope for athletics and while cricket gets a lot of promotion, other games should also get the attention.
"We can have eight to nine boys who can easily win medals in Asia and then winning medals in Olympics will come too. We need separate facilities, specialised programs and gyms for the track and field athletes. There are 23 events in athletics, give us separate grounds for javelin, shotput, running tracks. Give us facilities for weight training, strength conditioning and the professionals. That is my request now," said Arshad.
Uncertainty looms
The biggest responsibility for Pakistani government and the Athletics Federation of Pakistan is to make sure Arshad gets the proper treatment for his injuries. He has almost a year to recover till the Asian Games next year.
"I really have no idea what the treatment would be at this point. There is a possibility of surgery, but if they can treat my injury in elbow without it that will be great. I want to see what they are going to do. So far there has been a lot of promises, but really, I want the kind of treatment that will make me healthier and better to compete. I don't want this to be mismanaged.
"I want to throw better and farther and be stronger after the treatment, but I'm also concerned that if this treatment isn't done properly, I may not be able to throw what I am throwing right now.
"At least with the pain, I can still attempt for the world record, but what if I won't be able to throw better after the treatment," said Arshad.