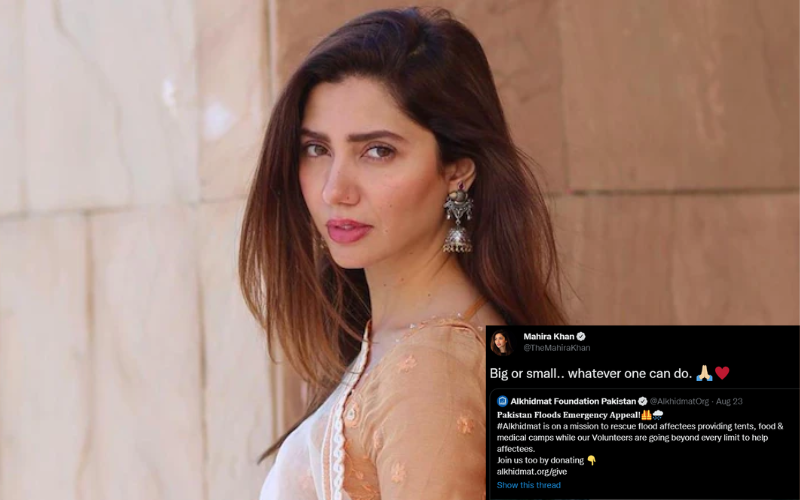 ---
Heavy downpour continues to pummel parts of the country already battered by calamitous floods on an unparalleled scale, unleashing a fresh wave of death and destruction in Khyber Pakhtunkhwa, Balochistan, and Sindh provinces. As politicians, civilians, and non-profits come together to combat this natural disaster, celebrities and online figures have come forward to send prayers and to encourage their followers to contribute and assist in the flood relief efforts.
Actor Humayun Saeed tweeted out an appeal to the government to oversee the devastations caused by the natural disaster and said, "An extremely distressing situation all across Pakistan following the rain and floods. I appeal to the government to please take urgent action and provide all necessary relief to our displaced brothers and sisters. All of us too must extend our support to the flood victims in every possible way."
Actor Hamza Ali Abbasi expressed his disbelief at the devastation caused and wrote, "Heartbreaking devastation from floods in Pakistan. Climate change and global warming are hitting us hard. I hope we can build reservoirs soon because these floods will happen again! Please locate a credible relief effort and donate generously to it. May God ease the hardships of the affected."
Renowned actor Shaan Shahid tweeted out a prayer for the affectees and wrote, "Almighty Allah, please protect Pakistan."
Actor Adnan Siddiqui also tweeted out prayers for those displaced, encouraging his followers to donate to the Shahid Afridi Foundation. "Prayers for all the families that have been displaced by the flood havoc in Baluchistan, Sindh, Punjab, and KPK. Let's come together to help them in whatever way we can. Please donate as much as you can," the Tamasha host wrote.
Musician Shehzad Roy, known for his humanitarian efforts through his non-profit organization Zindagi Trust, tweeted out about the urgent need for flood relief efforts. "Let's convert our political rage into flood relief. Let's unite our families to save families affected by the floods," he wrote.
Pakistani Canadian actor Armeena Khan also asked her followers to help out with the cause and said "These floods are devastating. Right, time to do my bit. Watch this space, I'll be calling on you for help with it."
Actor Mahira Khan also reshared a post by Alkhidmat Foundation, a non-profit working on-site to assist with rescue efforts and delivery of supplies. "Big or small, whatever one can do," The Legend of Maula Jatt actor wrote.
Singer and actor Farhan Saeed also encouraged his followers to donate. "My heart goes out to all the flood victims. Praying for my beloved Pakistan. Help, do charity, and please encourage family and friends to do the same. Our people need us!" the Mere Humsafar actor wrote.
Long-time actor Faysal Quraishi tweeted out a video in which he is critical of social media users calling him out, alongside fellow television hosts Fahad Mustafa and Danish Taimoor, for not donating to the cause while they give away extravagant prizes in their game shows. He concluded his video by stating that every contribution by a known figure does not need to be publicised online, and urged his followers to donate to reliable organizations.
Singer Meesha Shafi also shared her critique and wrote, "It takes a special kind of Olympic championship-level narcissist to talk about the pressure they're facing when their country is drowning."
Singer and television host Fakhre Alam wrote about the consequences of climate change and said, "The wrath of nature, the power of water … This is climate change in real-time. Ill-planned urbanization and poor policy all contributed to the destruction, but we don't learn. For now, let us all focus on rescue & relief ASAP … All hands on deck, together."
Rohail Hyatt shared a list of organisations assisting in flood relief efforts, urging his followers to contribute. "Every contribution, no matter how small, makes a difference. Sharing a list of organisations helping out with flood relief. Please donate generously," the former Coke Studio producer wrote.
Other known figures also shed light on the situation on Instagram, including actor Ushna Shah and British Pakistani actor Riz Ahmed.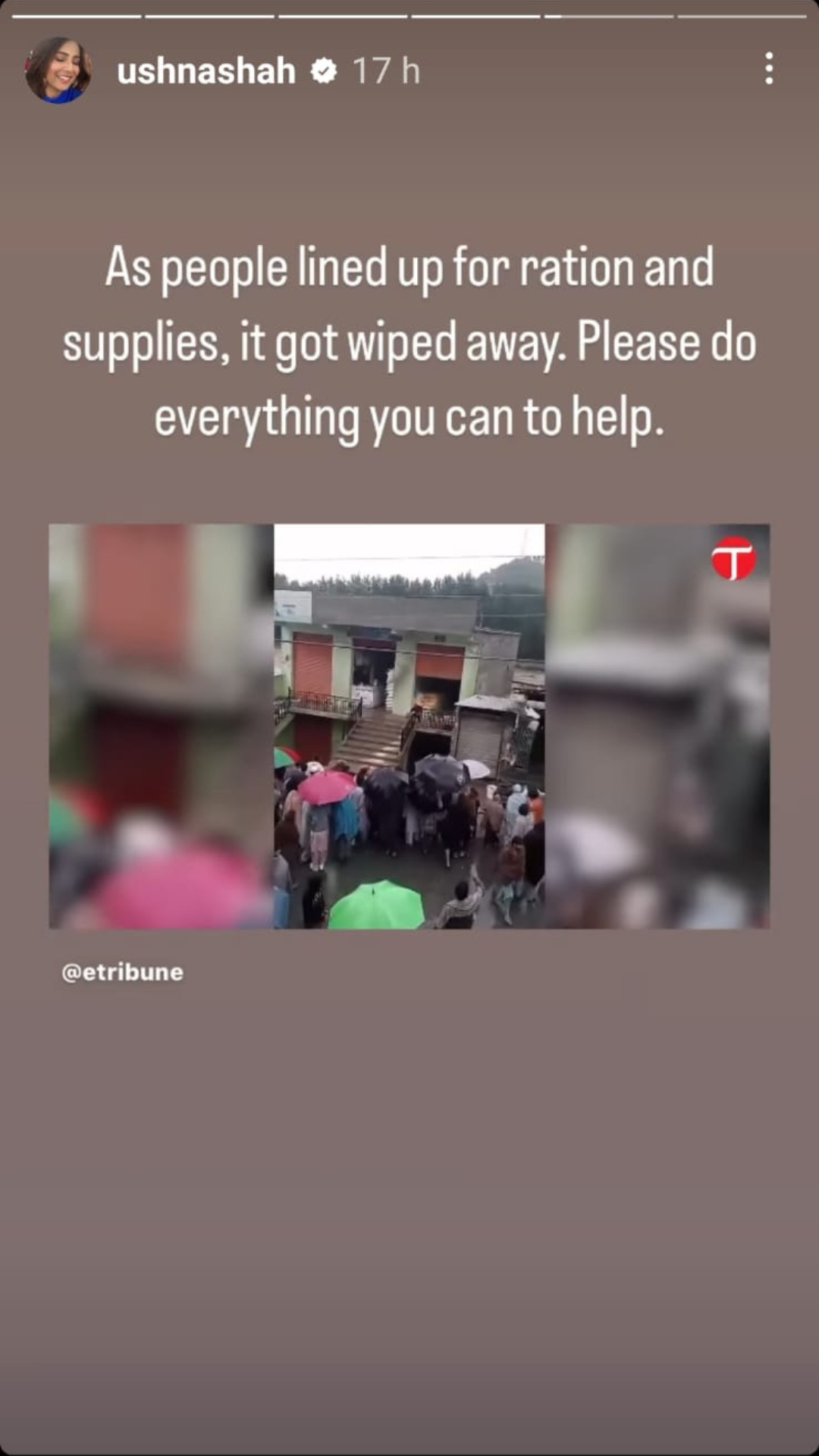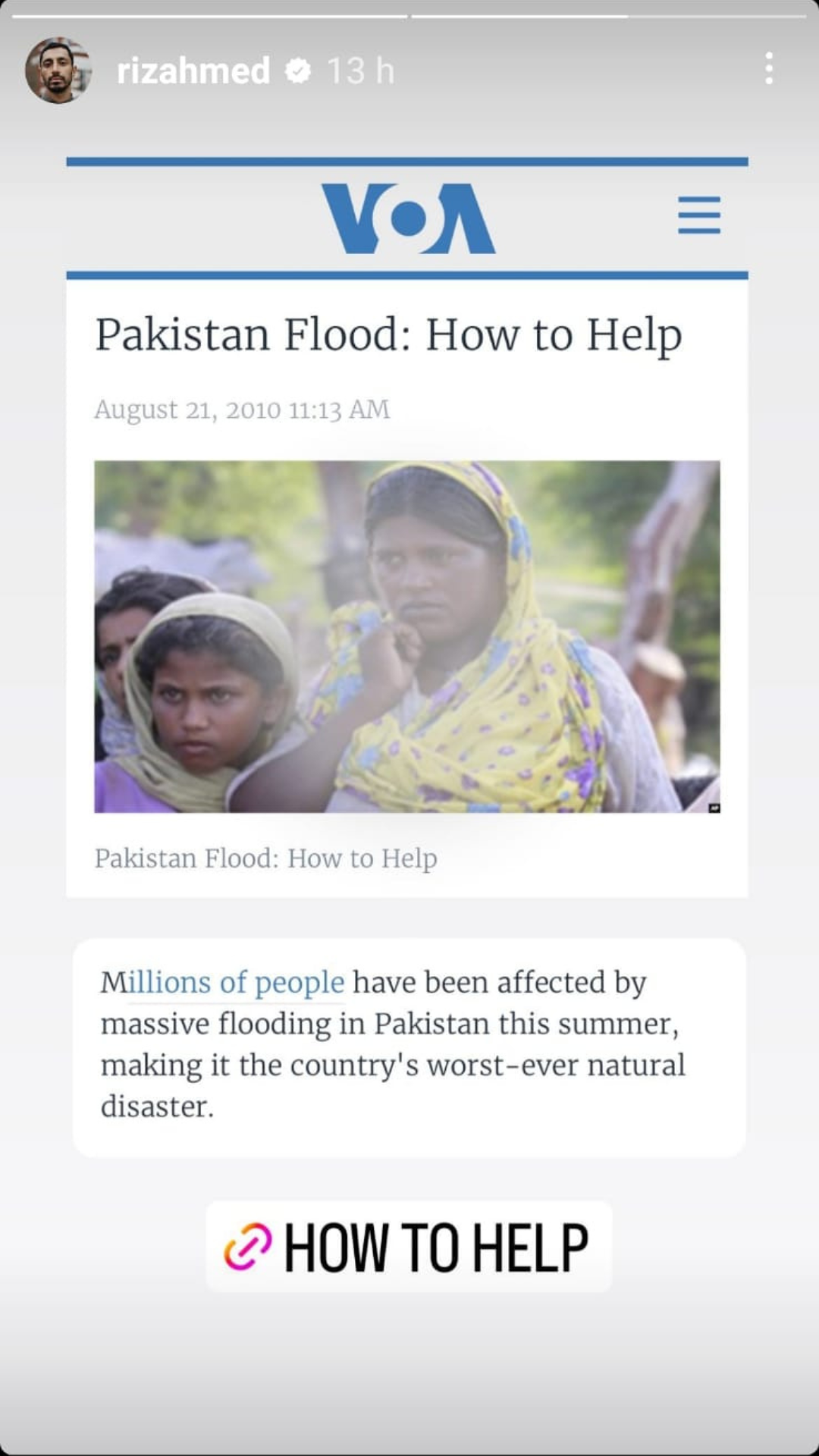 Continuing devastation
The K-P government declared a rain emergency in several districts as flash floods triggered by torrential rains wreaked havoc in most parts of the province, raising the province-wide death toll to at least 238 people, officials said.
Meanwhile, more details of flood-induced devastation in the Swat district surfaced on Friday. According to the data, a flash flood in the Swat River swept away scores of shops and hotels, more than 200 fish hatcheries, 150 houses, and two mosques in the tourist resorts of Kalam, Bahrain Bazaar, Hareen, and Madyan.
Officials said that the damages in Swat were many times higher than those in the 2010 floods in the district. An emergency had been declared in the district and the residents on the riverbank had been instructed to move to safer places.
Moreover, Balochistan remained disconnected from the rest of the country after heavy rainfall in Quetta for the second consecutive day. Gas supply to Quetta and other parts of Balochistan was also suspended after floods damaged the main pipeline in the Bolan area. Besides the gas supply, the power supply to Balochistan was also suspended after floods and heavy rainfall damaged the 220kv transmission line between Sibi and Quetta. Heavy floods have become a major obstacle in repair efforts.
Elsewhere in the country, a Punjab PDMA spokesperson said that moderate to high levels of flooding was expected in the Indus River at Kalabagh, Chashma, and Taunsa during the next 48 hours, which could affect the Mianwali, Bhakkar, Dera Ghazi Khan, Muzaffargarh, and Rajanpur districts.
Have something to add to the story? Share it in the comments below.