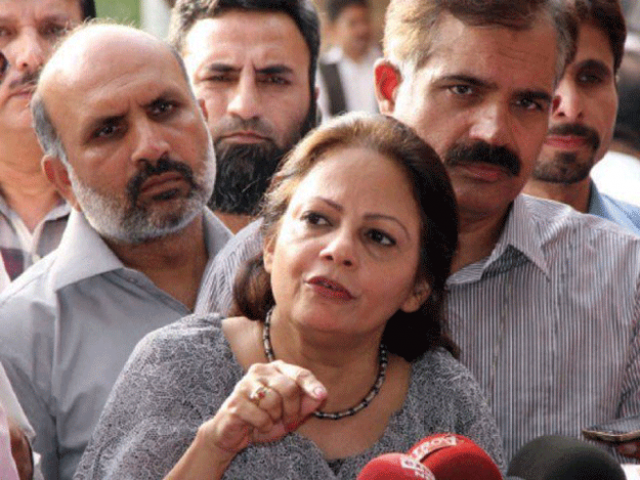 ---
ISLAMABAD:
Minister for State for Finance and Revenue Dr Aisha Ghaus Pasha said on Thursday that the country needed structural reforms that called for political will and public backing.
Addressing a grand national dialogue on "National Identity and Cohesion", organised by the Islamabad Policy Research Institute (IPRI), she stressed the need for a broad-based national consensus to ensure cohesion and unity in the rank and file of the nation to overcome pressing challenges.
The dialogue is part of the series of brain-storming discussions under the aegis of IPRI for harnessing commonality of views, and bringing together stakeholders, policy-makers and people from academia and other walks of life.
Dr Ghaus Pasha said that Pakistan has repeatedly knocked on the doors of the International Monetary Fund (IMF) and has availed 23 programmes since 1990.
The state minister said that "we are in an IMF programme because we are unable to balance our needs and requirements as Pakistan's import cover is barely enough for a month or so, as forex reserves have nosedived".
She talked about the current account deficit, slumping exports, and an uncontrollable import wish list and argued that "the way out is to learn to live within our resources as the country is in a debt trap of over $130 billion".
"The country needs around $34 billion this year to stay afloat," she said adding that the country was well-placed as far as finances for the next one-year were concerned.
She underscored the need for addressing the sense of deprivation prevalent at the moment and said that economic equality and inclusive growth were the way to go.
She stressed the need for evolving a policy parameter on human development, slashing imports and buffering the economy with local expertise.
Dr Pasha said that 22 per cent of landholding was in the hands of two per cent of people. "This discrimination is scuttling growth and prosperity," she said.
"We lost our vision of human development to the personal interests and ambitions of the politicians. Despite being the sixth most populated country, we are at the lowest in the human development index," she regretted.
IPRI President Dr Raza Muhammad said it was time to do away with corruption, nepotism and ad hocism.
Former Foreign Secretary Riaz Mohammad Khan was of the view that Pakistan's struggle was very simple, and over time it has been compounded into confusion.
He referred to the speech of Quaid-e-Azam Muhammad Jinnah on August 11, 1947, to the Constituent Assembly in Karachi, and said that it still forms the preamble of the nation as it moves to attain cohesion and unity.
Balochistan's former chief minister Dr Abdul Malik Baloch said that until and unless people elect genuine representatives nothing will change for good.
He said complete democracy, a federal system, supremacy of people's rule, and acceptance of diversity and languages were the hallmarks for a safe and secure tomorrow, and that was how political and economic progress could be attained.
Jamal Shah, a linguist, said that languages should come to act as a binding force, and it was high time culture was patronised and promoted without discrimination.
He regretted that Pakistan did not have a cultural policy till 1971, and art and culture got a setback under the rule of Gen Ziaul Haq, owing to his Afghan policy and jihadism philosophy. "We have a diverse cultural legacy, and that should be promoted."
Roshan Khursheed Bharucha, a former senator, said that Balochistan was in a deep identity crisis, as it has been ignored and discriminated against for the last seven decades.
Published in The Express Tribune, August 26th, 2022.
COMMENTS
Comments are moderated and generally will be posted if they are on-topic and not abusive.
For more information, please see our Comments FAQ