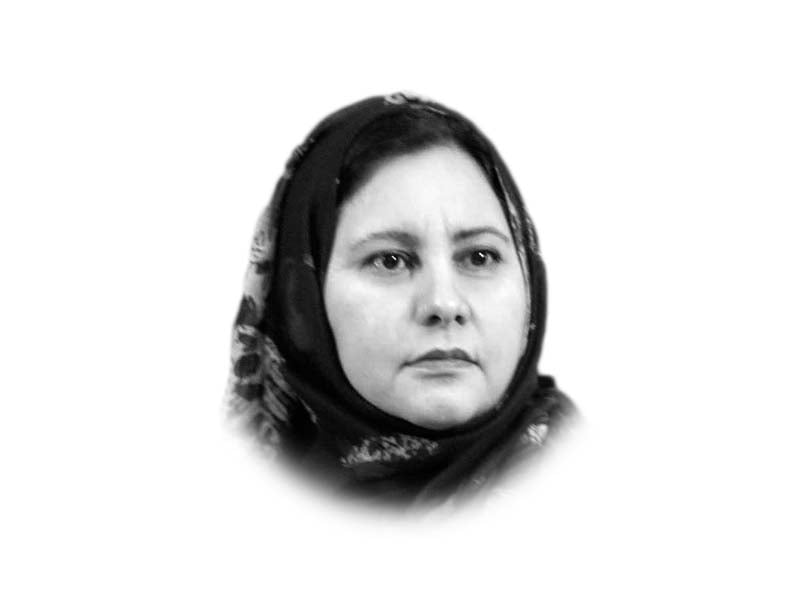 ---
The 75th yearly celebrations of gaining independence as a separate, free homeland has just passed us, but what needs to be reckoned is that it's not all celebrations, it's also remembering history. And history is a bitter pill, hard to swallow, one that we all want to skip, yet as we do, we are doomed to fall into the same traps and make same mistakes within the lap of decades.
Just around the celebrations, the very paining news of Indian planes landing on Pakistan's soil at least four times in the past two months — that too when the state is facing an extreme political upheaval — and there is word that foreign powers have interfered in our internal matters, this event is like a slap in the face of the nation, taunting us for our forgetful memory.
Many, who are proponents of building love ties with India, are because they like to throw the bitter pill of history down the trashcan. They tend to forget those who have connived against us, who have been backstabbing us, and those who can conspire against you at one time and put a wide smile on their face at another.
India is one who can backstab you again and again and still wear a smile on its face. This starts from the boundary commission wherein two border districts of Punjab — Gurdaspur and Firozpur — that had Muslim majority and were both on the Pakistani side in the draft maps presented by Cyril Radcliff before the partition, but the map was officially declared only after the partition with the two thrown into India's pocket. Then there is the longstanding issue of demarcation of border along Sir Creek in the Rann of Kuch. And the unresolved and ongoing Kashmir Issue, wherein India not only snatched territory belonging to Pakistan, but where India is also guilty of shamelessly committing an ongoing genocide against our Kashmiri brethren. The Genocide Watch has recently issued seven 'early warnings of massacres in Kashmir', and Genocide Watch's 'Ten Stages' of the genocidal process are also at a 'far advanced' stage in Kashmir.
Another backstabbing by India is the role it played in the 1971 partition of East and West Pakistan. Taking advantage of the internal grudges between the East and West, India made a plan to sever the country in two halves. For this it armed the Mukti Bahini in numerous training camps across the border. For a total of 45,000 combatant and noncombatant troops, which made the 13 Brigades of the Pakistan Army stationed in East Pakistan, a force of 150,000 Bahini fighters were prepared. On top of that four Indian Brigades and seven Divisions, comprising around 90,000 Indian troops, surrounded the Bangladeshi borders on all sides.
But what was more poisonous was the ensuing slew of hate-propaganda insisting that the Pakistan Army had committed mass rape of 2 to 4 lakh women, pushed 10 million refugees into India, and killed 3 to 30 million Bengalis. However, many latter studies have rendered the figures utterly exaggerated. How could 45,000 troops commit such large-scale war crimes when they were being attacked by 150,000 Bahini and 90,000 Indian troops that were hell-bent against them? But hate propaganda was the second weapon used by India to keep to two states indifferent and separated forever.
Yet, recently declassified CIA documents tell us that PM Indira Gandhi had told Union Cabinet that apart from liberating Bangladesh, India intended to take over a strategically important part of Azad Kashmir and go for the total annihilation of Pakistan's armed forces so that Pakistan "never attempts to challenge India in the future". To gather international consent for India's armed intervention, Indira Gandhi set herself on a campaign of personal diplomacy, visiting Moscow, London, Paris and Washington in the three months before the war, briefing the world over the genocide and rape West Pakistan was allegedly committing upon the East.
This was a time when India was in the communist camp with USSR, while the communists themselves were in a Sino-Soviet Split over ideological issues. India had been in rift with China since the 1950 Tibet War, and the US had been closer to Pakistan to counter the communist buildup in Asia. In June, Indo-Soviet Treaty of Peace had been signed, after which the Soviets condemned Pakistani actions in East Pakistan. Nixon had secretly visited China in July offering to put them in track of an economic revival. Pakistan had a role in this rapprochement — China was entered in the UN, and there it supported the Pakistani side. China vetoed against independent Bangladesh's membership of UN in August 1972.
Eight years later, Russia attacked Afghanistan, perhaps trying to realise a victory that they had failed to achieve in the Great Game of the previous century. And Indian elements seeped into Afghanistan under the Soviet umbrella. At that time the two used Afghanistan as a launching pad for terrorist activities inside Khyber-Pakhtunkhwa and Balochistan.
Fast-forward to the US invasion of Afghanistan. Now India is in the US camp! Pakistani authorities have on several occasions confirmed RAW and CIA hands behind TTP, BLA, JuA and other groups. Over ten years of extreme terrorism in Pakistan right after the US invasion of Afghanistan, wherein the nation was terrorised day and night with bombings and target killings, was thanks to these two foreign hands.
Geopolitics moves like that: allies turn into enemies and enemies into allies. Yet the interesting thing to note is that in all this movement, India remained a foe and China a friend! Because some things are engrained in the culture and national character of a people!
Now fast-forward again two decades. After the US withdrawal from Afghanistan, India and the US back regime change in Pakistan and Sri Lanka, and there is propaganda that Bangladesh is to default too! What do these three states have in common? They are all partners of the Belt and Road Initiative. Both Sri Lanka and Bangladesh have had flourishing economies in the past two decades, and both are capable of handling some adverse economic conditions, but if the IMF and World Bank decide to entrap them, there would be no way out.
Now as we celebrate, and that we must, for we are a resilient, self-aware and progressive people, we need not bury our heads in sand when we need to face the truths that history is recording for us day and night; we need not call foes as friends and vice versa, for every step that we can take into our future must be taken by treading the alleys of the past.
Published in The Express Tribune, August 26th, 2022.
Like Opinion & Editorial on Facebook, follow @ETOpEd on Twitter to receive all updates on all our daily pieces.
COMMENTS
Comments are moderated and generally will be posted if they are on-topic and not abusive.
For more information, please see our Comments FAQ