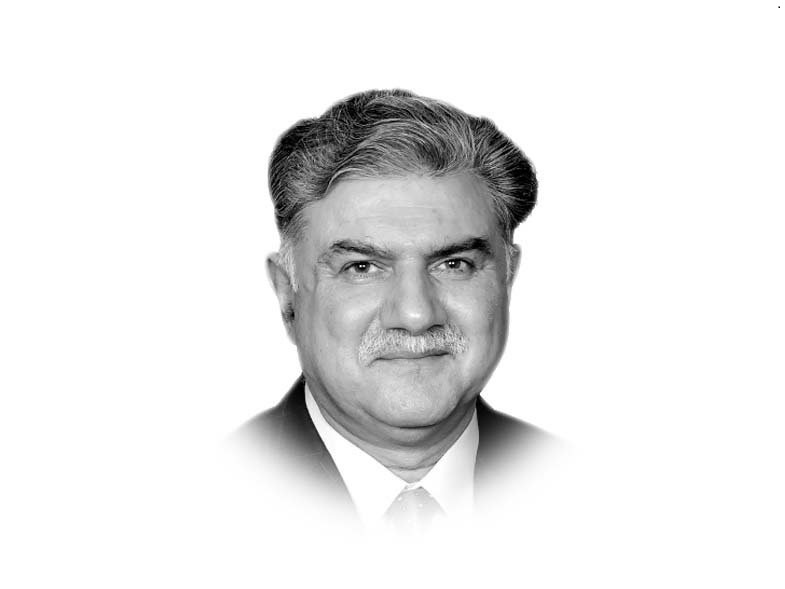 ---
The criticism of 'neutrals' (read Pakistan Army) continues unabated by none other than the ex-Prime Minister of Pakistan. And Imran's support seems to surge with every step that the PDM-led government takes to undermine him, stifle him and silence him. To recapture, the PTI narrative goes like this. "IK was incorrectly and unjustly removed from power last Ramazan (April 2022) by an agitated Miltablishment, at the behest of external power (read the US) and in collaboration with internal agents (read the PDM). And the Military specifically gets flak for facilitating return of the corrupt cabal of PDM to power, the worst possible alternative to PTI." It was this choice of the tried, tested, provenly corrupt and convicted PDM and its leadership — mostly on bail — that infuriates many non-political citizenry, delivering them to Imran's fold.
Sensing the pulse and realising the ebb and flow of popularity and its transient nature, IK in a 'now or never' moment is all guns blazing against the Military, knowingly aiding and abetting such vitriol, because it helps multiply and sustain his narrative. At psycho-societal levels, the youth brigade is his vanguard in these blistering attacks against the erstwhile 'holy cow' under the influence of the new-found freedom, while armed with the power of a smartphone hooked over social media. And this war of narratives goes on relentlessly, attacking the very symbolism… the centre of gravity of the Pakistani state, without any regard to its long-term cost and implications.
And Imran Khan relishes the spotlight, like a batsman batting to the adulation of gallery and the crowd, against almost a dozen opposing players on the field…all trying to send him to the pavilion sooner than later. And during all this, the society is deeply polarised including even the traditionally non-voting upper middle class. Ascribing to the Party line, team PTI is in no mood to compromise, and are willing to commit hara-kiri, physically and politically.
PTI and its cadre 'seemingly' have no trust in the laws, courts, Constitution and/or any other form of arbitration and middle ground. When IK's recent insinuations against sitting police and judicial officials of Islamabad by naming and threatening them during the Rawalpindi Liaqat Bagh jalsa (21 August 22), after his aide Shahbaz Gill's arrest, was challenged in a court of law, and resulted in his arrest warrants, he threw the gauntlet of defiance. His avoidance to be arrested behind 'tiger defence' is attributed to deeply troubling monopolistic self-righteousness. In IK's reckoning, it is 'me or nothing'… not even 'PTI or nothing'.
When the environment is this charged, rationality takes a back seat. Logic evaporates in thin air and stakeholders see everything through the binary of right and wrong. Very sensible circles are — sadly — clamouring for a revolt, a revolution with the tidal wave of popular discontent sweeping over the country. Do we realise the cost and implications? When masses take over, a strange mix of hatred, deprivation, entitlement, reward and punishment takes over. We would do well to study the history of French Revolution (1789) or closer to home, the Iranian Revolution (1979).
The very 'elite' that such popular tidal wave tries to overthrow, resurfaces in different forms, often more viciously. For young Party workers, sold to Insafi slogans, enough to emphasise that no nation, no country has ever survived, is surviving and will ever survive without an elite — the ashhrafiyya. And it was after intense and extensive trials that democracy as a system of governance was evolved and preferred due to its inclusivity of all segments of people. It is democracy, however imperfect, that keeps this predatory elite in check from 'state capture' by periodic review of governance through the ballot. All other avenues lead to fascism, unilateralism and dictatorship.
So, take a moment to read and reflect over the sham trials and killings after the Iranian Revolution. One can recommend readings. Those of us who, under our genetic 'garam-masala' induced impulse, yearn for such grandiose notions must beware of the people's power on the street, unregulated, unchecked and undirected. They would very soon clamour for the then bygone security under even a corrupt political dispensation, if and once they go through such experience. Ask someone who has lived through such lawlessness.
Politicians like IK, in a hurry to revamp the political and economic landscape, need to know that they can only play their part in laying the foundations of a just system as possible, without the benefit of time, to see its benefits.
Some weeks ago, I wrote about post-Kaptaan PTI and proffered some discernable advice on governance. My own interaction with the Party rank and file, and in keeping with Pakistan's selfish national interests, an 'indispensable' PTI reveals following worrying realities. And this is with no claim of any insight into the future. First, PTI poorly lacks organisation and the Party just recently started working on it. However, the team tasked, without naming names, might have limited experience at party organisation. Second, IK needs to enlarge his core committee other than the surrounding clique that enjoys veto power and completely controls access to him. Dithering on Gen Faiz Hameed, the proverbial charbi-wala kartoos, was their brainchild. Three, he has to shun domestically induced superstition, responsible for most U-turns. Four, he should smooth over deeply entrenched ethnic fault lines in the Party, that frequently clash.
Five, a successor is PTI's Achilles heel, and splintering of Party is inevitable after IK. As a short-term remedy, IK should agree to become 'rehber-e-tehreek', concentrating on politics and Party affairs only, leaving governance to a seasoned mix of bureaucrats and party officials. Most cotemporary parties do so. This will allow him to focus on vote bank, his strength. For a CEO-cum-successor, PTI should import a trained figure like Farooq Laghari, Ghulam Ishaq Khan/any willing four-star etc till it can groom its own leadership, acceptable to all. And lastly, IK needs to dial down unabated criticism of his own Military, and be amenable to conciliation. Otherwise after another brief and conflict-ridden second-term (if lucky), the cabal of 'looters' will come back.
Emotions are best when controlled and channelised. PTI needs to take this to heart. As for social media popularity and street power, Gen Musharraf had millions of followers, and perpetually agitating crowds have other needs too. And some empathy for flood affectees would be good.
Published in The Express Tribune, August 25th, 2022.
Like Opinion & Editorial on Facebook, follow @ETOpEd on Twitter to receive all updates on all our daily pieces.
COMMENTS
Comments are moderated and generally will be posted if they are on-topic and not abusive.
For more information, please see our Comments FAQ