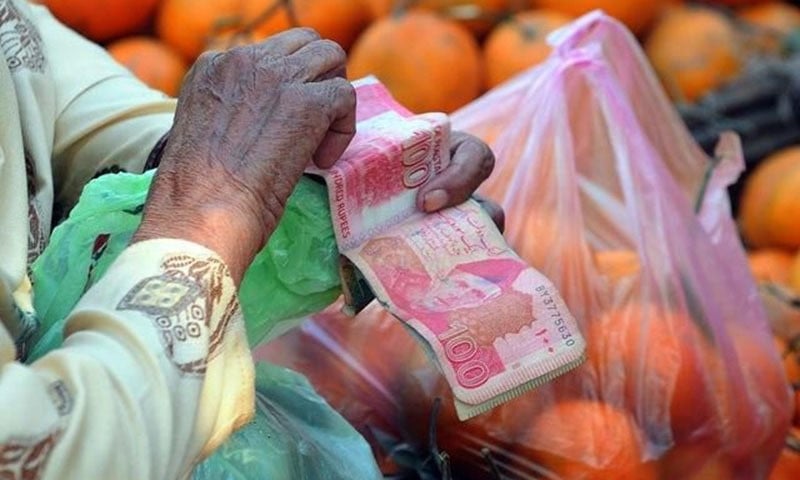 ---
LAHORE:
As Pakistan continues to reel through political and economic instability, inflation is consistently on the rise with the Sensitive Price Index (SPI) showing an increase of 3.35 per cent in the week that ended on August 18.
Shattering old records, the year-on-year increase went up to 42.31 per cent. The previous highest-ever yearly increase was recorded in the week ending on August 5 at 38.63 per cent.
The Pakistan Bureau of Statistics (PBS) publishes the SPI by taking stock of 51 essential items from 50 markets in 17 cities across Pakistan. The data obtained from these markets is computed on a weekly basis to record price movements.
During the last week, the price of tomatoes went up by 20.28%, chicken 7.57%, onions 2.30%, powdered milk 2.03%, eggs 1.63%, pulse moong 1.42% and potatoes 1.07%.
As for non-food items, electricity for the first quarter went up by 6.83%, petrol 2.96%, and cigarettes 1.69%.
On the other hand, the prices of some food and non-food commodities decreased. The price of LPG decreased by 3.46%, vegetable ghee (1kg) 1.16%, garlic 0.94%, mustard oil 0.71%, pulse masoor 0.42%, pulse gram 0.36%, vegetable ghee (2.5kg) 0.33%, cooking oil (five litres) 0.31%, diesel 0.18%, firewood whole 0.16% and sugar 0.03%.
According to the PBS, of 51 items, the prices of 25 items increased and that of 11 decreased. Rates of 15 of these items remained stable.
As for a year-on-year comparison, there has been a massive increase in the prices of various food and non-food commodities. The prices of pulse masoor increased by 111.02%, diesel 108.77%, petrol 94.53%, onions 94.43%, cooking oil (five litres) 72.96%, mustard oil 71.08%, chicken 69.04%, vegetable ghee (one kilo) 68.56%, vegetable ghee (2.5 kilos) 67.05%, electricity for Q1 63.03%, washing soap 61.92%, pulse gram 58.93%, gents sponge chappal 52.21%, pulse mash 51.51% and garlic 36.59%.
Further, the prices of chili powder decreased by 43.42%, sugar 16.55%, and jaggery 1.96% on a year-on-year basis.
Reacting to the sky-rocketing inflation, former planning minister Asad Umar took to Twitter to slam the "imported government", saying it led the country to the highest-ever level of inflation in the country's history.
He said previously, the highest-ever inflation of essential items was back in June 2008 when the Pakistan Peoples Party (PPP) was in power.
Accusing the government of inflicting "unbearable pain", he wondered whether there were any talk shows on the "historic high mehngai (inflation)".
Former finance minister Shaukat Tarin also took to Twitter to remind the coalition government of its promise made with the people of Pakistan that they had come to power to reduce inflation.
On the PBS data, he said that by the end of March, the SPI stood at 17% while it had now exceeded 42%.
The former finance czar said that the people were paying a heavy price for the "experiment which has gone wrong". He highlighted that he, along with former prime minister Imran Khan, had warned about it.
COMMENTS
Comments are moderated and generally will be posted if they are on-topic and not abusive.
For more information, please see our Comments FAQ