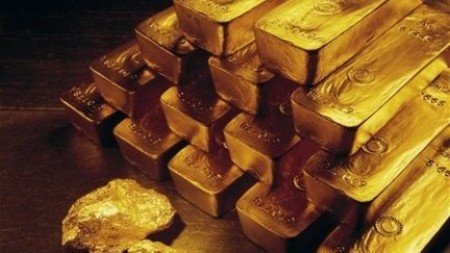 ---
ISLAMABAD:
The federal government is considering lifting the ban on the import of gold in place since 2013 to prevent its smuggling.
Instead, to discourage smuggling, an annual quota would be allocated to gold traders.
According to sources, the commerce ministry has proposed to remove the ban on the import of gold.
The ministry would seek the opinions of the State Bank, finance ministry and other stakeholders for this purpose.
Only tax-paying gold traders would be able to avail the quota.
The goal of allocating quota by removing the ban on gold import is not only to control illegal import and discourage smuggling, but also to bring more traders into the tax net.
Separately, a meeting of the Sub-Committee of Senate Standing Committee on Commerce was held with under the chairmanship of Senator Fida Muhammad in which the issue of gold import was considered.
Senator Anwaar-ul-Haq Kakar observed during the meeting that if there was no legal import of gold in Pakistan, how would it be exported.
He added that the country had problems in the export sector. "These problems will be solved if gold is exported," he maintained.
Kakar further said the commerce minister should introduce a policy. "If there is any difficulty, the issue will be raised in the finance committee," he added.
The commerce special secretary said what fell under the category of jewellers' point of sales would be allowed to import.
He added that five tons of gold worth $300 million was allowed to be imported.
However, he elaborated that it would mean expenditure of foreign reserves because of which the import was prohibited.
The representative of the jewellers association said a policy should be formulated even if a ban of five months was imposed.
The committee directed the commerce ministry to formulate a policy for the import of raw gold.
In an earlier meeting of the committee, the participants were informed that raw gold was not legally imported into Pakistan, therefore, the local requirement was met through smuggling. A representative of the jewellers association had told the committee that 170 tons of gold was smuggled into the country every year.
The members had pointed out that India exported gold jewellery and earned foreign exchange but Pakistan could not export it, because the State Bank would not permit the import of the precious metal.
Commerce Minister Naveed Qamar had pointed out that as the gold import was illegal, the government could not levy tax on it. Senator Kakar had said that import of gold jewellery was allowed but the import of raw gold was banned.
COMMENTS
Comments are moderated and generally will be posted if they are on-topic and not abusive.
For more information, please see our Comments FAQ