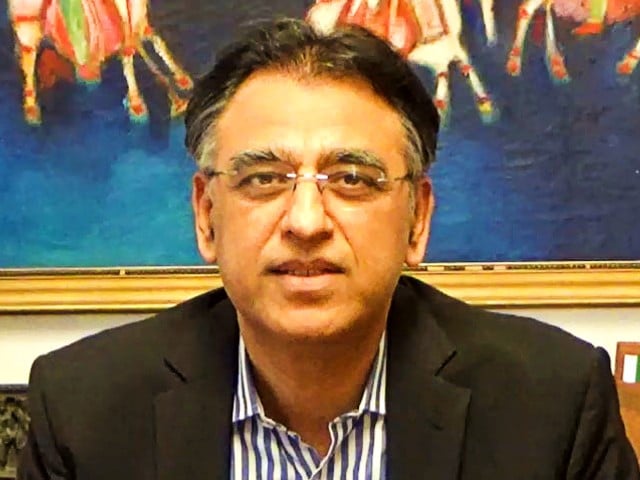 ---
ISLAMABAD:
Pakistan Tehreek-e-Insaaf (PTI) Secretary General Asad Umar said on Wednesday the ruling coalition led by the Pakistan Democratic Movement (PDM) was unable to face PTI Chairman Imran Khan in the political arena, therefore they were hatching conspiracies against him.
Addressing a news conference in Islamabad, Umar said that Defence Minister Khawaja Asif gave a "ridiculous" statement about the PTI running a campaign against the martyrs of the helicopter crash in Balochistan as party of that conspiracy.
"Let the nation know that this is a very heinous conspiracy. There is a conspiracy to pit PTI against the military," Umar said. "This conspiracy will harm Pakistan. I am telling the PDM that you are making a big mistake, this will destroy your politics," he added.
Umar said that the PDM's politics was coming to close. "They are unable to face Imran Khan in the political field, therefore, conspiracies are being hatched against Imran Khan to control him," he said. "People of every language, every region are standing with Imran Khan today."
Earlier, Umar talked to the media after meeting Dr Shehbaz Gill in the Adiala Jail. He said that attempts were being made to get the statement against Imran Khan by torturing Gill. "I have met Shehbaz Gill, he is fine," Umar said.
He further said that the statement on which the case against Gill had been built was broadcast live. He added that the prosecution was using the alibi of recovering Gill's phone to seek his remand to force him to giver the statement against Imran.
"The phone was taken by the police on the same day [of Gill's arrest]. Remand is being sought for Gill to force him to speak against Imran Khan. But during the meeting today, I told Shehbaz Gill that the party leaders and workers are standing with you."
Umar, former planning minister in Imran Khan's cabinet in the previous government, also told reporters that an application was being filed for grant of bail to Gill. After getting the bail, Gill would undergo medical treatment, he added.
COMMENTS
Comments are moderated and generally will be posted if they are on-topic and not abusive.
For more information, please see our Comments FAQ