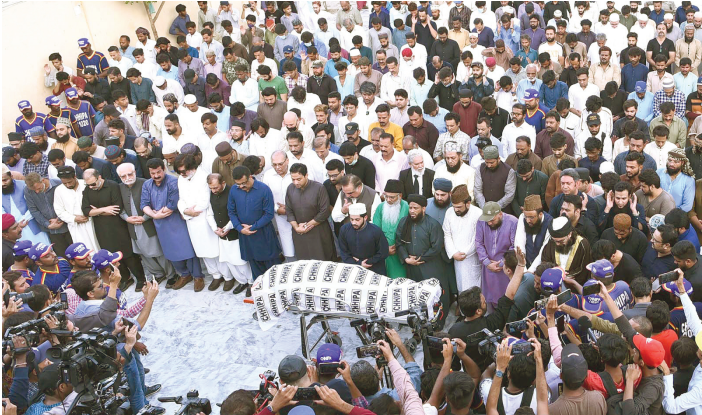 ---
KARACHI:
An additional district and sessions judge in the City Court has annulled the judicial magistrate (East)'s June 18 decision that ordered TV personality Aamir Liaquat's post-mortem.
The court was hearing a petition filed by Advocate Zia Awan on behalf of the heirs of the deceased anchorperson against the June 18 order.
On June 18, Abdul Ahad filed a petition for an autopsy of the anchor and his appeal was accepted by the court. The public prosecutor had argued that the legal heirs did not want an autopsy as it would "hurt the deceased's soul" and that they did not suspect any foul play.
According to the police surgeon, the cause of death could not be determined without an internal examination of the body. Barrister Arsalan, counsel for petitioner Abdul Ahad, had argued that Aamir Liaquat Hussain had died suddenly and mysteriously.
Read: SHC makes Dania Shah party in Aamir Liaquat autopsy case
Following the court's orders, the Health Department of Sindh issued a letter to the police surgeon of Karachi for the exhumation and post-mortem examination of MNA Dr Aamir Liaquat Hussain to determine the cause of his death.
During today's hearing, Advocate Zia Awan stated that though "the order regarding the autopsy of Aamir Liaquat Hussain was annulled, it [the case] has hurt the sentiments of his children."
Aamir Liaquat's ex-wife Bushra Iqbal also spoke of the ordeal the family had to go through owing to the court hearings.
"People accused us of different things, including accusations of taking his [Aamir's] property," she said, adding that all the family wanted was for Aamir's body "to not be mocked'.
She said that action is being taken against Aamir's third wife Dania Shah. "Whatever she did, is in front of everyone," she claimed.
"We will try our best to make sure that she is punished by the law as the matter is in [the] FIA [Federal Investigation Agency] for inquiry," added Iqbal.
COMMENTS
Comments are moderated and generally will be posted if they are on-topic and not abusive.
For more information, please see our Comments FAQ