 ---
 ISLAMABAD  :
Aziz Khan*, 45, sat at the door of his tent in the heat of the day. Rain or shine, he faces the harsh realities of his new life every day. Dislodged from his home, he's torn between two unreconciled strivings: two meals a day to survive in a new world and a yearning to reunite with his family stranded back in Afghanistan.
With no access to basic facilities such as clean drinking water and electricity, Aziz struggles to come to terms with poverty -- a new, alien reality he has not encountered in his life before.
His days are consumed by the memories of the apple orchards that he owned and the stable dry fruit business he left behind in the Maidan Wardak province of Afghanistan before he fled to Pakistan along with his wife, leaving behind his daughter and second wife, after Kabul fell to Taliban a year ago.
Aziz, like hundreds of other Afghan refugees living in tents and makeshift shelters just outside the press club in Islamabad, is beset by the troubling questions: what's their next destination and where should they go?
"I keep thinking about my orchards, my big house, the carpet we brought from Turkey and the dry fruit business that I had," Aziz shares with a lump in his throat. "But you know what I miss the most; my daughter and her smile."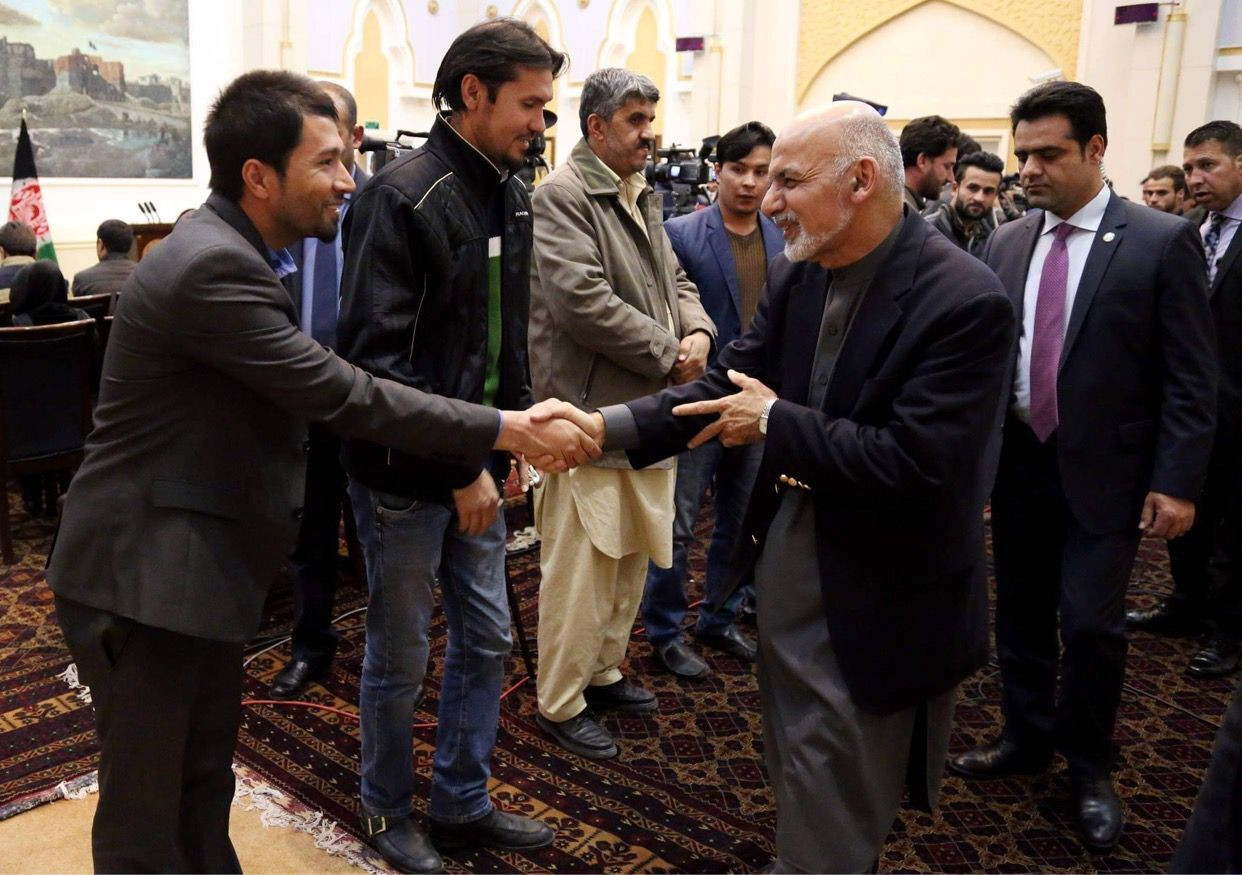 Abdul Satar Azad. Ex-media team member of Ex President Ashraf Ghani
Darkness stirs to life the precious moments of his life before he became a refugee -- a flashback captures him and he is unable to remember when tears begin rolling down his cheeks and when he falls asleep. "It's really difficult to even separate my thoughts from my dreams; everything feels diluted," he says, "my feet haven't yet forgotten the warm softness of our carpet."
Read One year on, Afghan family still divided after daughter fled, mother stayed
He then takes out his mobile phone and shows a photo of himself plucking apples from his orchard and another one showing him selling dry fruit at his shop. His eyes well up, lips tremble and he struggles to mumble only a few words when he shows the photo of his daughter clad in a white fancy frock. "I miss her so much," is all he manages to say.
Ghani's media team member's tent
The lives of many turned upside down since the chaotic end of the 20-year war in Afghanistan. Scenes of violence in Afghanistan triggered painful memories for many, including Abul Sattar Azad, who worked at the Afghan presidential palace as a member of the former Afghan president Ashraf Ghani's social media team and witnessed the moment when Ghani fled the country.
Apparently, Ghani now lives a comfortable life in UAE while Azad along with his two kids, wife and father-in-law is stranded in a tent in Pakistan and managing media affairs of the refugees located near the capital's press club. "I fled to Pakistan to save my life," Azad says, adding that his association with the former ruler's media team was enough for the incumbent rulers to come after him.
"There is no difference between the Afghan and Ukrainian refugees but the world is treating Afghans differently," he regretted.
"We had five cars; one each for five brothers," another refugee Baadshah* shared, "a big house and a market that we owned in Kabul; it all vanished just in a blink of an eye." From being having a decent life and business to living in a tent, he says, is a nightmare, especially, when the money is drying up fast. "We are not allowed to work; how long can we survive like this," Baadshah* asks, "you know what is my worst fear; I fear the day when I might have to beg just to provide food to my family."
What's a woman without beauty?
The hasty withdrawal of the U.S armed forces and rapid rise to power of the Afghan Taliban brought pain, helplessness, stress and anxiety for many. Lina Mehrab, who is living with her three sons and a daughter in a tent, is one of them. Lina, who used to teach children at her house in Kabul, has a mixture of feelings about her abrupt exit from Afghanistan and the 'miserable' tent life.
"Losing beauty is the worst that can happen to any woman," Lina said while sharing how scarcity of food, water and money was affecting refugee women living in tents. Shocking as it may seem, she pointed out that saving children from the predators was another task of the refugees.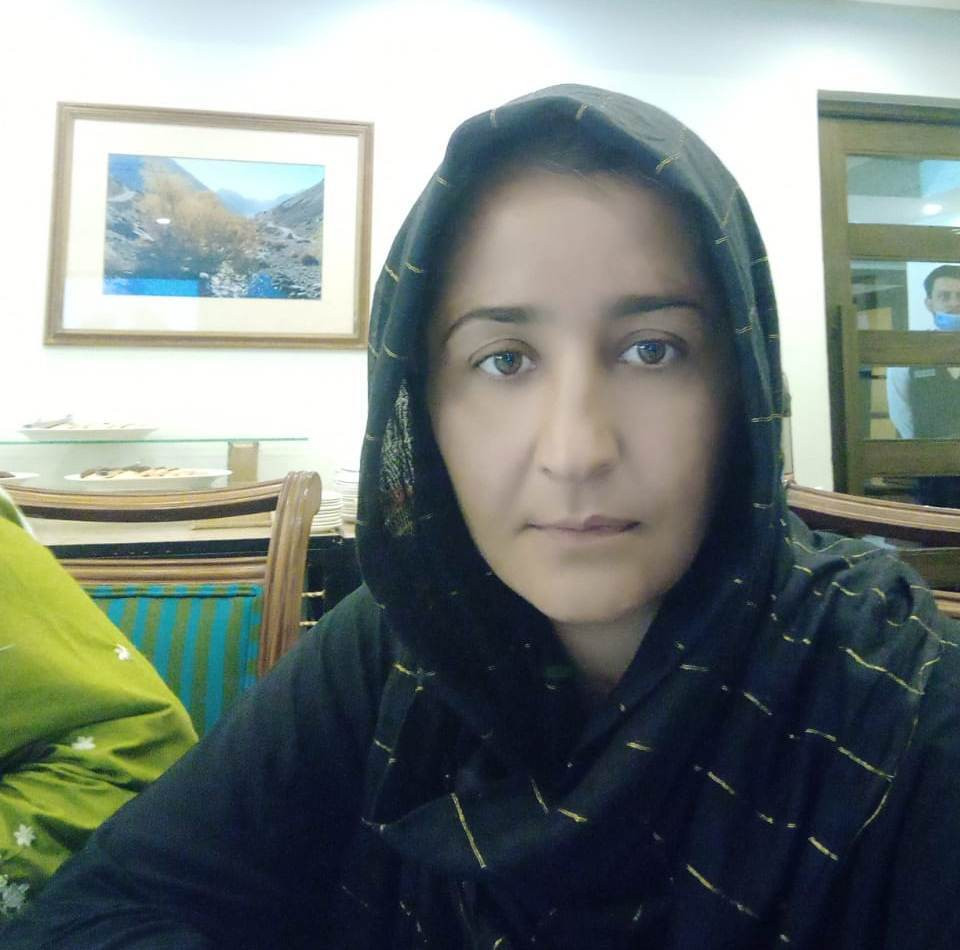 Lina Mehrab
Lina shared that she fled from Afghanistan because their lives were under threat due to Taliban. Her mother worked as a policewoman before Taliban came to power, Lina said, revealing that she took the decision to leave Afghanistan when two of her mother's friends suddenly disappeared and Taliban knocked on her door one night looking for her mother. "They had ordered me to produce my mother at 8am the next day," she said, "I fled to Pakistan that night."
Clad in jeans pants and a long top, a young girl Diana, who wished her full name should not be revealed as a few members of her family were still in Afghanistan, said that she along with eight family members didn't feel safe in Afghanistan. For her, she can't live in a place where women are only supposed to do cooking, cleaning, washing, and giving birth to children.
"What is a life where girls can't go to schools, women can't work and they can't live a little without having any fear," Diana says. She recalls that the police crackdown a few weeks ago traumatised the refugees when they decided to move to Red Zone so that the authorities concerned take notice of the fact that they have spent months without being noticed.
What do refugees want?
According to the website of the United Nations High Commissioner for Refugees, Pakistan hosts more than 1.4 million registered Afghans who have been forced to flee their homes. Nevertheless, Pakistani authorities often say that Pakistan has been hosting roughly four million refugees for the past several decades and looking after the ones who arrived last August.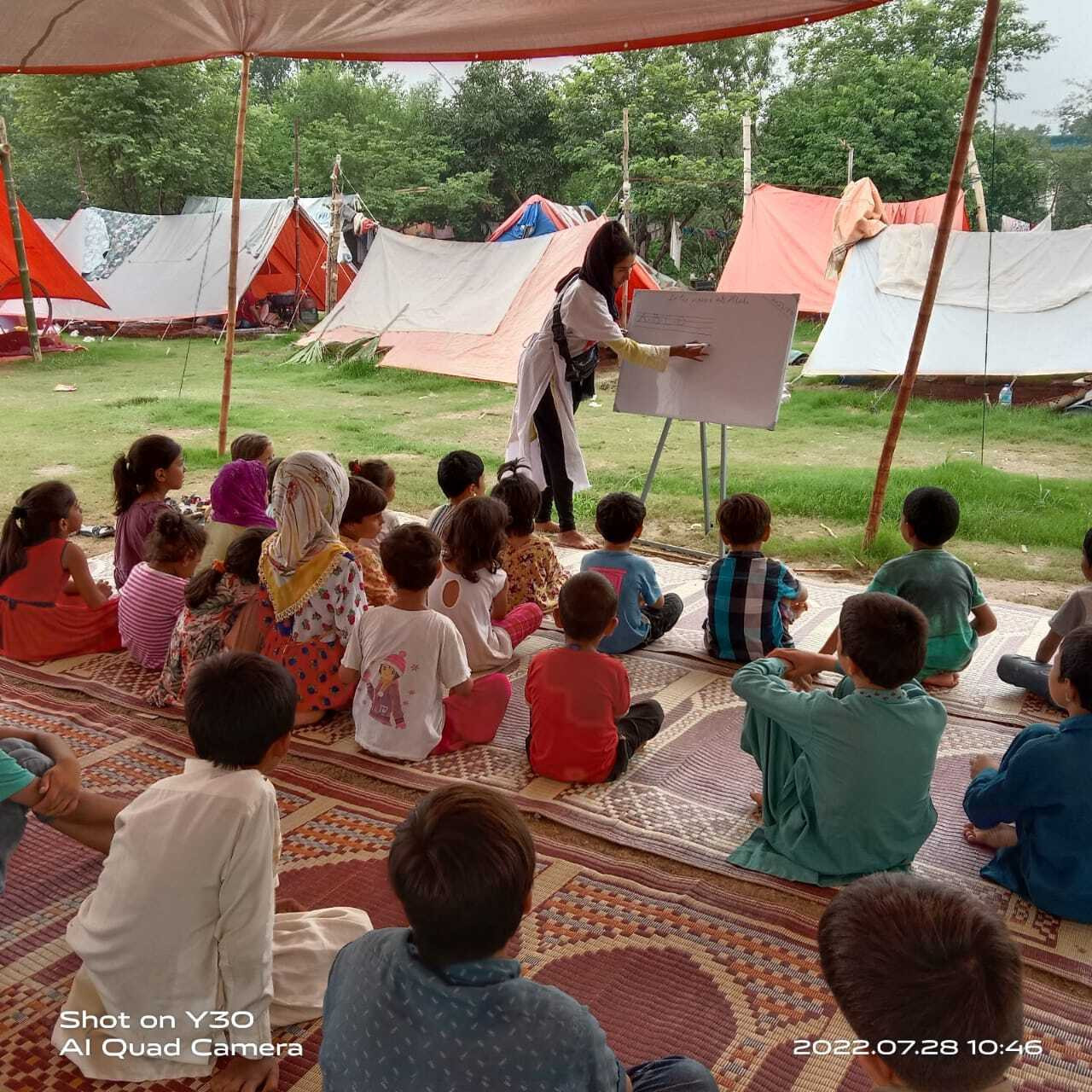 Diana teaching refugee kids in one of the tents
Contrary to refugees' accounts, Afghan authorities have often said that they do not want Afghans to leave the country, saying they would adhere to international commitments and that people should stay without any fear.
Despite tall claims of the different international bodies promoting human rights, people living in tents complain of the lack of international aid for managing day-to-day affairs and assistance in resettling in a third country. Azad says the refugees were managing education for children on their own but what they really need is monetary support or working rights until they get asylum in a country where they can earn a living and secure future instead of just living day-to-day in tents.
He says escaping the Taliban was one thing but starting a new life was becoming difficult. However, the dream to have a better life has kept hopes alive and the refugees believe that better days and a better life would soon greet them.
COMMENTS
Comments are moderated and generally will be posted if they are on-topic and not abusive.
For more information, please see our Comments FAQ