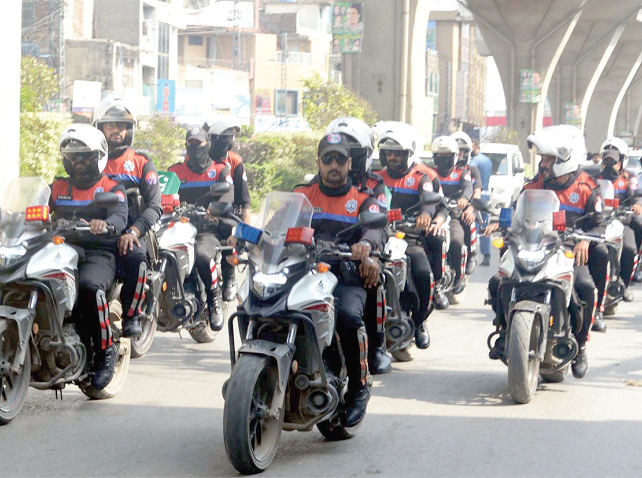 ---
LAHORE:
According to a security plan devised by the Lahore Police for the 75th Independence Day, over 5000 police officers will perform security duties on the night of August 13th and on Independence Day. The contingent includes all divisional SPs, SDPO, SHOs and additional contingents of Dolphin Squads, Police Response Unit, Elite Force and Anti-Riot Force.
As many as six SPs, 34 DSPs, 83 SHOs, over 400 upper subordinates and female police officers would provide protection to all rallies and flag-hoisting ceremonies on Independence Day, Lahore CCPO Ghulam Mehmood Dogar said. Police would establish special check posts at different points of the city to check citizens and vehicles.
On the night of August 13 and the whole day ahead, no one will be allowed to perform any kind of antisocial activities or hooliganism, including aerial firing, one-wheeling and the use of fireworks, to ensure order and public safety in the metropolis.
CCPO Lahore directed police officials to adopt foolproof security measures and remain alert on the national day. He further directed all divisional SPs to personally visit all important areas in their respective jurisdictions, particularly public places and junction points and adopt stringent security measures in coordination with Traffic Police.
The CCPO added that police collected surety bonds from persons with prior records of aerial firing, hooliganism and one-wheeling. He said that all routes will be scanned and monitored continuously using Punjab Safe Cities Authority (PSCA) CCTV cameras on Independence Day.
Over 100 teams of Dolphin Squad and PRU will ensure effective patrolling around all important roads, shopping areas, parks and recreational places of the city.
Additional contingents of Police will also be deployed at such sensitive locations, where people largely gather on the night of August 13th and on Independence Day. Moreover, Lahore Police will ensure the checking of suspicious persons and vehicles at entry and exit points of the city.
The CCPO directed citizens to behave in a civilized manner, obey traffic rules and avoid hooliganism, as such unlawful activities threatened their lives as well as the public. "The purpose of these security arrangements is to ensure the safety of the public and their property, along with maintaining law and order in the city on Independence Day," he said.
"We all should recognise the sanctity of the event which demand deeper understanding to respect the rights of other citizens and refrain from any antisocial or anti peace activities including use of loudspeakers, hooliganism, aerial firing and one wheeling to avoid any untoward, law and order situation," CCPO Dogar concluded.
Published in The Express Tribune, August 14th, 2022.
COMMENTS
Comments are moderated and generally will be posted if they are on-topic and not abusive.
For more information, please see our Comments FAQ