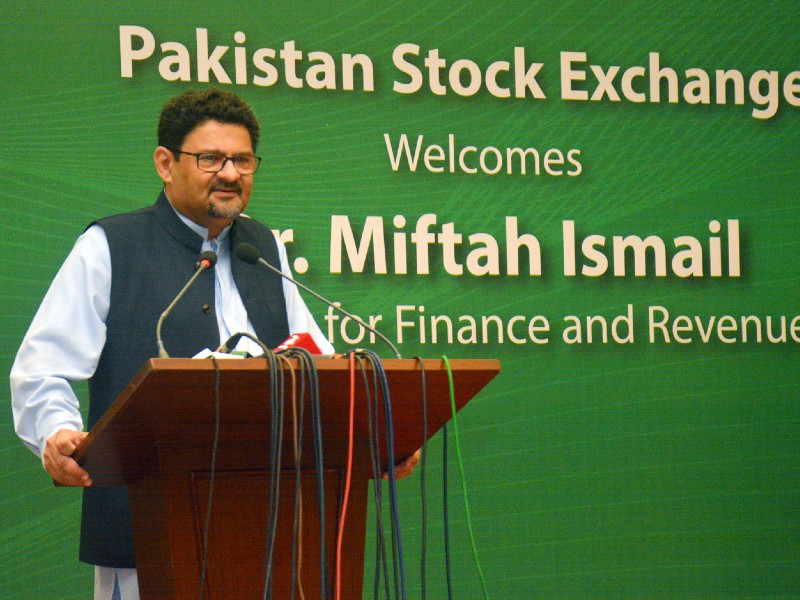 ---
Finance Minister Miftah Ismail announced on Friday that the government is willing to risk a slower growth rate but will continue its policy of limiting imports for the next three months. during a visit to Pakistan Stock Exchange (PSX) today.
"Last year, the country's imports stood at $80 billion and suffered a trade deficit of $40 billion," he explained and added that "no country can survive with such a massive current account deficit".
"I understand that the growth rate will fall for some time," he said as the minister addressed a ceremony at the Pakistan Stock Exchange (PSX). The finance minister added that he believed the government was left with no alternatives.
Read Miftah optimistic rupee will improve in coming weeks
The minister also said that "nobody knew how much the dollar would drop" as he rejected rumours of "dollar betting" in banks.
"The banks have played a positive role in controlling the dollar," he said. "The government is grateful to the banks for their cooperation," he said. Miftah further added that the fluctuation in dollar prices was caused by "supply and demand in the market".
"Even a small-scale shopkeeper understands that if the sales are Rs30,000 a day and the stock you are buying is worth Rs80,000, then you need to reduce the stocks you are buying. That is what we did too" he explained, claiming that "all problems ended" once the government reduced the country's imports from $7 billion to $4.9 billion.
The minister also confessed the government had made a "mistake" in its imposition of taxes on shopkeepers. "We had estimated Rs3,000 to be levied per shop as income and sales tax" however, he said that "small-scale shopkeepers were also included in these lists" by error.
Nonetheless, he defended the tax imposed on traders, describing it as "adequate and good".
Miftah also informed the attendees that Pakistan is "very comfortable in terms of our energy security and energy supply, and other obligations".
"The country's tax to GDP ratio is 9.2% which needs to be improved," he admitted and announced that the government was working on "fixing" the advance to deposit ratio through a special tax system.
Hailing the government for its "effective strategy", he said that the strategy to control the budget deficit has been outlined".
Commenting on the government's strategy he said that "IMF had to come, it will come, followed by the World Bank and then the Asian Development Bank; then a Chinese bank, Asian Infrastructure Bank."
Reiterating his commitment to saving the country from default, the finance minister said that "we do not want growth without exports. Growth is only favourable when it is export-oriented."
COMMENTS
Comments are moderated and generally will be posted if they are on-topic and not abusive.
For more information, please see our Comments FAQ