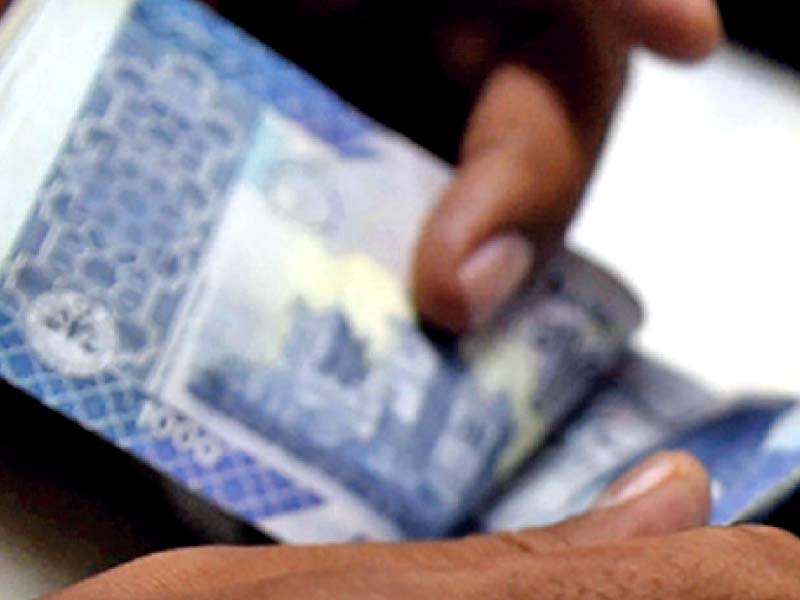 ---
KARACHI:
Commercial banks have pushed down interest rate by 5 basis points to around 14% on fresh long-term (five to 10-year) financing of Rs298.5 billion for the government, signaling the central bank's key policy rate has peaked out at 15%.
More importantly, commercial banks have extended higher amounts of funds for longer tenure on "fixed rate or return" compared to previously offered higher amounts on "variable rate of return", suggesting they are foreseeing the status quo in the central bank's policy rate in next monetary policy meeting scheduled for August 22, Arif Habib Limited's (AHL) economist Sana Tawfik said while talking to The Express Tribune.
Commercial banks extend financing to the government through investing in sovereign debt securities including three to 12-month T-bills and 3 to 30-year Pakistan Investment bonds (PIBs).
The government has raised Rs298.5 billion through auctioning three to 30-year PIBs on Wednesday, against a target of Rs175 billion. The drop in cut-off yields (commercial banks' interest rate on financing to the government) agreed the government to borrow more funds than the targeted ones.
Tawfik, however, said domestic financial markets remained divided on whether the central bank would keep its policy rate unchanged or further increase on August 22. The inflation reading has shot to the skies and it is yet to peak out in the months to come, suggesting State Bank of Pakistan (SBP) may still consider further increasing its policy rate, she said.
The inflation reading spiked to a 14-year high at close to 25% in June and is expected to come over 25% in July as well.
A historical recovery in the rupee also signaled stability in the central bank's policy rate, going forward.
Pakistan currency made a record high recovery of Rs9.98 (or 4.19%) in a single day to a three-week high at Rs228.80 against the US dollar in the inter-bank market on Wednesday.
The rupee has gained following the trade deficit halved in June compared to July and IMF acknowledged Pakistan has met all conditions for the revival of its loan programme. The developments also suggested the external pressure on the domestic economy has come to an end and the central bank may opt to maintain its rate in August.
"The cut-off yields on T-bills and PIBs may fall notably after foreign financing to Pakistan is resumed in late August," she said, adding the resumption of the IMF loan programme would reduce government dependence on domestic debt.
Earlier, the central bank increased its rate cumulatively by 800 basis points from September 2021 to 15% at present. Commercial banks' have offered a significantly higher amount at over Rs700 billion in financing to the government against its set target of Rs175 billion in the latest PIB auction. "The bank's participation increased following the central bank injected money into banks through open market operations (OMOS) last week."
The central bank supplies financing to commercial banks through OMO operations. Commercial banks extend the financing to the government. Recent legislations have barred SBP from directly financing the government to bridge its budget deficit.
Auction results
The government has raised Rs82.65 billion through competitive bidding at fixed-rate, against a set target of Rs60 billion, through auctioning three-year PIBs at a cut-off yield of 13.94%. The yield was 5 basis points lower compared to the previous auction held last month.
It borrowed another Rs191.45 billion through competitive bidding at fixed-rate, against a set target of Rs60 billion, by selling 5-year PIB at a cut-off yield of 13.40%. The yield was lower by 5 basis points compared to the previous PIB auction held in July 2022.
Published in The Express Tribune, August 4th, 2022.
Like Business on Facebook, follow @TribuneBiz on Twitter to stay informed and join in the conversation.
COMMENTS
Comments are moderated and generally will be posted if they are on-topic and not abusive.
For more information, please see our Comments FAQ