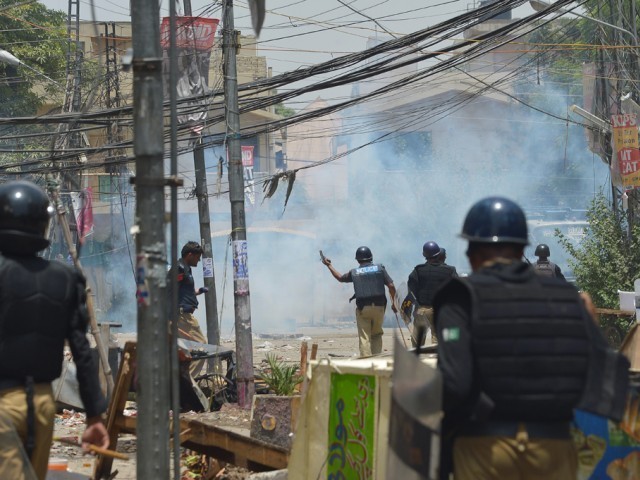 ---
LAHORE:
The Pakistan Awami Tehreek (PAT) on Friday challenged Interior Minister Rana Sanaullah's claim that the PML-N leadership had been exonerated from the Model Town tragedy.
Reacting to the claim, PAT Secretary-General Khurram Nawaz Gandapur said that the plan for the massacre of Model Town had been made under the patronage of then Prime Minister Nawaz Sharif, while Shehbaz Sharif and Rana Sanaullah were the masterminds using police and civil administration as a tool.
He said that FIR No696 containing all these facts had been registered with the Faisal Town police station pending adjudication.
He said that during the illegal rule of Hamza Shehbaz, an attempt was made to acquit the accused of the Model Town tragedy, but it was foiled due to the PAT's active legal role.
Read more: Former ally PAT distances itself from PTI's May 25 long march
He said they had presented concrete evidence of the involvement of the PML-N leadership before the anti-terrorism court but there's an unnecessary delay in the delivery of justice.
A petition to summon Nawaz Sharif, Shehbaz Sharif and Rana Sanaullah as accused is pending in the higher courts, he said, alleging that Shehbaz Sharif as the chief minister and Sanaullah as the provincial law minister got distorted facts during investigations of the case conducted through managed police because the statements of the injured and eyewitnesses of the Model Town tragedy were not recorded by the investigators and a unilateral challan was presented to the ATC.
Gandapur said that the party had been demanding an impartial inquiry into the case for the last eight years and a new JIT was formed on the order of the Supreme Court, but a stay order by the Lahore High Court for the last three years was barring its working.
Sanaullah and the ilk could not claim innocence till a report of the impartial JIT was submitted, he said, adding the accused desired to shift their responsibility onto the police officers.
He said that the police raid on PAT offices in Model Town back in 2014 was not a plan just to remove the road barriers outside but to intimidate and kill the leaders and workers of Minhajul Quran and PAT as the Nawaz government, afraid of Dr Tahirul Qadri, desired to stop him from coming to Pakistan.
Gandapur appealed to the Chief Justice of the Supreme Court of Pakistan as well as of the Lahore High Court to decide on the stay order regarding the impartial JIT as soon as possible so that the masterminds of the tragedy were exposed and justice delivered to the victims.
COMMENTS
Comments are moderated and generally will be posted if they are on-topic and not abusive.
For more information, please see our Comments FAQ