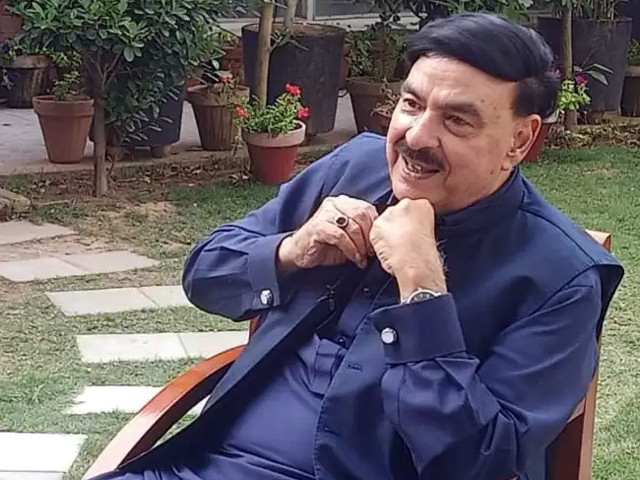 ---
ISLAMABAD:
Awami Muslim League chief Sheikh Rashid on Friday said matters related to early elections have been "settled". Taking to his official Twitter handle, the Pakistan Tehreek-e-Insaf (PTI) ally stated that the nation would "soon" hear about the date for elections in October, the formation of a new election commission and a caretaker government.
"Even those in quarantine have agreed to elections," Rashid said, seemingly referring to PPP supremo Asif Ali Zardari who tested positive for Covid-19 earlier this week. The veteran politician, however, stated that JUI-F head Maulana Fazlur Rehman was yet to be convinced.
He claimed that the political reputation of the allied political parties had "turned to ashes" and that democracy became a joke and the assembly a "spectacle".
Regarding the current economic situation, Rashid said markets would close down if the rupee kept depreciating and if there are further increases in the price of electricity and LPG.
"The crisis is moving from Sri Lanka to Lebanon, Iraq and now Pakistan. In the past few days, four governments have resigned in Europe," he said.
Later, in another tweet, the former interior minister said that the shortfall of 6,000 megawatts of electricity and an additional tax of Rs6,000 on shopkeepers will bring more economic hardships.
He maintained that the current coalition government could not yet appoint a new governor of the State Bank and that the International Monetary Fund (IMF) had not bailed the country out yet.
According to Rashid, the new president of Pakistan Muslim League-Quaid (PML-Q) would recall his two ministers.
Rashid's statement comes after his successor, Rana Sanaullah, said that the Pakistan Muslim League-Nawaz (PML-N) was in favour of the early elections but has been silent due to concerns of the coalition partners.
Addressing a presser, he said that general elections can be held if both Punjab and K-P assemblies are dissolved.
COMMENTS
Comments are moderated and generally will be posted if they are on-topic and not abusive.
For more information, please see our Comments FAQ