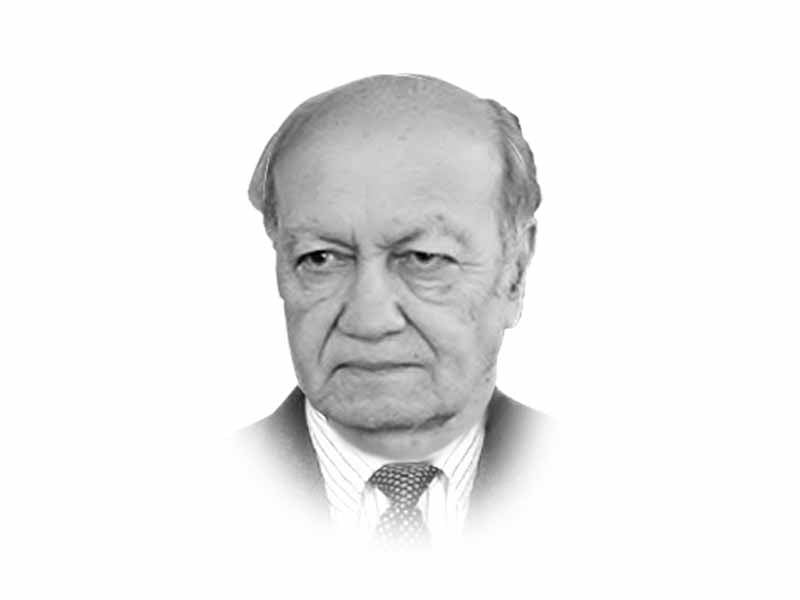 ---
The conducts of our political leaders, betraying lack of sense of responsibility and going at any length to stay in power, provide a living example of why nations fail. Not that Pakistan has a history of clean politics but the present crisis especially in Punjab is extremely serious and is taking place when global and regional conditions are pitched against us.
More consequential is the fact that the country's economy is in dire straits and the government is desperately seeking IMF and friendly countries to bail it out. Instead of focusing on the best use of scarce resources to satisfy the needs of the people, mismanagement is making matters worse. History seems to be repeating itself as both PTI and the PML-N-led coalition are seeking the support of the army leadership and putting pressure on the judiciary to tilt verdicts in their favour. Whatever tactics the government may employ to stay in power in Punjab and at the Center will only add to the misery of the silent majority, and strengthen the army's leverage.
Imran Khan's deliberate policy of ignoring democratic institutions and shunning the opposition defies the basic concept of pluralism and tends toward dictatorial instincts. When the entire political energy is geared towards demolishing the opponent instead of presenting oneself as a better candidate or party through performance, the political scenario can turn ugly very quickly. And this situation we are already witnessing. Besides, the prevalent policy of all political parties of blocking programs and initiatives that the previous government had initiated irrespective of country needs has to cease. By such inimical responses the worst affected are the ordinary people. It is unfortunate that the ruling party and the opposition are weakening the political structure and pursuing policies that undermine the economy and lower the image of the country. Moreover, such elite and party polarisation has filtered down at the grass-root level.
In all the main political parties — PML-N, PTI and PPP — there is excessive concentration of power in the top leadership that is preventing the advantage of making and implementing better policies that would have emerged otherwise from valuable input from the higher tier leadership where sufficient talent and experience resides. Unless political parties do not internally democratise, there is scant hope of improving the quality of democracy at the national, provincial and local levels. Moreover, when political parties have a mix of conservative and liberal, educated and experienced in sufficient numbers, politics of compromise and a certain level of decorum prevails. That seems a long way off and our present challenge is how to reduce the animosity and bitter rivalry among political parties. The flow of dirty money to influence political behaviour has become common place and politicians, instead of enacting laws and taking disciplinary action against the violators, are frequently promoting it. Checks and balances are already in our system but these are largely ignored. We have to work towards the goal to revive these, but to expect that our politicians in their present state of mind would be thinking along these lines would be day-dreaming. Can we also afford to give up and let the country continue to slide?
Adding to our national woes is the adverse international environment. The Russia-US confrontation over Ukraine requires deft handling of foreign relations and the economy in which a better understanding and cooperation of major political parties is necessary. Due to accelerating global inflation and scarcity of basic essentials, especially of fuel, agricultural and industrial products, not only are the prices rapidly increasing but they are frequently becoming scarce. Unfortunately, there is hardly any realisation of these developments that is reflected in the political behaviour.
The US-China rivalry has also stepped up as President Biden has taken an aggressive posture toward China to dampen its fast-growing economy and influence in the coming years. Apart from its overall negative global fallout, it creates not only economic but also strategic restraints on Pakistan. It would remain a challenge for Pakistan diplomacy to steer this hostile terrain. While remaining steadfast in maintaining a strategic relationship with China, Pakistan should seek close relations with the US in terms of economy and trade. But, here too there is no serious thought being given apart from leaving it to our diplomats. Fortunately, we have highly professional and dedicated diplomats, and presently a competent Foreign Minister that is managing foreign policy astutely under trying conditions. What cannot be overlooked is that Pakistan's foreign policy would carry weight when Pakistan is internally stable and its economy is strong.
What is worrisome is that in this anarchic domestic situation, education, infrastructure, healthcare, and research and development are being ignored with serious consequences for the country's future. The IT revolution and expansion of globalisation has been only partially absorbed. Leaders struggling for political survival are thinking and planning largely on a short horizon and neglecting these areas. This also has to do with the quality of the power structure and priorities that are driven by special or personal interests. Similarly, how many politicians are listening to the lone voice and warnings of Sherry Rehman on climate change and global warming. Or that of Raza Rabbani, Aitzaz Ahsan on wise political and constitutional issues. Successive government leaderships have been unwilling to open their minds to issues that are long-term, despite the reality that climate change is occurring right here largely due to human activities. There is an urgent need to give serious thought on how to respond to it and should invite interest across the political spectrum.
But despite the highly disturbing political and economic situation we are experiencing, it can all change provided some sanity among top political leadership prevails. Imran Khan has to lower his rhetoric, take serious issues to parliament and refrain from shaking the frail political structure. And the PDM coalition leadership should avoid political vendetta, take effective measures toward improving governance and lifting the economy while the clock is still ticking.
Published in The Express Tribune, July 27th, 2022.
Like Opinion & Editorial on Facebook, follow @ETOpEd on Twitter to receive all updates on all our daily pieces.
COMMENTS
Comments are moderated and generally will be posted if they are on-topic and not abusive.
For more information, please see our Comments FAQ