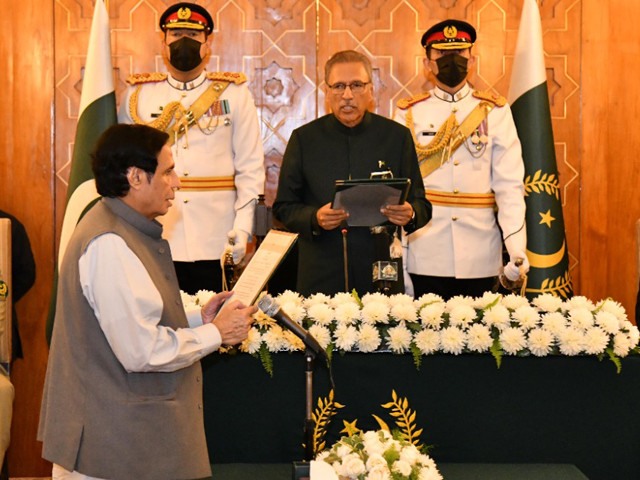 ---
ISLAMABAD/ LAHORE:
Hours after the Supreme Court struck down Punjab Assembly deputy speaker's ruling, President Dr Arif Alvi administered the oath of Punjab chief minister to Pakistan Tehreek-e-Insaf (PTI) candidate Chaudhry Pervaiz Elahi at the President House in wee hours of Wednesday.
Earlier, it was decided to host the swearing-in ceremony at the Governor House but to the Punjab governor's dismay, the ceremony was shifted to President House, Islamabad following his refusal to administer oath.
Elahi reached Islamabad at 1am on Wednesday morning to take the oath of office via a special flight from Lahore. Elahi was declared the chief minister-elect by a Supreme Court ruling on Tuesday, which said that he should take oath of office by 11:30pm. The ruling said that if the Punjab governor did not administer the oath, Elahi would be sworn in by the president.
On the journey from Lahore, Elahi was accompanied by Zain Qureshi, Mian Mahmoodur Rashid, Murad Ras and Chaudhry Wajahat. The chief minister's security and protocol staff also left for Islamabad with them.
وزیراعلیٰ پنجاب چودھری پرویزالٰہی حلف اٹھانے کے لیےاسلام آباد روانہ

چودھری وجاہت حسین، موسیٰ الٰہی،زین قریشی، محمودالرشید بھی ہمراہ pic.twitter.com/Z7b45qNFEM

— Saqib Virk (@SaqibVirkPK) July 26, 2022
Also read: SC declares Hamza's election null and void, directs Elahi to take oath tonight
Elahi has been elected as chief executive of the province for the second time. Earlier, he was elected as the Punjab chief minister in 2002. He has also served as deputy prime minister in 2011.
Elahi was born in Gujjrat's Jutt family in 1945 and started his political carrier as the Gujrat District Council chairman in 1983. Later in 1985, he became a member of the provincial assembly for the first time, then in 1988, 1990 and 1993.
He also worked as an acting opposition leader in the provincial assembly between 1993 and 1996 in absence of Shehbaz Sharif. He was re-elected as the MPA for the fifth time in 1997 and served as the provincial assembly speaker.
After Gen (retd) Pervez Musharraf overthrew Nawaz Sharif's government in 1999, Elahi and Chaudhry Shujaat Hussain left the PML-N and constituted a separate party – the PML-Q. During Musharraf's regime, he was first elected as the Punjab chief minister in 2002. Following relinquishment of the provincial assembly in 2007, he was again elected as an MPA and MNA for the first time in 2008 and became the health minister.
He became the first-ever deputy prime minister in 2011. In 2013, he was again elected as a member of the National Assembly. Later in 2018, he won again on two National Assembly and a provincial assembly seat. He became the Punjab Assembly speaker as the PML-Q was an ally of the then ruling PTI.
COMMENTS
Comments are moderated and generally will be posted if they are on-topic and not abusive.
For more information, please see our Comments FAQ