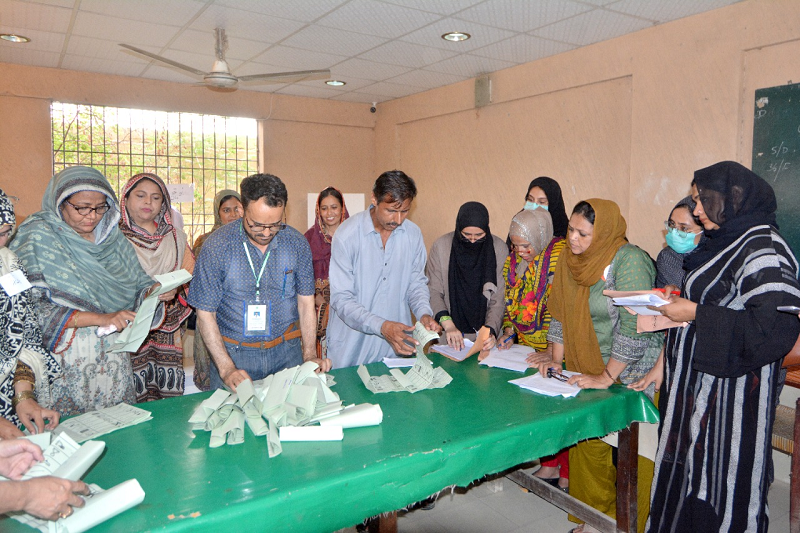 ---
KARACHI:
After seven years, Karachi is holding elections for local body representatives. There will be two Electoral Colleges in the Karachi Metropolitan Corporation structure, including 25 town councils and 246 union committees.
On the Karachi level, there will be a mayor and deputy mayor. Also, there will be 25 chairpersons and vicechairpersons of 25 towns.
The vice-chairpersons of the 246 union committees of Karachi will also be council members of their respective towns, while the chairpersons of the union committees will be members of the Karachi Metropolitan Council.
Karachi is divided into 25 towns and 246 union committees.
Elections are being held for the chairpersons of each Union Committee, vice chairpersons (joint), and the four ward members. In other words, there will be chairmen and vicechairmen of 246 union committees in Karachi.
The chairmen will choose candidates for reserved seats which include 1% trans person (2 persons), 1% special persons (2 persons), 5% women (12 females), 5% youth (12 youth) and 5% labourers or farmers (12 persons).
After that, the Karachi Metropolitan Corporation will have 286 members, all of whom will participate in the election for the mayor and deputy mayor. However, the vice-chairmen of the union committees will be members of the councils of their respective towns.
The number of town council members will vary depending on the number of union committees in each municipality, but the rate of the reserved seat remains the same.
In each town, 1% of trans people, 1% of special persons, 5% of women, 5% of youth, and 5% of workers or farmers will be elected to the reserved seats and then the chairpersons and vice chairpersons of the town will be elected.
As far as union committees are concerned, each union committee elects its chairpersons and four ward members through election. After being elected, these officials will choose a youth, a minority, a labourer or a farmer, and a woman for the reserved seats.
Therefore, a union committee will consist of a chairman, a vice-chairman, and eight ward members.
Remember that each voter must cast two votes and get two ballot papers. They must vote for one joint chairman and vicechairman on a single ballot, while choosing a ward member on the other ballot paper.
City gears up for second phase of LG polls
There are 12 days left for voting in 16 districts of Karachi and Hyderabad divisions' local bodies' elections for which polling will be held on Sunday, July 24.
A total of 21,187 candidates are in the running, and 9,153 are from Karachi. According to the Election Commission of Pakistan (ECP), 1,045 candidates are running from Malir, 1,454 from Korangi, 1,583 from East, 876 in the South, 1,149 in the West, 1,785 in the Central, and 1,261 in the Kemari districts. Karachi has 8.45 million registered voters for which 5003 polling stations will be set up.
The seven districts of the Karachi division are divided into 25 towns. Central District is the largest district with five Towns and 45 Union Committees with 2,072,886 registered votes.
Eastern District is the second-largest district with five towns and 43 union committees, and 1,425,201 voters.
Four towns and 37 union committees have been formed in Korangi with 1.415 million voters. The Western District also consists of three towns and 33 union committees with 99,187 registered voters.
Kemari District consists of three towns, 32 union committees, and 844,851 voters. Malir District consists of three towns, 30 union committees, and 743,205 voters. South District has two towns, 26 union committees, and 995,054 voters.
COMMENTS
Comments are moderated and generally will be posted if they are on-topic and not abusive.
For more information, please see our Comments FAQ