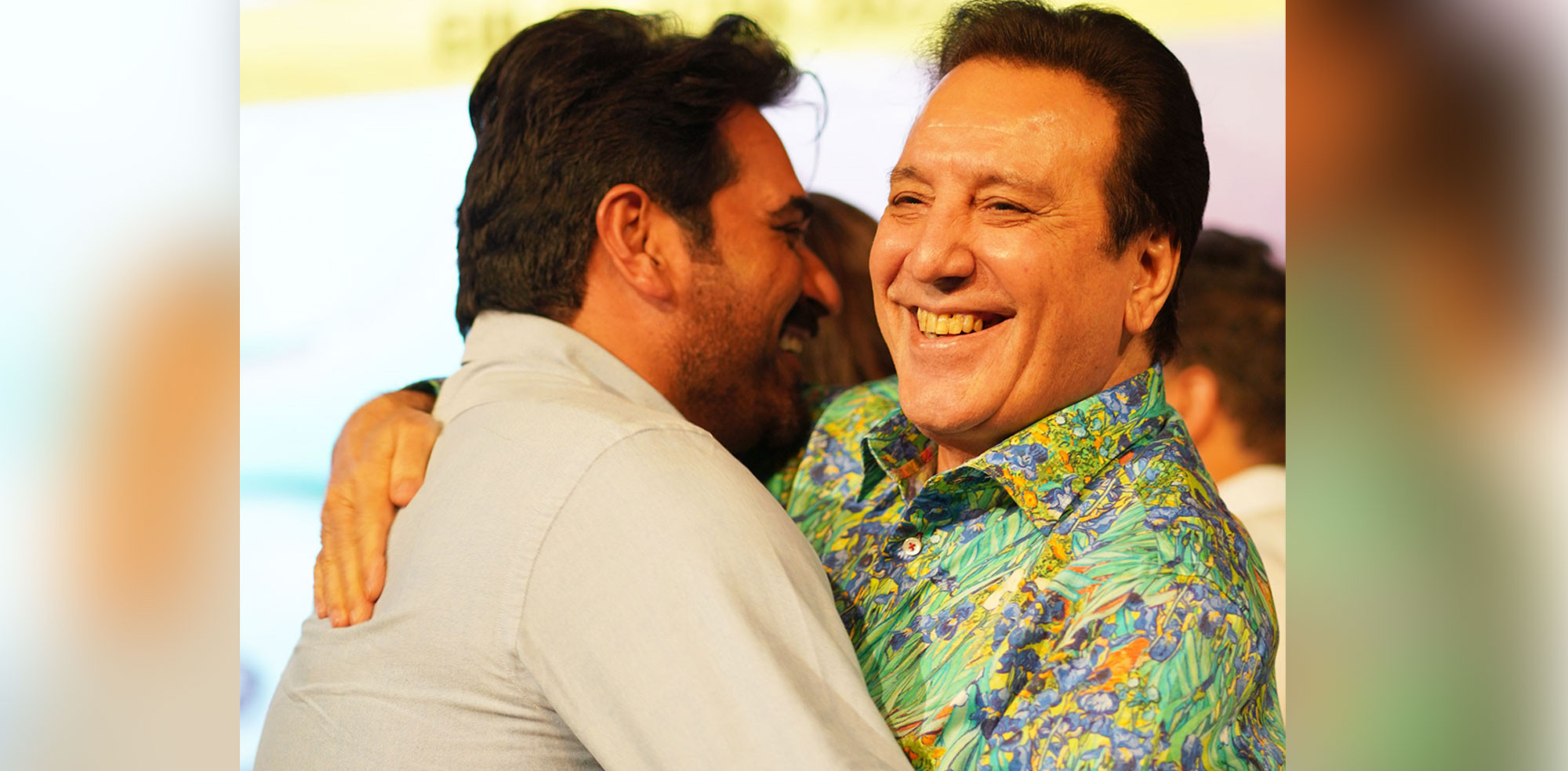 ---
All winners, no losers: Filmmakers eye healthy share of Eid box office for local releases
Makers and cast of London Nahi Jaunga, Quaid-e-Azam Zindabad aren't too worried about the clash with Marvel offering
---
KARACHI:
I once asked Zahid Ahmed about what makes Eid a favourable choice to release a film? "I have no clue why Eid releases are a thing in this country if I am honest," he replied. "Apparently, it is the way our forefathers have kept it!" The statement somewhat rings true. Once again, now on Eidul Azha, we have multiple big-budget films set for a clustered release.
Needless to say, the audience is spoiled for choices with yet another four releases - three local and one Hollywood film - which are ready to screen in the theatres. This week, local films Lafangay, London Nahi Jaunga and Quaid-e-Azam Zindabad compete against Marvel's much-awaited offering, Thor: Love and Thunder. Cinemas in Pakistan are also showing two other Hollywood films: Minions: The Rise of Gru and Top-Gun: Maverick.
But the makers and cast of London Nahi Jaunga and Quaid-e-Azam Zindabad aren't too worried about the clash. Unlike the previous predicament faced by Pakistani producers faced at Eidul Fitr, Quaid-e-Azam Zindabad star Fahad Mustafa welcomes multiple releases in the cinema. "I don't mind division [of revenue]. I don't mind several films releasing in the cinemas at the same time. In fact, I welcome Thor as well. If we stop international releases, then what are we left with?" the actor shared with The Express Tribune. "We have to have a lot of releases. It's simple - a good film will sustain regardless of what it's put up against."
The ace filmmaker, Nadeem Baig, relayed how local films don't really have competition with one another. "This is what we have learned in the last few years that in Pakistan where films are being produced sparsely and the challenges that we have from cinemas, distribution, recovery and all of that, we do have a competition with each other but at the same time, we have to support one another as well. We need to collectively produce more films," Nadeem, who was present at the trailer launch of Quaid-e-Azam Zindabad with his lead star, Humayun Saeed, told the publication. "The reason I was at the launch was that I wholeheartedly believe that it is a good film. I loved the trailer; it has everything a viewer would like to watch in a film. There's good action happening in the trailer and it's a light-hearted project."
The Jawani Phir Nahi Ani filmmaker then remarked, "I do think, however, that we shouldn't release more than two films together. The precedent so far was that when we released Jawani Phir Nahi Ani, there were two more films released with us. One was Bollywood's Singh is Blingg and another local film, Halla Gulla. But JPNA 1 worked. When we released Punjab Nahi Jaungi, there was Sultan and a few other films as well. But our film worked as well. With JPNA 2, we had three films released: Parwaaz Hai Junoon, Load Wedding, and one more. But people came, they were interested in watching a good film."
Talking about Thor releasing on the same weekend as his recent project, Nadeem shared, "I don't think there's an issue with Thor releasing at Eid. Thor can come and it should release on the same date. But the thing is that it is the local films that will run the Pakistani cinema. They should have visibility and the screen distribution should be fair as well and I am sure cinema owners, too, want Pakistani films to flourish. Since we don't have Bollywood films releasing in Pakistan anymore, that slot is covered by Thor this year."
Humayun shared that they're always said to be 'competing' with Nabeel at the box office. "When we released Punjab Nahi Jaungi, they had Na Maloon Afraad, when we had Jawani Phir Nahi Ani 2, they had Load Wedding and we also had Hamza Ali Abbasi's Parwaaz Hai Junoon," he said. "But every film did really well at the box office. There's a track record where people feel our films do well in cinemas as well, we pull more crowd. I think multiple films released simultaneously is a good practice, but we should try to release only two at the same time. There's another film the audience is anxiously waiting for - Bilal Lashari's The Return of the Maula Jatt. But we are yet to see when it's touted to be released. But yes, this Eid is very important for us and the cinema houses."
It's no news that the actors are often pitted against one another. But not always do they take it in a good taste. Fahad also talked about being compared with Humayun and his next offering, London Nahi Jaunga. He went on to add, "But I do think it's very early to draw comparisons. These are two very different films." Mahira Khan, who's starring with Fahad in the Nabeel Qureshi directorial agreed with her co-star and commented, "We are so used to these comparisons. London Nahi Jaunga is a drama film, like Punjab Nahi Jaungi - which I loved!"
Fahad chimed in, "I am so fond of Humayun and Nadeem that I have worked with them! People have different perspectives. Everyone wants these films to do well because this is how we will make money and the audience will come to the cinemas. There's no shying away from the fact that one film will do better business than the other one. But no one would want the other film to bomb at the box office. I just hope both films do enough business that the industry can have decent numbers. I even want Thor to do well."
Mahira then shared, "I watched Top Gun in a cinema a while ago. The cinema was packed! I don't know how long it has been since I went to a cinema and watched a film." She added, "I said to the person who was sitting next to me that you can never exchange this experience. No television, no streaming giants. Imagine a hundred people having a collective movie experience? How can you beat that? It's magical."
Have something to add to the story? Share it in the comments below.