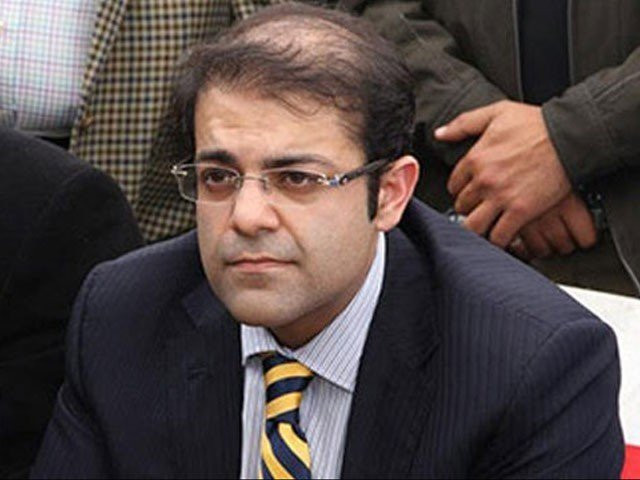 ---
After a Twitter account purportedly belonging to Prime Minister Shehbaz Sharif's oldest son --- Suleman Sharif, urged his followers to "toss shoes" and "name and shame" a family that heckled Federal Minister Ahsan Iqbal in a viral video on Friday, Pakistan Tehreek-e-Insaf supporters heavily trolled the businessman's post and called for the account to be blocked for trying to incite violence.
Iqbal was targeted by PTI supporters as he stood in a queue waiting to place his order in a fast food joint at Bhera Interchange near Punjab's Sargodha. Viral footage showed a family roaring slogans of 'thief' at the PML-N leader.
Shortly after the video gained notoriety on Twitter, the minister took to the popular social media platform to criticise the family and the mentality of Pakistan Tehreek-e-Insaf (PTI) followers, going as far as to call them "most ignorant and fascist." Iqbal insinuated a comparison between PTI leader Imran Khan and World War II dictator Adolf Hitler.
"These self-taught people are in fact the most ignorant and fascist, as were the followers of Hitler. We are not going to be intimidated by these ignorant people. This is a moving advertisement of his mental bankruptcy. Imran is polarizing the society at the behest of illicit funders."
شکریہ عامر عباسی!
خود کو پڑھا لکھا سمجھنے والے یہ افراد اصل میں جاہل ترین اور فاشسٹ ہیں جیسے کہ ہٹلر کے پیروکار تھے۔ ہم ان جاہلوں سے مرعوب ہونے والے ہیں نہ دبنے والے۔ یہ اپنے ذہنی دیوالیہ پن کا چلتا پھرتا اشتہار ہیں۔عمران ممنوعہ فنڈنگ والوں کے کہنے پہ معاشرہ polarise کر رہا ہے۔ https://t.co/P3ZAXe1Qjk

— Ahsan Iqbal (@betterpakistan) July 8, 2022
Responding to his tweet, PTI leader Fawad Chaudhry penned that he should 'wear a burqa next time.'
سر ویڈیو میں تو صرف آپ کی بے عزتی نظر آئ ہے، آپ جھوٹ بولنا بند کریں اور لوگوں میں برقع پہن کر جایا کریں https://t.co/aEuXDcwdCh

— Ch Fawad Hussain (@fawadchaudhry) July 8, 2022
An account purportedly belonging to Prime Minister Shehbaz Sharif's oldest son, Suleman Sharif urged followers to toss shoes at the family in the video when they see them,. He added tht they should also toss shoes at 'gang leader' Imran Khan and his wife Bushra Bibi.
Saving no time, PTI supporters made Suleman Sharif the target of their jokes and critique. Many bashed the prime minister's oldest son for urging his supporters to incite violence on cvillians. A social media user also tagged the UK metrolpolitan police, requesting that they take action against him.
@metpoliceuk Hello, this person is inciting violence in Pakistan. A group of civilians made slogans against a minister and the British citizen son of the current PM is responding like this. Please take necessary action. https://t.co/xTUGbOaJkS

— ً (@noirroad) July 9, 2022
Twitter user Inam Khan stated that inciting violence towards civilians and calling for a cvil war is 'tantamount to treason' and local institutions should look into it.
What a lowlife he is!
Igniting violence against political opponents and their families to trigger a civil war in the country is tantamount to treason. Will any institution in the country look into it? https://t.co/TzmRfmEtPm

— Inam Khan (@inam7118) July 9, 2022
Political analyst Raheeq Abbasi criticised Suleman Sharif in a tweet laced with sarcasm at how 'the fugitive prince of the royal family of moral speakers is teaching his lions morality.'
Moscow-based American political analyst Andrew Korybko lambasted Suleman for his callous remarks, placing emphasis that he is the 'scion of a genuinely fascist family.'
Only the scion of a genuinely fascist family would publicly incite violence against peaceful anti-fascist protesters! Have you no shame!?

Many people in your country despise you and your family, but they're not agitating others to attack you. At least reciprocate that decency!

— Andrew Korybko (@AKorybko) July 9, 2022
A PTI supporter questioned Suleman's decision to tweet in Urdu as opposed to tweeting in English, claiming that he is afraid of the backlash he may face and further asking him to improve his Urdu if he wishes to use it as his medium of communication online.
You are threatening physical harm to someone . Why not tweet in English or are you afraid of the backlash. Also learn to write Urdu. It is غنڈا and not گنڈا https://t.co/K3eWaVeX3J

— NHassan (@thewanderer311) July 9, 2022
Many accounts urged their followers to report this tweet as it urges and promotes violence on innocent people.
The Express Tribune was unable to independently verify whether this account belongs to Suleman Sharif.
COMMENTS
Comments are moderated and generally will be posted if they are on-topic and not abusive.
For more information, please see our Comments FAQ