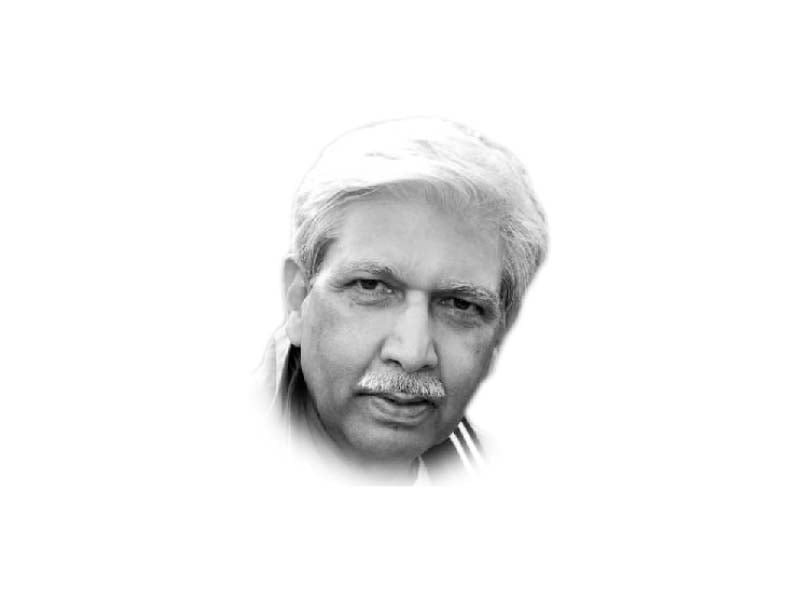 ---
Is it broken? Can it be mended? Will it mend itself? Let me make my case first. We are in a transitory state in our political evolution. If earlier the two principal political parties were the PPP and the PML-N they conveyed a sense of a stable political structure howsoever dismal in functioning and performance. If it is not one it will be the other. Not that their complaints of requisite freedom were any less than today but an alternate was always on offer if one lost an election or was removed. The evolution of PTI as a political party and its eminence in power disrupted the status quo. PTI's rise out of nothingness – on that various counts exist – was accelerated because of an equally devastating decline of the PPP as a national political force. Asif Ali Zardari and the PPP may rue that forever.
Fast forward to today. What we have in the government is a concoction of thirteen political parties, big and small, each with a different make-up and purpose and hopefully a philosophy and an ideology, yet together because they wanted to see PTI – a Beltway outsider – out and wrest political eminence away from who they thought was a pretender. The problem is he is not. The biggest and the strongest of them all, the PML-N, considers PTI as its principal opponent, and even while informally out of the Parliament, when you talk of the opposition you talk of the PTI. That is how much pervasive it is on the political landscape. Political parties in a multi-party parliamentary system will have their highs and lows but if they play their acts right they usually sustain their principality. PPP did not, lost its eminence and ceded space away. I repeat this for others to learn lessons from.
The PTI has a peripheral support of one or two minor players which really doesn't add up to much. Hence its position is primarily around its own political standing and strength. But look at the government: A 13-party coalition can oust someone from power but can it sustain is the question here. They may live through a few months or more but that is about its maximum utility, without purpose and without political consensus. The aim is to keep Imran Khan out of power but it cannot be forever. For that they will need to be together and united 'forever' sacrificing their political interests, basis and purpose. Recent political and electoral events at different levels in different provinces amply evince the opposite. A 13-party coalition will hardly ever agree on one thing and shy away from decisions which may be needed but will not be taken in due consideration of saving the coalition. Privatisation of the white elephants PSEs on which most parties hold different and sensitive opinions is an essential to keeping the economy buoyant but will never find an agreement. Hence lay unattended and bleeding. This large collection thus remains a most unnatural, flimsy and a transitory recourse to resolving an instant dilemma – Imran Khan. Beyond it, it remains a most unrealistic and impractical arrangement.
This is when the real problem begins. Someone needs to detail each NA constituency and its composition and based on its current proclivity and recent electoral preference chart out a detailed prognosis of a general election held from now till anytime next year. At least in all provinces a broader determination is possible of the likely winner – we are so based on tribal, familial and electable-sensitive matrices. The PPP will carry most NA seats in Sindh; MQM, a weakened PTI, and a motley mix of minor players will make the rest. Seventy percent win ratio is a sweep and it isn't likely to change. Punjab will be the real battleground and both PML-N and the PTI will slug it out. Last results don't count for much this time but the scores will not be as skewed as imagined, even if not even-steven. For starters though and for a predictive process it is best to assume an even score for the two within a margin; say, between 55-73, considering there will be other winners too. KP is PTI's stronghold and its home base. Based on the recent massive agitation of its base by the PTI and its performance in the local bodies elections, a repeat of the 70 percent win there for the NA should be expected even if the resistance this time around by other parties could be officially supported and contentious. Balochistan will be its usual self.
That makes a fragmented electorate. And a headache. Attitudes between political players will need to change to enable a sustained parliamentary democracy if coalitions will be the future order of governments. Imagine the PTI and the PML-N coming out even-steven in a fragmented mandate because of electoral structures and peculiarities and it becomes obvious that our pains are going last long because our parties lack the maturity to garner coalitions and find common ground for a sustained period. The thirteen parties kind will only mean inaction and stagnation and a persistent cry for respective pound of flesh. It was usual for the 'establishment' to assist during such times and help deliver a decisive mandate but even that flexibility has now run by its sell-by date.
Perhaps another effort to 'fix' a coalition may still eventuate but that will fritter away very soon in the face of monumental challenges endangering the state, its economy and its people. We may then be forced to go into another election (a la Israel) or face up to that elephant in the room – are we governable with the chosen form of a parliamentary democracy whose rallying cry is cooperative management in legislation and policy formulation but has found its stumbling block in radical polarisation and a lust for undiluted power? Democracy is about sharing power, especially parliamentary democracy, but remaining within the domain of democracy the closest one borders on clear executive authority resides in the presidential democracy. We are hurtling willy-nilly towards that end unless those who hold their commitment sacred to the parliamentary form of government can make it viable and productive.
The presidential form also enables missing links in effective governance by entrusting responsibility to one man with principal authority and a choice to select the best in the country outside of the political system to assist him in the cabinet. A presidential democracy absolves the system of the need to forge coalitions through 'neutrals' who are invariably asked to signal helpful alliances. Every party holds its electoral position in the Parliament/Congress and bears equal stakes in legislation to ensure its intended input in how a president may forge a policy. Proper checks and balance in the system can be imported from the most successful presidential democracies around the world which can be adjusted to our peculiar needs. This is now a clear and present danger to the parliamentary form of government unless dramatic improvements in governance emerge in earnest. Yet, where 'allies' and 'alliances' hold the key to sustaining a form of governance it remains a seriously manipulable and exploitable element of the political system. It is time to tread a different path.
Published in The Express Tribune, July 8th, 2022.
Like Opinion & Editorial on Facebook, follow @ETOpEd on Twitter to receive all updates on all our daily pieces.
COMMENTS
Comments are moderated and generally will be posted if they are on-topic and not abusive.
For more information, please see our Comments FAQ