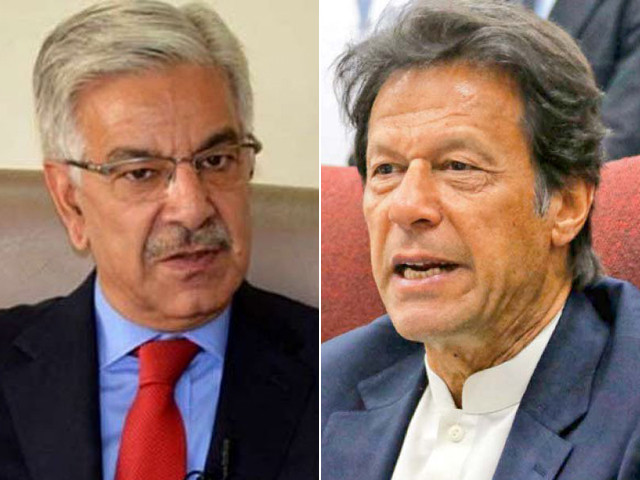 ---
ISLAMABAD:
As Defence Minister Khawaja Asif on Sunday claimed that the Pakistan Tehreek-e-Insaf (PTI) had approached US Assistant Secretary of State Donald Lu for a patch-up, a senior leader of the former ruling party said that the PML-N should come up with evidence to support its claims.
Talking to a private news channel, Asif said that the PTI sought an apology from the US assistant secretary of state, documentary evidence of which was obtained by the government.
The defence minister said that the evidence pertaining to a meeting of a PTI leader with the US officials as well as the PTI seeking pardon from the US government were available with the government.
The startling revelation has come against the backdrop of former prime minister Imran Khan repeatedly accusing the top US diplomat Donald Lu for using threatening language in a meeting with a Pakistani ambassador when a no-confidence motion was being moved against him.
امریکی سازش کا شوربیگم صاحبہ کی آڈیو میں غرق ھو گیا.اصلیت ھے کہ اب امریکہ کے ترلے باقاعدہ شروع ھیں.منت جاری ھےforget & forgive کردیا جاۓاورlet bygones be bygones.ترلے مان لیے گۓ تو امریکہ زندہ باد نہیں تو گالیاں پھر شروع. ملک سے باہر اوراندرون ملک اداروں کیساتھ فارمولا ایک ھے.

— Khawaja M. Asif (@KhawajaMAsif) July 3, 2022
"The one shouting anti-US slogans in Pakistan is on his knees and seeking apology from US," the PML-N stalwart said.
In a message conveyed to the US officials, Asif said, former premier Imran admitted that he had committed a mistake and requested to start everything from where it all started – from the time when he started accusing the diplomat of using threatening language and the US allegedly backing a 'regime change operation' in Pakistan.
Asif said that Imran conveyed to the diplomat that he wanted to settle issues with the US. He chided Imran by saying that all his arrogance was gone as he was now begging Lu to resolve issues that surfaced following his hard-hitting speeches against Lu and the US.
Since his ouster through a no-confidence motion, Imran has been accusing Lu and the US of conspiring against him and labelling the top leadership of the ruling alliance and country's powerful stakeholder as traitors for obeying the US and not doing anything to stop it.
Also read: Donald Lu should be sacked for 'bad manners and sheer arrogance': Imran
In almost all his campaigns since his removal on April 10, Imran has been saying: "The US undersecretary of state responsible for South Asia tells our ambassador in an official meeting [with] note takers on both sides that unless you get rid of your prime minister, Pakistan will suffer the consequences."
In an interview to CNN, Imran even said that Lu should be sacked for "bad manners and sheer arrogance" as he reiterated that it was an American-backed plot to remove him from office. In addition, Imran while accusing the US of forcing a regime change in Pakistan links it to his trip to Russia, saying it was perceived as if he was anti-American.
PTI government's former information minister Fawad Chaudhry called Asif "a habitual liar", saying that no such thing had taken place. "Neither Imran Khan nor the PTI has directed anyone to meet and seek pardon from Lu and the US," Fawad told The Express Tribune. "We don't know if someone has met with Lu or the US officials in personal capacity."
To Asif's claim that the government obtained documentary evidence to establish the facts, Fawad said, "He should present the evidence if he has any." He reiterated that no directions had been issued to anyone for a patch-up.
Fawad said that former PM Imran laid down party's policy towards the US through his statements, interviews and public speeches that the "regime change through a cipher is unacceptable". He said Imran reiterated the same in his party's July 2 rally at Parade Ground in the capital.
Later, in a tweet, Fawad said that the PTI had not contacted any US government representative at any level, adding that Asif had become mentally ill due to an incident in the recent past and he needed treatment.
خواجہ آصف عادتاْ جھوٹ بولتے ہیں عمران خان نے امریکہ سے متعلق پالیسی کل جلسے میں بیان کی ہے، تحریک انصاف نے کسی بھی سطح پر امریکی حکومت کے کسی بھی نمائندے سے رابطہ نہیں کیا، پہلے بھی کہا ہے ماضی قریب کے حادثے کی وجہ سےخواجہ آصف نفسیاتی مریض بن چکے ہیں اور انھیں علاج کی ضرورت ہے https://t.co/BrjLlxybO8

— Ch Fawad Hussain (@fawadchaudhry) July 3, 2022
COMMENTS
Comments are moderated and generally will be posted if they are on-topic and not abusive.
For more information, please see our Comments FAQ