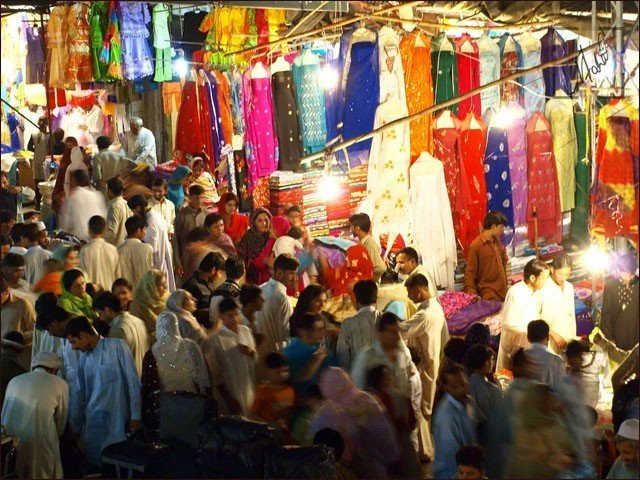 ---
LAHORE:
Following the imposition of time restrictions aimed at conserving energy and reducing power outages, the Punjab government has decided to impose a lockdown on all kinds of business activities – except for emergency and essential services – in Lahore on Sundays.
"Sunday will be observed as a closed day for all commercial markets, plazas, shops including those of wholesale and retail, shopping malls, bakeries, confectionaries, offices, store rooms, godowns, warehouses, etc. in Lahore," read a notification issued by Deputy Commissioner Lahore Omer Sher Chatha.
According to the notification, the business and trade community will be informed about the latest decision.
The local administration has issued the notification after seeking clarification from the Punjab Labour and Human Resource Department.
Also read: Markets shut early to save power
Reacting to the development, All Pakistan Anjuman Tajiran General Secretary Abdul Razaq Babbar said that the business community has no reservation about the closure on Sundays.
He, however, indicated that such restrictions would encourage corruption as police officials received bribes from traders and shopkeepers and allowed them to open their businesses during the Covid-19 lockdowns.
Another trader, Muhammad Asif, pointed out that small shops in the neighbourhoods and streets remain operational even on a Sunday. "We achieve better sales during Saturday and Sunday as most offices are closed and people head to the shops," he added.
A day earlier, the Lahore deputy commissioner issued a notification imposing a restriction to close all markets, shopping malls and business centres by 9pm, except for Saturdays.
Also read: Business hours for twin cities shortened
Medical stores and pharmacies, hospitals, laboratories, milk shops, petrol pumps, motorway service areas and tire repair shops are exempted from the aforesaid restriction.
The district administration also constituted special teams comprising Metropolitan Corporation Lahore (MCL) and other agencies' officials to close all commercial activities in the city at the notified time.
Local administration and police teams are seen active to ensure strict implementation of the government decision.
The deputy commissioner has appealed to the citizens to cooperate with the administration and close their businesses at the notified time to avoid legal action.
COMMENTS
Comments are moderated and generally will be posted if they are on-topic and not abusive.
For more information, please see our Comments FAQ