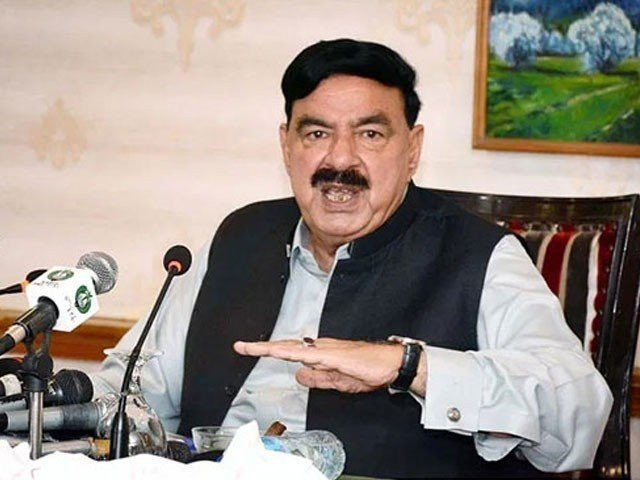 ---
Former interior minister Sheikh Rashid Ahmed on Thursday said he could soon approach the top court of the country due to the situation's 'sensitivity', as the debate about the alleged foreign conspiracy against the Pakistan Tehreek-e-Insaf (PTI) regains momentum.
"The master plan was to bring sheen [into power] to replace noon," Rashid said in a Twitter post.
"The Noon league is just for the TV show," he said while referring to the ruling Pakistan Muslim League-Nawaz (PML-N)."
Referring to the alleged conspiracy against the former ruling party, the veteran politician said that he was being "dragged into the matter".
Rashid, who also heads the Awami Muslim League (AML), pointed out that there were minutes of every meeting and that a statement is released to the media after approval from all the sides involved.
"I could approach the Supreme Court soon given the sensitivity of the matter," he said, without explaining further.
نون کی جگہ ش کو لانا ماسٹر پلان تھا۔ن لیگ صرف ٹی وی شو کے لیے ہے۔ڈی جی آئی ایس پی آر اعلامیہ کی سازش میں مجھے گھسیٹ کر معاملے کو دوبارہ زندہ کر رہے ہیں۔ہر میٹنگ کے منٹس ہوتے ہیں اور اس کی پریس ریلیز سب کی منظوری سے جاری ہوتی ہے۔حالات کی سنگینی پر میں عنقریب سپریم کورٹ جا سکتا ہوں

— Sheikh Rashid Ahmed (@ShkhRasheed) June 16, 2022
In a recent television interview, Director-General of the Inter-Services Public Relations (ISPR) Maj Gen Babar Iftikhar said that the National Security Committee (NSC) was clearly told in its 37th meeting that the intelligence agencies had not found evidence of any foreign conspiracy against the PTI-led government.
Former senior minister Asad Umar had sought to call it an opinion of the DG ISPR, saying that he did not agree that "since it is a matter of national security, the army's opinion should be considered the final word."
However, the military spokesperson said that it wasn't an opinion – rather whatever he had said was based on the reports of the intelligence agencies. He added that he is the spokesperson for the armed forces of Pakistan and that he had spoken on behalf of the three services chiefs who attended the NSC meeting.
Since his ouster from power, PTI chairman Imran Khan is of the stance that his government was ousted as a result of a US conspiracy, orchestrated through the successful no-trust move against him.
COMMENTS
Comments are moderated and generally will be posted if they are on-topic and not abusive.
For more information, please see our Comments FAQ