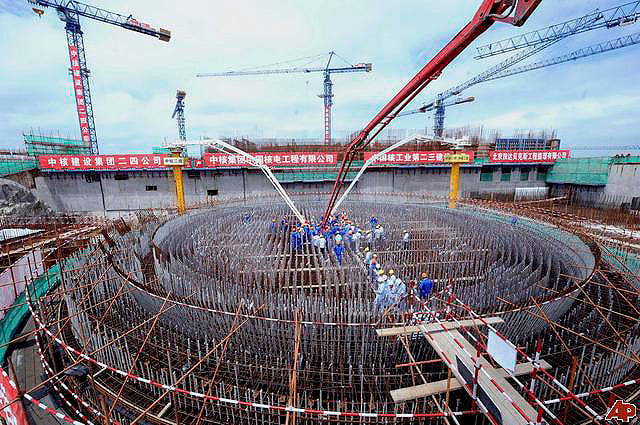 ---
Chinese companies this month quietly signed a contract to cooperate in the building of two nuclear reactors at Pakistan's Chashma atomic complex – advancing a controversial project that has worried both Washington and Delhi.

The China Nuclear Industry Fifth Construction Company and the CNNC China Zhongyuan Engineering Corp, which specialises in foreign nuclear projects, agreed to work together on the third and fourth plants at the Chashma complex, according to a Chinese-language announcement on the website of the company www.cnfc.net.cn. The deal, signed in Shanghai on June 8, confirmed that long-running plans of Chinese help in expanding Chashma are moving forward.

A Pakistani government official said there was nothing new in the agreement and that it was part of the ongoing cooperation with China for the peaceful use of nuclear energy.

"China has long been cooperating with Pakistan for the use of nuclear technology for peaceful purposes and this cooperation is continuing," the official said.

The pressurised water reactors are "a major cooperative project between China and Pakistan that both governments treat as highly important," said the company announcement dated the same day as the signing, which received almost no domestic media attention at the time.

The project will "bring Chinese nuclear energy to the world and is significant for once again bearing firm fruit for Sino-Pakistani friendship," said the company.

Mounting signs that China will proceed with the reactor project in the Punjab province have stirred international misgivings, especially in neighbouring India as well as in the US.

Pakistan and India both possess nuclear weapons and remain outside the nuclear Non-Proliferation Treaty. Islamabad has looked to Beijing to counter to increasing Indian influence in the sector.

With Pakistan facing severe power shortages, China says its nuclear cooperation with Pakistan is purely peaceful and follows international safeguards.

China and the United States are among the NSG members, who will meet in New Zealand soon, where the deal with Pakistan is expected to come under close scrutiny.

In 2008, China allowed a nuclear energy agreement between Washington and Delhi to win NSG approval, despite misgivings in Beijing, long a rival of India, and criticism from other capitals that the deal eroded nuclear non-proliferation rules. Reuters

Published in The Express Tribune, June 25th,2010.
COMMENTS (1)
Comments are moderated and generally will be posted if they are on-topic and not abusive.
For more information, please see our Comments FAQ