 ---
The untimely demise of popular television host and former PTI lawmaker, Aamir Liaquat Hussain, has started a rife debate about mental health and social media trolling. Soon after the news of the televangelist's passing away made headlines, social media users began pointing fingers at his third wife, Dania Shah, for causing him mental distress by leaking his personal videos to abet allegations of abuse and drug addiction levelled against him.
Now, actor Yashma Gill has also urged everyone to leave Shah alone. "Let Dania Shah be!" she demanded on Instagram.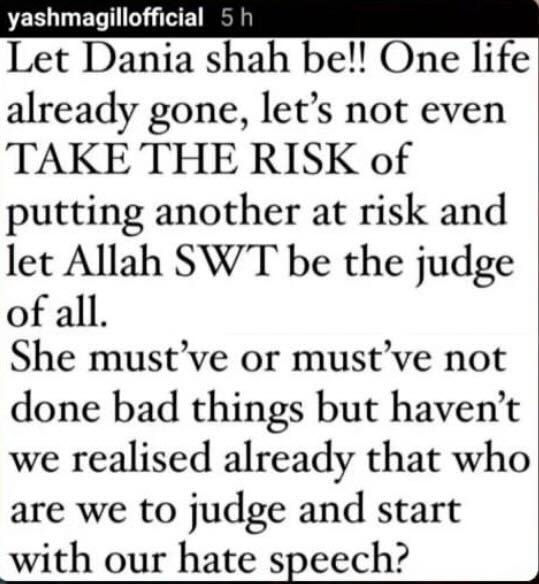 "One life is already gone, let's not even take the risk of putting another at risk and let Allah SWT be the judge of all." She went on to reinstate the lesson we must all adhere to going forward. "She must've or must've not done bad things but haven't we realised already that we are no one to judge?" asked Gill.
Previously, singer and actor Farhan Saeed is holding the entire nation responsible for taking "joy out of someone's misery." He explained why solely putting Shah on the pedestal does not justify what really happened and held everyone complicit in Hussain's apparently deteriorating mental health.
Saeed tweeted, "Everyone who's blaming this girl Dania for Aamir Liaquat's death, I am sorry to tell you that all of those who shared and spread his videos and memes are also part of bringing him down." The Thodi Der singer added, "It's about time we as a nation stop taking the joy out of someone's misery. It says a lot about us!"
Earlier this month, Shah had filed for divorce from Hussain, following which, his leaked videos went viral. Hussain released video statements, lamenting how his privacy had been invaded and called out Shah for "lifting people's faith off of marriage." The television personality elaborated on how he had no option but to leave the country forever and disputed Shah's claims.
Have something to add to the story? Share it in the comments below.
COMMENTS
Comments are moderated and generally will be posted if they are on-topic and not abusive.
For more information, please see our Comments FAQ