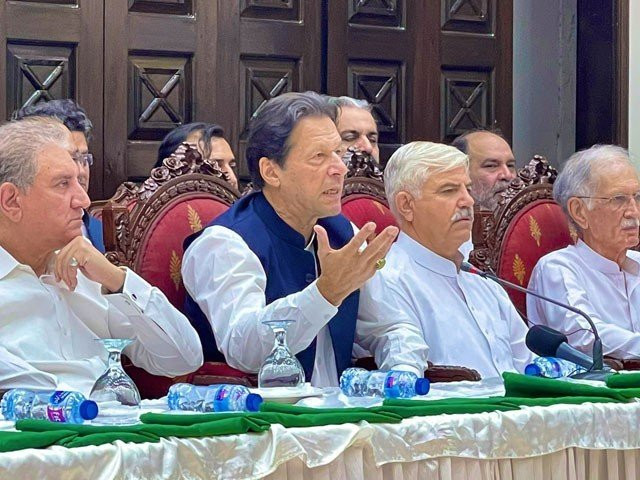 ---
ISLAMABAD:
The Pakistan Tehreek-e-Insaf (PTI) put off on Sunday its second long march towards Islamabad until after the next federal budget, and decided to fully participate in the upcoming by-elections in Punjab.
The decisions were taken in a meeting of the party's core committee, chaired by party Chairman Imran Khan at his Bani Gala residence. The meeting reviewed the ongoing political situation in the country, plans for the long march, by-elections and other matters.
"The core committee has decided to take the decision regarding the anti-inflation march after June 15," PTI Vice Chairman Shah Mahmood Qureshi told reporters after the meeting. He said that the party would take full part in the upcoming by-election in Punjab.
Qureshi also said that the PTI members of the National Assembly would not appear before the speaker to verify their resignations. "It was also decided that there would be no talks on any option other than the new elections in the country," he added.
Read more: Centre, provinces plan spending spree
Responding to a question, the former foreign minister said that Interior Minister Rana Sanaullah wanted to arrest Imran Khan but warned that any such attempt would be a mistake. If Imran was arrested, he said, the workers would react immediately, he said.
"The entire nation listened to Rana Sanaullah's threats and his rhetoric. Rana Sanaullah plans to arrest Imran Khan. If he thinks we will remain silent on Imran's arrest, he is a big fool," he added.
Commenting on the prevailing situation in the country, Qureshi said that economic security was very important in the national security. He stressed that the PTI government reduced electricity and petrol prices despite pressure from the International Monetary Fund (IMF).
"The state of the economy is worsening with each passing day," Qureshi told reporters. "We were talking about buying cheap oil and wheat from Russia but the current government is refusing to talk to Russia," he added.
Also read: PM Shehbaz stresses need for 'grand dialogue' with all stakeholders
"When we talked to the Taliban to end terrorism, there was a lot of criticism," he continued. "Now this government and its foreign minister are talking to the Taliban. They are following our policies. So will the foreign minister speak about the talks with Taliban now?"
Qureshi said that since this new government took over, there had been a shortage of flour in the country. "Now, a flour bag of 20 kilogrammes was being sold for Rs1,600 in in Punjab. The prices of the other commodities had also hot up," he added.
COMMENTS
Comments are moderated and generally will be posted if they are on-topic and not abusive.
For more information, please see our Comments FAQ