 ---
KARACHI:
Much to the joy of children of Pushkan – a remote village of Balochistan's Gwadar district – a camel will visits their small town every week with its saddle panniers full of books.
A local NGO has come up with an out-of-the box solution to promote book reading culture in the underdeveloped areas of Balochistan.
Basmaar, a local NGO, has launched the "Istaal Camel Library" to provide free books to the children of the most underprivileged areas of the province.
The project has been launched in collaboration with Lahore-based Alif Laila Book Bus Society.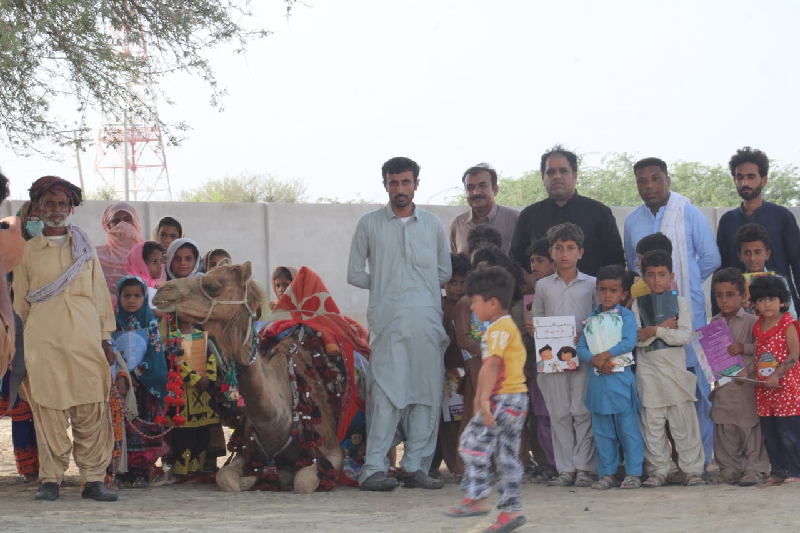 Basmaar CEO Naseer Muhammad told The Express Tribune on Tuesday that main objective of the project was to promote book reading culture in the underdeveloped areas of the province.
He said many remote areas of the port city are only accessible through camels as the streets are either too narrow for vehicles or they are located far from roads.
"We are aiming to expand this project to other areas of the province where schools do not exist at all or only shelter-less schools are present," he added.
Also read: Roshan the camel brings books to homeschooling children in rural Pakistan
Naseer also appreciated the locals for voluntarily helping his NGO to run this project for the welfare of the school children.
Istaal Camel Library will carry different stories and science books to different areas of Gwadar and visit each village once a week.
In 2021, Raheema Jalal, a high school principal founded the camel library project with her sister, then federal minister Zubaida Jalal in Balochistan's Kech district.
She started the library because she wanted children around her remote hometown to continue learning despite schools being closed due to coronavirus lockdown.
Balochistan makes up nearly half of Pakistan by area, but the sparsely populated province is also the country's most impoverished.
COMMENTS
Comments are moderated and generally will be posted if they are on-topic and not abusive.
For more information, please see our Comments FAQ