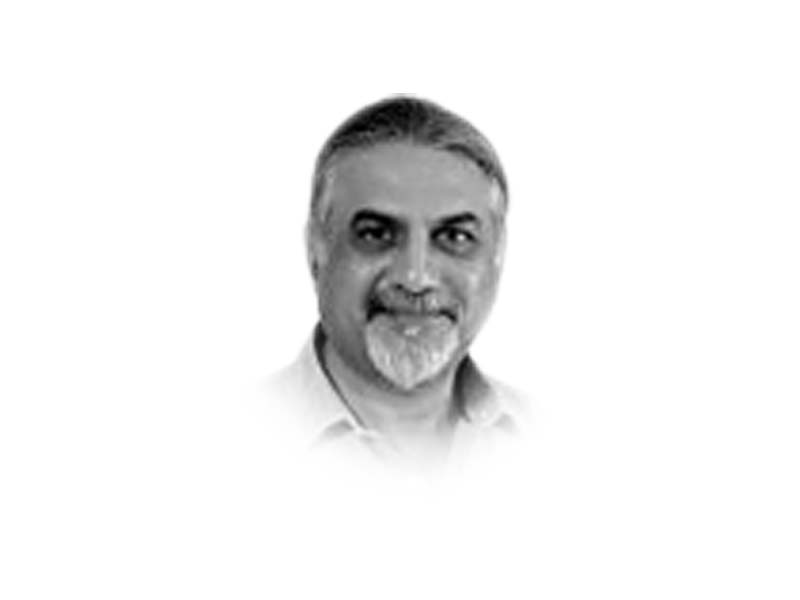 ---
There is a famous saying by former heavyweight boxing champion Mike Tyson about planning that everybody has a plan until they get punched in the mouth. One doesn't really know whether the government succeeded in its plans to curtail Imran Khan's long march or whether Imran Khan landed a solid punch on the government's face by reaching Islamabad despite all odds. This is debatable but what is not debatable is that all indicators suggest that former PM Imran Khan today is suffering from the same mental anxieties, unease, worries and concerns that Winston Churchill was suffering at the time of the great war. Churchill's concern about the Americans at that time seem similar to IK's concern about the current government. The dictum put forward by Churchill about Americans was: "The Americans can always be trusted to do the right thing, once all other possibilities have been exhausted." IK doesn't trust this government and the likely chances are that he may not get the relief he has asked for and may have to travel back to Islamabad in the six days given timeline. Is there a guarantor overseeing the settlement between the government and the protesting PTI? Somebody has to step in to stop the Mike Tysons of our politics from playing with the dignity and respect of the common people of this country.
How have we reached this stage where the government feels no remorse for breaking into the houses of people without warrants in the middle of the night? Beating them for executing peaceful marches and protests and arresting them under trumped-up charges? In the Western world, this kind of behaviour is termed modern barbarianism. To understand why our life's consciousness and our life experiences are different from the Western world, we must first accept that we are not willing to see life as a whole. We live separate lives in different venues and different compartments, which has everything to do with how state power is utilised not to decrease but to increase the prevailing socio-economic equality in this part of the world.
Those currently visiting Paris, Davos and Geneva represent a liberal political party that under Zulfikar Ali Bhutto represented the national social responsibility, redistribution of wealth and elimination of poverty. It represented the socio-democratic left in this country that understood the value of bridging the great divide between haves and have-nots. See where the followers of Bhutto's legacy have taken his politics — to Davos, Geneva and Paris attending superfluous meetings dressed in Western attire under a paid-leave environment. All this when their people are being disrespected, and their dignity and pride are being squashed under the government boots. Is this Bhutto's party? No, it's a popular variant of it — a power-seeking radicalised variant that has forgotten that persons, leaders and their behaviour affect politics as much as politics affect them. The young Bilawal Bhutto may have added the job of a Foreign Minister to his CV but does he know that many people in this country no more assert taking up the membership of the PPP?
Asked by a student about the difference between alliance and partnership, I came up with an answer that both are forms of collaboration but alliances are built on the motive of shared profits and shared loss whereas partnerships are interests-based. Subsequently, I imagined how the 13-party alliance that has got together to rule this country is all set on the agenda of only profiting from their short time in power. These profits are both personal and political and have nothing to do with the government's scheme of providing relief to the people. If this wasn't the case would the people be bombed by the Rs30 increase in petrol prices in a single day? We were also a major non-NATO ally of the US, which again was a profit and loss based association under the shadow of which our interests never coincided and matched with US interests; in fact, they always clashed.
Yes, our interests were definitely shared by Russia when PM Imran Khan together with President Putin was working on the possibility of providing oil, gas and wheat at a 30% reduced cost. We could have benefited on similar lines the way Indians have extended the benefits of the purchase of low-rate fuel from Russia to its common people. We could also have ventured into the arena of a new non-aligned foreign policy environment in which we could keep our interest-based partnership both with Russia and the US. But our choice, in the end, was to remain allied to the US and continue to follow the dictates of US-dominated UN organs, IMF and World Bank.
As a society, a nation and a state, we haven't evolved. Every time I take the word evolution, I am reminded of Francis Fukuyama's thesis of 'End of History'. He has taken great trouble in explaining that the end doesn't mean the end but evolution, modernisation and development. The entire world that saw our Mike Tyson-type interior minister beating his own people and subjecting them to such indignity would know that we are way off from the path of achieving this end. Francis Fukuyama also explained that history doesn't mean the real history but the objective and seen in this light the 'End of History' for the world means the world has evolved and developed and modernised to reach its objective of liberalism; and a liberal state is a state that eliminates poverty, provides medical care, education, health facilities, gender equality and respect of people's dignity, etc. How far off are we from achieving all this? Would those visiting Paris, Davos and Geneva and those living in the palaces abroad or their palaces at home make this assessment?
Illiberal leaders can never create a liberal state. Illiberal leaders will never seek partnerships that are based on people and national interests but would seek to maintain alliances that continue to ensure the maintenance of the status quo, of their grand presence in our politics in Western suits and Western attires. This kind of leadership is far and away from understanding the process of evolution that the Western world went through, to replicate it and benefit their people.
Marxist and communist utopia failed because capitalist development gave the world liberal states and the foundation of these states was built on recognising the dignity of people — in fact creating and giving dignity of people a universal recognition. It is in the nature of the being to crave for personal respect and dignity. The liberal world created states that not only respected the personal dignity of the people but also ensured that the respect of dignity would be equal for all people regardless of their status or class or position of authority.
The Mike Tysons of our politics have a problem. They consider themselves as our superiors, they suffer from what Greeks described as 'Megalothymia' — the desire to be recognised as superiors. These are our post-independence colonists, feudal lords and product of dynastic politics that execute not the politics of hope but politics of resentment.
Personally, the big takeaway from IK's march to Islamabad is the great spirit with which people stood up and faced the thousands of miniature Mike Tysons unleashed on them by the current government. This is hope, as people's power is the punch that can knock down illiberal leadership and their agenda of propagating and maximising illiberalism in this beautiful country.
Published in The Express Tribune, May 29th, 2022.
Like Opinion & Editorial on Facebook, follow @ETOpEd on Twitter to receive all updates on all our daily pieces.
COMMENTS
Comments are moderated and generally will be posted if they are on-topic and not abusive.
For more information, please see our Comments FAQ