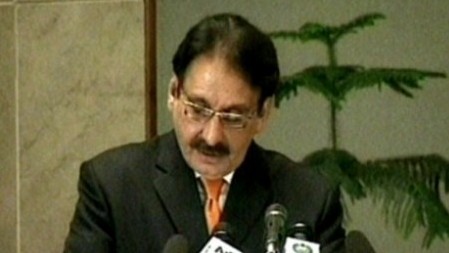 ---
ISLAMABAD: Over 90 per cent of the protests in front of the National Press Club demand suo motu action by Chief Justice Iftikhar Muhammad Chaudhry, reflecting the people's faith in the judiciary.

On average, three demonstrations are held before the press club everyday, with protesters from all over the country thronging to Islamabad for justice.

During their demonstrations in front of the press club, they claim that the government and its institutions have "failed in the provision of justice," which is why they are resting their confidence in the independence judiciary.

Government employees have also been amongst the protestors, demanding the chief justice to ensure their rights, from regularisation of jobs to increase in salaries.

A large number of petitions are pouring in at the Human Rights Cell of the Supreme Court, seeking suo motu notice and putting tremendous pressure on the judiciary.

During last year, the Supreme Court, high courts and subordinate courts disposed off about 3.1 million cases. Some people criticise the suo motu powers of superior courts but others say that in the failure of government remedies, it is the only solution.

Demonstrators who stage sit-ins before the press club are often assured by authorities that their problems would be solved, but many said that these are empty promises. An  example is the assurance of  Advisor to the Sindh Chief Minister Sharmila Farooqi to a karo kari female victim for providing justice, which stills remains unfulfilled.

Published in The Express Tribune, June 25th, 2010.