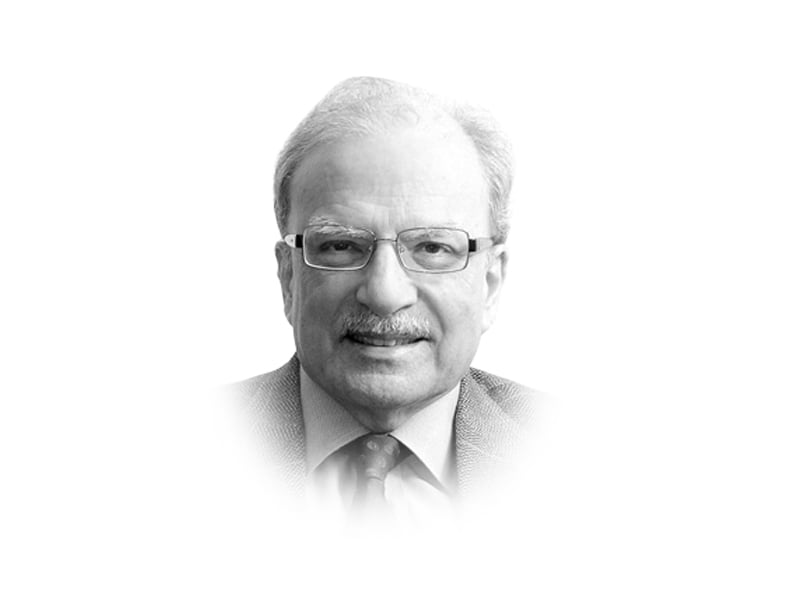 ---
I returned to Washington in late March after ten weeks' stay in Pakistan. This was for me one of longest time in the country in years. I worked mostly at the institution that I founded some years ago in Lahore and that carries my name. Some of my time was spent on working on a short book on "sources of growth in Pakistan". I have studied the Pakistani economy for about half a century and published books on various aspects of the Pakistani economy, the latest of which should be in the Pakistani book stalls in a few months' time.
While I was working in Pakistan there were two most talked about subjects in the county. The first was the fall of Prime Minister Imran Khan after losing a vote of no-confidence in parliament. He had depended on the support of smaller parties to have a majority in parliament. Several of those left him as did a dozen or so of the members of his party. I leave to historians the discussion of this particular episode in Pakistan's history and its consequences for country's political progress. I will write today about the other subject that was subject of great concern in the country. This was the rise in domestic food prices. Most of the blame for this occurrence was assigned to the Khan government and its management of the economy. This criticism was mostly misplaced: food prices rose in the country because of global trends; most of them caused by the Russian invasion of Ukraine, known as the breadbasket of Europe. To come to this conclusion I will look briefly at the world of wheat.
In terms of the area devoted to its cultivation and the amount these areas produce, wheat is the second largest grain crop in the world. The largest is rice. The global production of wheat is estimated at 772 million tons, 10 million more than the production in the year before. Pakistan with an annual output of 25 million ranks the eighth largest producer of the crop. China with an output of 134 million is the world's largest followed by India with 117 million tons. More than 70 per cent of the global wheat output in produced by the 10 largest growers. Given this concentration of output, it is obvious that a significant amount of global production would enter the world markets.
Grain prices including those of wheat and rice have always been subject to volatility. This is the case in particular for the countries that rely on imports for a good part of their consumption. Panic will inflate prices resulting in the building of stocks by those who can afford to pay for advance purchases. That's exactly what happened after February 24 when Russia invaded Ukraine – wheat prices hit an all-time high as did the Food and Agriculture Organization's food price index. In response, several countries imposed restrictions on food exports, driving prices even higher. Chicago exchanges where traders bet on future of grain prices hit their daily limits and had to stop trading for five consecutive days. There were some downward adjustments but prices are still at levels not seen since the panic of 2008-10 when protests over food prices broke out around the world resulting in several governments toppling in the Middle East. It is happening again – rapidly rising food prices led to large demonstrations in Sri Lanka in April and May of this year. On May 8, Prime Minister Rajapaksa, a prominent member of a political dynasty, resigned.
Given the increasing tension between Moscow and the West and the imposition of severe sanctions by the latter group of countries, Vladimir Putin, the Russian President, had decided to weaponise its influence over global agriculture. In 2017, when Russia became the world's largest wheat exporter, Putin positioned himself as a grain merchant to some of the world's poorest countries. Financial Times estimated that Russia supplied as much as a third of wheat imports for the Middle East and Africa. Sudan is a good example of the interface between the price of food and political stability. By 2019, a wave of bread protests had ousted the country's military dictator, longtime Russian client Omar Hasan al Bashir. "The symbol of the protesters when they turned on the streets against Bashir was bread," said Alex de Waal, executive director of the World Peace Foundation and a famine expert. He quoted one of their slogans: "'You are stealing the wealth of the country, and we can't afford bread' — which was largely true."
According to Marc Bellemare, an agricultural economist at the University of Minnesota, in many low and middle income countries, food can account for close to half of household budgets. "For hungry countries, where the social contract is shaky, high wheat prices have historically contributed to political uprisings," said Bellemare. "A short-lived change in prices can set off long-simmering anger. And that's why governments are panicking. When food security is threatened, then political order is threatened." It was to deal with this kind of uncertainty that the government headed by President Ayub Khan set up several institutions in the public sector to moderate the recurrent swings in the prices of various food items. His government created institutions that could procure food grains from the farming community at pre-determined prices.
Government's involvement in making stability of grain prices as a way of buying domestic peace has a long history. It dates back to the late nineteenth century when the British ruling their Indian colony from New Delhi had to deal with repeated famines in the eastern part of their large Indian Empire. The government's initial response was to build large stocks of rice and wheat and release them during periods of stress. This was an expensive approach since Britain did not produce enough food grains even to feed its own population. Stocks in India were fed from purchases from Europe and North America. This was an expensive proposition. To find a cheaper and longer-term solution, London set up a series of Famine Commissions that suggested bringing the virgin lands of Punjab under cultivation by tapping the waters of the Indus River system. Extensive systems of roads and railways were built to transport the large surplus of food grains that began to be produced in Punjab.
After the British left the Subcontinent in 1947, the successor governments of India and Pakistan put in place grain procurement programmes that promised price support to the farming community. The procured grains were sold to urban consumers at subsidised prices. However, when the government headed in New Delhi by Prime Minister Narendra Modi passed laws to withdraw the support to the farmers, the Sikh community in Punjab rebelled and brought the working of the government in New Delhi to a near halt. Modi abandoned the attempt.
Annia Clezadlo wrote Day of Honey: A Memoir of Food, Love and War, a book on the subject of food and its impact on world affairs, and contributed an essay to The Washington Post examining how the Russian president was using food as a weapon in his struggle against the West. She concluded by writing: "The longer Putin can drag out a panic over food, the more havoc he can wreck in developing countries, and the better his bargaining position will be in Ukraine. It would be a pretty far-fetched scenario that global food prices will go so high that grain would become a weapon of war. But in many senses it already is."
Published in The Express Tribune, May 16th, 2022.
Like Opinion & Editorial on Facebook, follow @ETOpEd on Twitter to receive all updates on all our daily pieces.
COMMENTS
Comments are moderated and generally will be posted if they are on-topic and not abusive.
For more information, please see our Comments FAQ