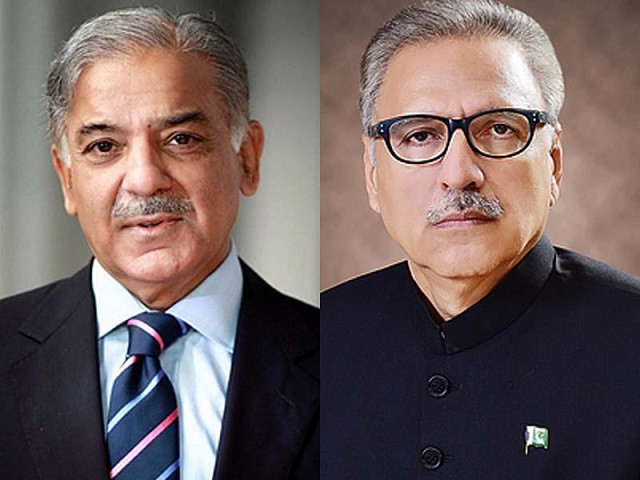 ---
ISLAMABAD:
Prime Minister Shehbaz Sharif on Wednesday held a meeting with President Dr Arif Alvi for the first time since the former's ascension to power after ousting former premier Imran Khan.
The two discussed the current political and economic situation of the country, besides holding consultations over national issues and constitutional issues, including the appointment of four governors.
The meeting comes amid swirling speculations that a silent tug of war is raging between the new government and the president, who skirted administering the oath to PM Shehbaz and has shown reluctance to fall in line with the new dispensation.
It is worth mentioning here that a day after Shehbaz was elected as the prime minister, President Alvi had excused himself from administering the oath of office to the former, citing health issues – a reason he repeated for refraining from administering the oath to the new cabinet as well.
Also read: Can Alvi pull a rabbit out of the hat?
A few days later, speculations swirled that the murmur of dislike for the erstwhile opposition party had become louder when the newly-elected government faced another hitch in exercising its powers after the president allowed the "sacked" governor to continue to hold the office.
Punjab Governor Omar Sarfraz Cheema was sacked by the government after he had refused to administer the oath to newly-elected Punjab Chief Minister Hamza Shehbaz due to concerns over his election.
Cheema had made it clear that he could not be dismissed from office by the prime minister as the constitution only gave this authority to the president.
The government said that a summary for Cheema's removal had been sent to President Alvi, however, reports suggested that the head of state refused to approve it.
COMMENTS
Comments are moderated and generally will be posted if they are on-topic and not abusive.
For more information, please see our Comments FAQ