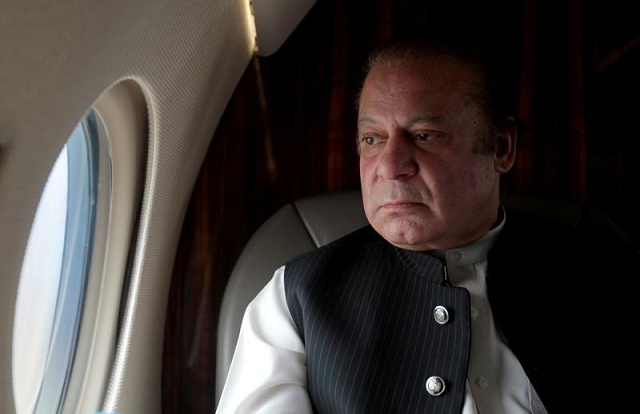 ---
ISLAMABAD:
The Islamabad High Court (IHC) is set to hear a petition seeking to block the issuance of the diplomatic passport to PML-N supremo and former prime minister Nawaz Sharif upon his return to the country.
The court has fixed the date of hearing on April 18 (Monday).
The plea comes two days after the newly-elected Prime Minister Shehbaz Sharif ordered that his brother be issued a diplomatic passport so he can return to Pakistan.
Naeem Haider, the petitioner, contended that the release of the passport be stopped on the grounds that "Nawaz Sharif is an absconding convict".
"Therefore, authorities should be barred from issuing a diplomatic passport to him."
The petition seeks immediate arrest of the PML-N supreme upon arrival and be produced before a court of competent jurisdiction. He said that the instructions for the issuance of the diplomatic passport were given to the interior and foreign affairs secretaries.
He prayed the court to direct the Establishment Division secretary to arrest Nawaz immediately upon his arrival in Pakistan.
The "issuance of a diplomatic passport to a convict is tantamount to bestowing respect, state protocols and dignity to a convict and if the convict is a court absconder it becomes a disgrace to the entire judicial system of the country," he said.
Read Broadsheet didn't apologise to Nawaz, claims NAB chief
The petitioner further said that granting the passport was "against the spirit of the Constitution and against the fundamental rights whereby it has been guaranteed to every citizen that they will be treated equally".
Last year, in a major blow to the Pakistan Muslim League-Nawaz, the British government rejected a visa extension request of Nawaz Sharif.
Nawaz, convicted for corruption, was living in London since November 2019 after he was allowed to leave the country by courts for medical treatment on the assurance that he would return to Pakistan as soon as he received the required treatment, to complete his ten years of jail term.
However, since his departure from Pakistan, his medical condition for which Pakistani courts had accorded him an exceptional relief of allowing him to leave the travel to London for treatment, was seen by the sitting government as manipulated.
Party leaders have repeatedly said that other than the health concerns it was Nawaz Sharif's security concerns that held them back from bringing Nawaz Sharif to Pakistan.
COMMENTS
Comments are moderated and generally will be posted if they are on-topic and not abusive.
For more information, please see our Comments FAQ