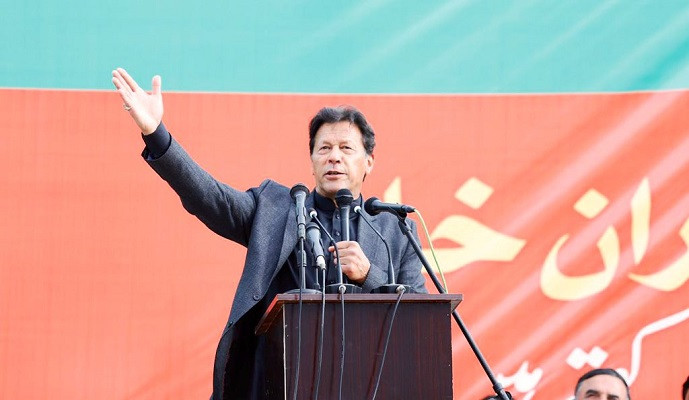 ---
Pakistan Tehreek-e-Insaf (PTI) chairman and former prime minister Imran Khan on Monday called for immediate general elections in the country, saying it is the "only way forward".
The development comes soon after Pakistan Muslim League-Nawaz (PML-N) President Shehbaz Sharif was sworn in as 23rd prime minister of Pakistan after receiving 174 votes from the lower house of parliament.
Read more: PTI vows to 'snatch back Pakistan's freedom' after Shehbaz's election as PM
Imran had also tendered his resignation as a member of the National Assembly earlier in the day along with other members of the former ruling party.
"We are demanding immediate elections as that is the only way forward -- to let the people decide, through fair & free elections, whom they want as their prime minister," the former premier wrote on his official Twitter handle.
The PTI chairman also announced to hold a public gathering in Peshawar on April 13 – his first after ousting from the premiership. "On Wednesday I will be holding a jalsa in Peshawar after Isha - my first jalsa after being removed through a foreign-instigated regime change."
"I want all our people to come, as Pakistan was created as an independent, sovereign state not as a puppet state of foreign powers."
Former energy minister Hammad Azhar, after PM Shehbaz National Assembly speech, said that a few populist measures don't make up for a lack of democratic legitimacy.
"This imported puppet govt will be the weakest and most short-lived one. They know this themselves and admit privately," he claimed.
Former information minister Fawad Chaudhry, while rejecting the prime minister's offer to conduct an inquiry over the "lettergate", termed it the government's attempt to give itself NRO (amnesty).
"Supreme Court should form a commission and it should be lead by some whose credibility cannot be questioned," he wrote.
Former special assistant to prime minister on political communication Dr Shahbaz Gill highlighted the cases the newly-elected premier was involved in.
"Mega corruption 16 Billions case of FIA. 7 and 4 Billions in NAB and about 12 Billions inquiries pending in FIA and NAB. About 40 Billions looted money cases to be answered by Shahbaz Sharief leaving cases of Maryem and Nawaz Sharif aside," he tweeted.
COMMENTS
Comments are moderated and generally will be posted if they are on-topic and not abusive.
For more information, please see our Comments FAQ