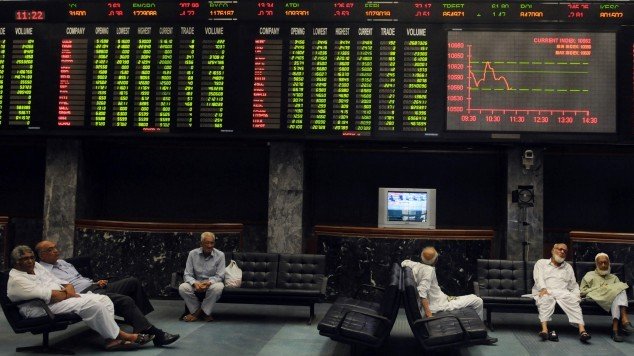 ---
KARACHI:
The Pakistan Stock Exchange recorded a roller coaster week as a mixture of political turmoil, dismal economic data and rupee devaluation struck the trading environment and dampened investor sentiments.
Political uncertainty and constitutional crisis loomed large at the bourse for most part of the week and restrained the market from recording gains. Resultantly, the benchmark KSE-100 index ended the week with a loss of 708 points or 1.56% to close at 44,445 level.
"On the news front, domestic political arena remained heated on account of the Supreme Court hearings regarding the legality of National Assembly Deputy Speaker's ruling," said JS Global analyst Muhammad Waqas Ghani.
The week kicked off with a bloodbath and the market nosedived more than 1,200 points on Monday primarily due to dissolution of assemblies by President Dr Arif Alvi and rejection of no-confidence motion by National Assembly Deputy Speaker Qasim Khan Suri.
The twin developments signaled a prolonged political crisis in the country and motivated investors to sell their holdings in a panic mode and book profits.
The trend reversed on Tuesday and the market managed to tick up 200 points in a two-day bull run largely owing to cherry picking by market participants.
Scrip prices fell to attractive valuations on the back of bear run in early part of the week and investors resorted to value hunting which propped the market upward.
A dip in international crude oil prices pointed towards partial easing of inflationary pressures and drove uptrend at the bourse.
Thursday saw the rupee sink to an all time low of Rs188.17 against the greenback and buoyed by the development, the stock market plummeted once again, shedding over 300 points.
Market players expected further increase in the inflation reading owing to sharp decline in the local currency.
Clarity on the political turbulence revived investor interest and the last trading session of the week proved to be a sigh of relief for the market.
The market staged a rebound after the Supreme Court of Pakistan deemed the National Assembly deputy speaker's ruling unconstitutional and reinstated the National Assembly.
Moreover, sharp recovery in the local currency against the US dollar, of Rs3.5, drove optimism at the Pakistan's equity market.
"As clarity has emerged on the political front, we expect the stock market to show strong signs of a comeback in the upcoming week," said a report from Arif Habib Limited.
"Moreover, it is likely that the rollover of Chinese loans worth $2.3 billion is on cards, which will conserve the falling reserves."
During the week under review, average daily traded volume fell 51% week-on-week to 153 million shares, while average daily value traded dropped 42% week-on-week to $26 million.
In terms of sectors, negative contributions came from cement (314 points), oil and gas exploration (89 points), power generation and distribution (80 points), engineering (65 points) and food and personal care products (60 points).
On the flip side, sectors which contributed positively were chemicals (70 points), fertiliser (63 points), cable and electrical goods (5 points), investment banks/ investment companies/securities companies (4 points) and real estate investment trust (2 points).
Scrip-wise negative contributors were Lucky Cement (145 points), Hubco (60 points), TRG Pakistan (48 points), DG Khan Cement (46 points) and Oil and Gas Development Company (45 points).
Meanwhile, scrip-wise positive contribution came from Engro Polymer and Chemicals (55 points), Systems Limited (26 points), Engro Fertilisers (24 points), Meezan Bank (22 points), and MCB (19 points).
Foreign selling continued this week, clocking-in at $3.78 million compared to a net sell of $15.55 million last week. Major selling was witnessed in commercial banks ($3.8 million) and cement ($1.4 million).
On the local front, buying was reported by Individuals ($14.8 million) followed by banks/ development finance institutions ($4.7 million).
Other major news included UAE deferring $2 billion debt payment on govt's request, cut-off yields rising by up to 80bps, SBP announcing 100% cash margin on 177 items' import, US citing that it supported constitutional process in Pakistan.
COMMENTS
Comments are moderated and generally will be posted if they are on-topic and not abusive.
For more information, please see our Comments FAQ