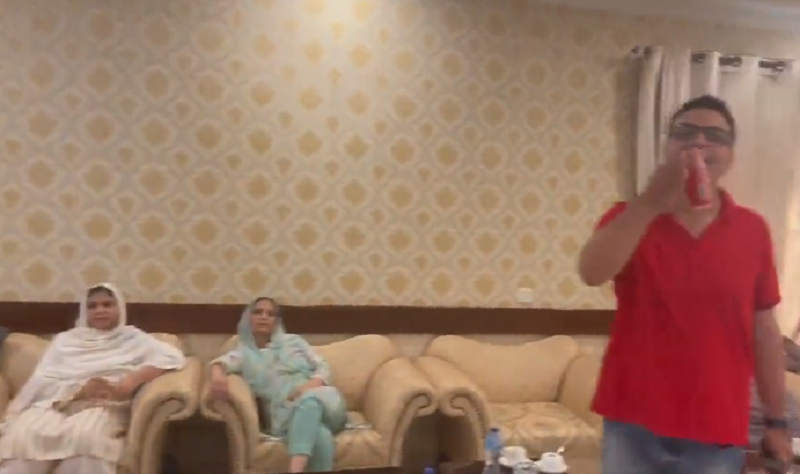 ---
ISLAMABAD:
Several ruling PTI lawmakers have announced that they would not follow the party line in the National Assembly ahead of the voting on no-confidence motion against Prime Minister Imran Khan after one of the dissidents revealed that at least 24 MNAs are staying at the Sindh House in Islamabad.
Raja Riaz, a member of estranged PTI faction known as the Jahangir Tareen group, claimed that they moved to the Sindh House due to "security concerns" after police stormed parliament lodges and tortured "their lawmakers".
He said a group of 24 PTI dissident MNAs is present at the Sindh House in the federal capital and it would vote on the no-trust motion "according to their conscience".
"We have not taken money from anyone... the PTI is facing this situation due to the incompetent advisers," Riaz said while challenging the government to summon the parliamentary meeting if it has doubts over his claim that 24 MNAs have defected.
سندھ ہاؤس میں موجود پی ٹی آئی کے ایم این اے نواب شیر وسیر نے سنیئر صحافی حامد میر صاحب کو انٹرویو دیتے ہوئے حکومت کی جانب سے غیر اخلاقی زبان کے استعمال پر تنقید کی۔ اخلاقیات سے یاد آیا یہ جیتے PTI کے ٹکٹ پر ، بیٹھے سندھ ہاؤس میں ہیں۔ pic.twitter.com/kj5hiJvcAK

— Ather Kazmi (@2Kazmi) March 17, 2022
Three more lawmakers endorsed Riaz and TV showed recorded footage of several ruling party members at the Sindh House.
PTI MNA Noor Alam, who is also present in the Sindh House, expressed regret over the statement of PM Imran that dissidents lawmakers were given Rs200 million by the PPP to seek their support for the no-trust vote.
Also read: Elahi claims around 10-12 treasury MPs in opp 'safe custody'
"I have come to the Sindh House without any pressure," he added.
Another PTI MNA Rana Muhammad Qasim Noon said the "government has lost its opportunity" to normalise the political situation.
"The governments do not take out rallies... they hold a dialogue... they should have resolved the matter through political parley... this is not Hitler regime," he said while speaking to the local broadcaster.
A day earlier, PML-Q leader Pervez Elahi also confirmed the "horse-trading" attempts by the opposition, saying that around 10-12 government lawmakers were in "safe custody" of the opposition.
In a TV interview, the PML-Q leader said: "The 10-12 government lawmakers also approached me, but now they were nowhere to be seen."
"We have tracked them down; they are in the opposition's safe custody. The government is actually more concerned about them. The ones who they looked forward to [for support] have stated they are now neutral. No friendly country or institution will come near this matter," he claimed.
COMMENTS
Comments are moderated and generally will be posted if they are on-topic and not abusive.
For more information, please see our Comments FAQ