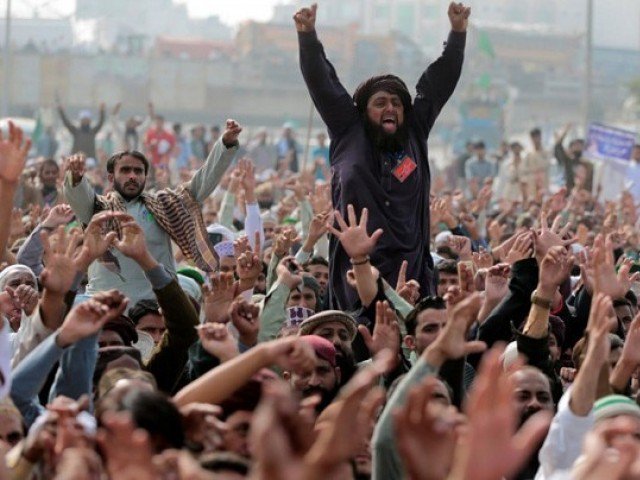 ---
With apparent cracks in the ruling PTI, the submission of a notice for a no-confidence resolution by the opposition parties, and increasing pressure from the International Monetary Fund (IMF) over the state of the country's economy — Pakistan's political scenario reeks of hopelessness for its citizens.
Amid this chaos, leaders of various political parties are seen engaged in taking jabs at each other and prioritizing the success of their political careers over the nation's well-being.
The far-right, rather extremist political party, Tehreek-e-Labbaik Pakistan (TLP) appears determined to make the most of this situation. Founded by Khadim Rizvi in 2015, TLP is famous for its history of organising large scale protests in opposition to the blasphemy law. In the 2018 general elections, it became the fifth-largest party in the country but failed to win seats in the National Assembly. Since then, the TLP seems to be committed to using social media as a tool to further its political campaign.
According to the Data Analytics firm G5io, TLP has an overwhelming presence on Twitter. While the party is not always the top trend, it constantly generates the most tweets in terms of volume. The G5io report presents that the TLP has the 'biggest firepower' on Pakistani Twitter.
Currently, the TLP is ensuring that they take advantage of the country's current political scenario in the best possible way.
The hashtag #LastHopeTLP has been trending on Twitter as one of the top trends. This hashtag not only dominates Pakistani Twitter, but also sends across the message that while all major political parties such as the PPP, PML-N, PML-Q, and PTI appear to have failed the people of Pakistan and are enthralled in feuds fueled by personal agendas, TLP is the last hope for the country.
On March 13, the official Twitter account for the party made a tweet that instilled in the masses a sense of hopelessness.
"Be Attentive. Hashtag for today is #LastHopeTLP. Start tweets right now".
Since then thousands of Twitter users have retweeted and posted tweets with the hashtag '#LastHopeTLP'.
With #LastHopeTLP trending, most of the Tweets under the hashtag point out the flaws in Pakistan's current political climate. While most make an argument about how it is only the TLP that can bring change and rescue Pakistan from impending doom; TLP's manipulation of social media trends is not lost on netizens who are familiar with the party's political rhetoric.
COMMENTS
Comments are moderated and generally will be posted if they are on-topic and not abusive.
For more information, please see our Comments FAQ