 ---
Known as Pakistan's only research-based thought leadership company that produces Networking Actionable business conferences, AIM Consulting recently hosted the first ever Health-Tech Summit as a way to revolutionise patient experience by integrating technology and healthcare.
Over 400 dignitaries from all walks of life convened at Marriott Karachi on 7th March for the Health Tech Summit; conference aimed at transforming the patient experience through the use of digital technology.
This summit was aimed to strategise healthcare touch points such as Tele-Medicine, Pharmaceuticals, Patient Data Sharing, digitising doctor's clinics and to implement technology innovations in healthcare.
Several leading organisations, such as CCL Pharmaceuticals, SAP, Martin Dow, Siemens, Searle, Huawei, Ericsson, Siemens Healthineers, PharmEvo, BIMA, Jubilee Life Insurance, EFU Life, Tabiyat.pk & Healthwire, came together to set the standard for a healthier future for us all. Leading global companies PepsiCo, Eli-Lilly, Unilever, and VMware also joined and contributed great insights to bring patient care in Pakistan up to par with global standards.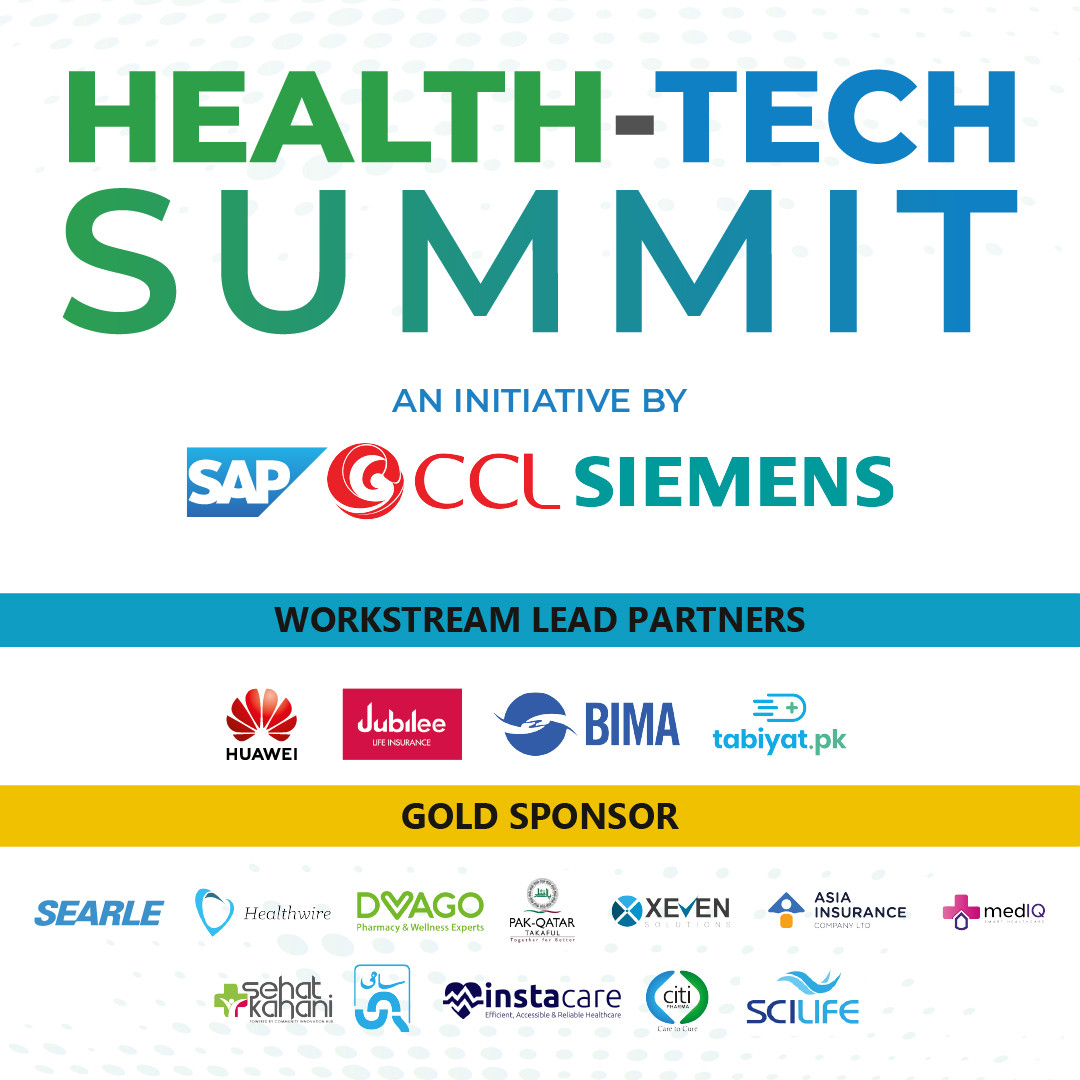 Dr Shahzad Khan (Managing Director and CEO - CCL Pharmaceuticals) conceived the big idea of adapting healthcare digitally through state-of-the-art technology.
"There is no unseen hand in healthcare that will provide easy answers to the hard questions about microinsurance, e-commerce in pharma, data integration systems, telehealth and a host of other areas related to healthcare. It is for this reason that we gathered from all over Pakistan and globally to find the answers, to learn from each other, to devise models and approaches from global countries which we can inspire from in order to enhance the overall experience of our patients".

Technology as a healthcare catalyst
The Health-Tech Summit promoted a vision of revolutionising health care nationwide through deep analysis, collaborations, and an open dialogue between health and tech leaders aiming at transforming health experience for everybody regardless of class distinction. It filtered out five main healthcare concerns, namely, healthcare home solutions, adapting global health-tech solutions, micro-insurance, patient data sharing and cross-industry learnings.
Saquib Ahmad (Country Managing Director, SAP) proudly partnered with this noble cause. His confidence and passion to uplift the healthcare industry was felt throughout the summit.
"Tech is the IV/injection you give to evolve a process to perfection. I must assure you that developing countries are not simply passive recipients of technologies anymore. Rather, many developing countries have acquired high levels of expertise in science and technology like Malaysia, Sudan, Vietnam and many more.

It is high time that such an event took place to highlight the remarkable contribution technology can make in so many areas to improve the patient experience".
Methodologies to cultivate patients' lifestyles, patient data sharing across multiple-touch points to enhance efficiency & accuracy of diagnosis, e-commerce solutions for direct and cost-effective medication delivery & online consultations to reduce travel time, and costs were the highlights of the conference. Health insurance experts also recommended cost-effective policies aligned with government efforts to extend financial coverage to patients regardless of their socioeconomic status.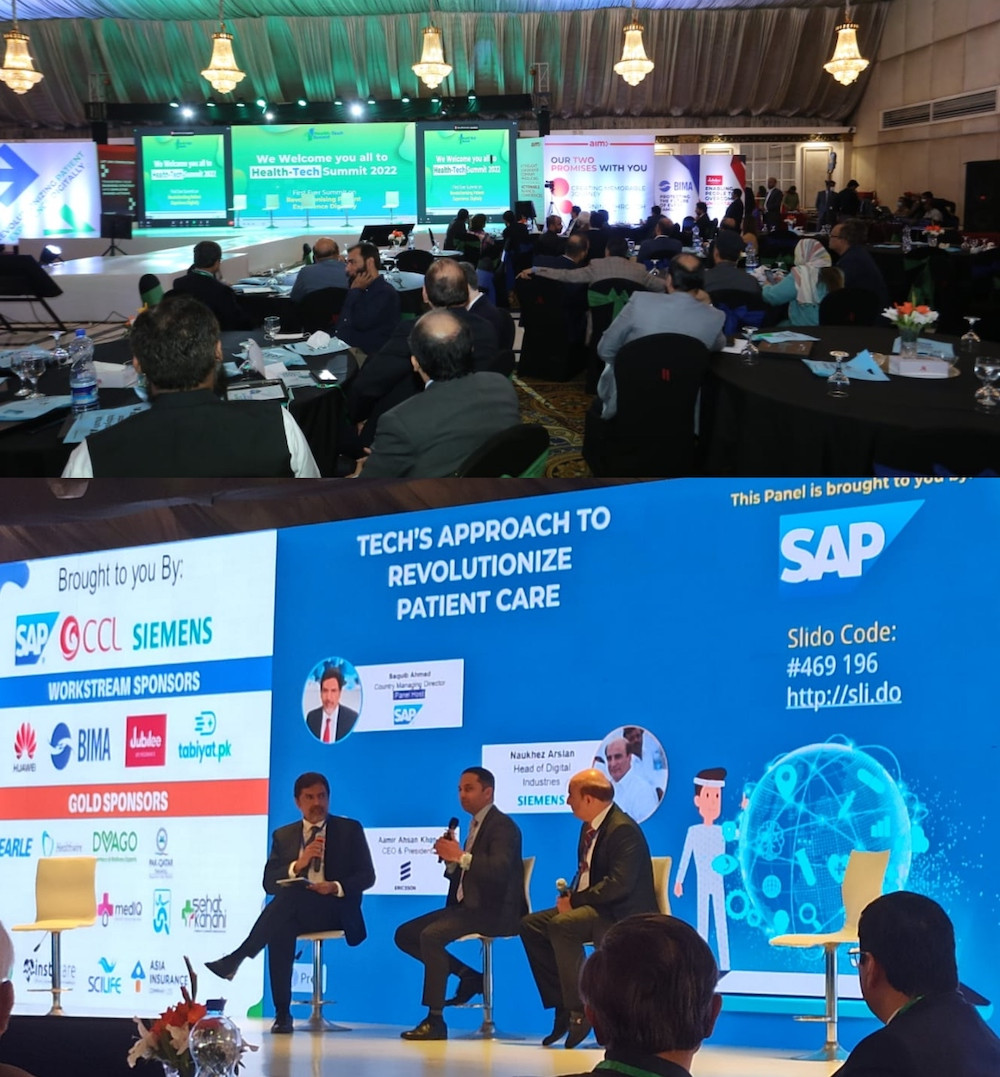 Shahzad Rasheed (CEO, Huawei Cloud) saw the need for tech to disrupt healthcare and actively collaborated with the cause.
"Digitisation is no longer a choice, it's the only way to be part of an ecosystem for the betterment of the global infrastructure. Technology cannot exist in silos, the need for a central repository for data in the form of National Health Cloud becomes more and more imperative with the passage of time, and with the introduction of AI, Robotics and IoT in the Health Sector it would become nearly impossible for us to evolve and advance into the future and leverage these mandatory technologies.

Data is the new gold and data in HealthTech requires consolidation, so that we can use AI to do predictive Analysis. Huawei Pakistan is geared towards playing our part and stand by helping new startups with their initial requirements so we can be a pillar for them".

Health-Tech Summit: The way forward for actionable improvements in the healthcare sector
The day-long sessions will provide insights into the roundtable discussions that will be participated by the subject matter experts. Within the next two months, these discussions will be translated publishable white paper, which will become single source for industry & policy makers to refer while integrating heatlh care & technology. Interested readers are encouraged to register for the roundtables here.
---
Upcoming Projects to look forward in 2022

As a business leader, AIM Consulting encourages you to peek into their industry focused projects, specifically designed to build your knowledge & elevate your brand. Read on to learn more:


Digitalising Hospitals
23rd June, Marriott Hotel, Karachi
Target Industries: Hospitals, Stakeholders linked with Hospitals, Tech Companies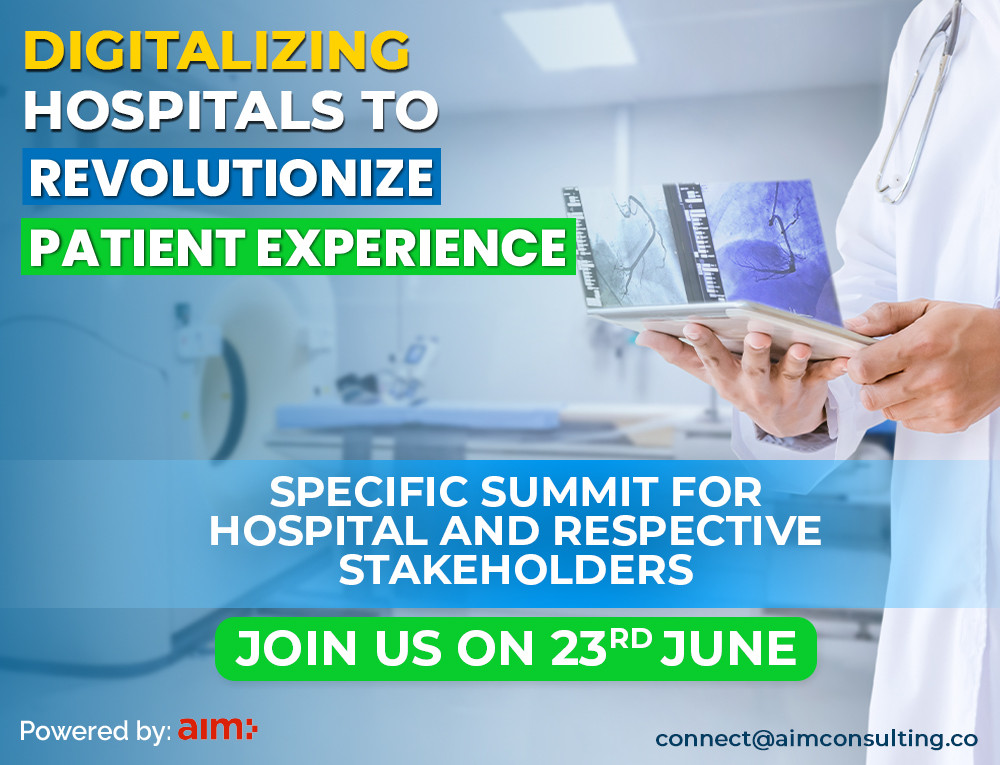 In order to achieve their vision of enhancing patient experiences in hospitals, AIM Consulting has teamed up with Healthwire & some of the world's most renowned technology companies including SAP, Siemens Healthineers & Huawei to hold another remarkable Digital Hospitals Summit.
This project aims to arrange a conference of its kind that will bring hospitals and all the other players in the healthcare ecosystem together for one event. The intent is to identify the challenges patients face in hospitals and map out the blueprint for the future of healthcare through digitalisation and the establishment of key standards across the board.
Leaders of all hospitals, aspiring technology leaders & stakeholders are invited to connect with AIM Consulting early to partner & participate in the actionable summit.
For more information visit here or contact through [email protected]


Digital Acceleration Summit, DX 2.0
31st May, Serena Hotel, Islamabad
Target Industries: Telcos, Financial Inclusion, Real-Estate Developers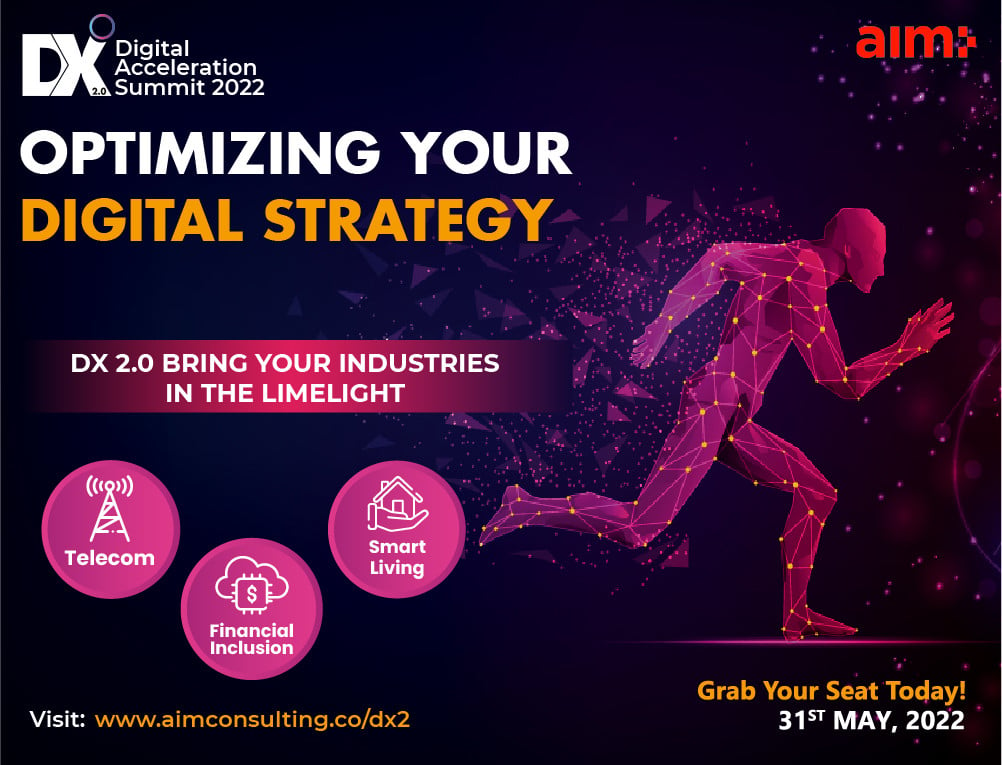 Digitalisation isn't over just yet. With the wavering efforts of AIM Consulting, the next Digital Acceleration Summit 2.0 will be held at Hotel Serena in Islamabad on 31st May.
During the Digital Acceleration Summit, senior industry leaders will have the opportunity to see an array of solutions that define their organisation's journey from transformation to excellence in advanced data analytics, digital marketing, industrial automation, Industrial IOT and consumer engagement. Individual attention will be given to all C-level personnel and decision makers, so no-one leaves without an achievable solution to their problems.
DX 2.0 will showcase global benchmark stories such as Turk Cell, MTN, Meinhardt, and Airtel, with a focus on (1) Telecommunication, (2) Financial Inclusion, and (3) Smart Living.
AIM Team is honoured to welcome the leadership from Telcos, financial inclusion, and tech oriented real estate developers & partners to engage early, and participate in the actionable summit. Interested people can peak into DX 2021, and also see the complete whitepaper from the DX 2021 here.

For more information on how to give a technological boost to your business, visit AIM's website.
Work Re-Imagine 3.0 Study
Three days conference, Future of Work Volume 2.0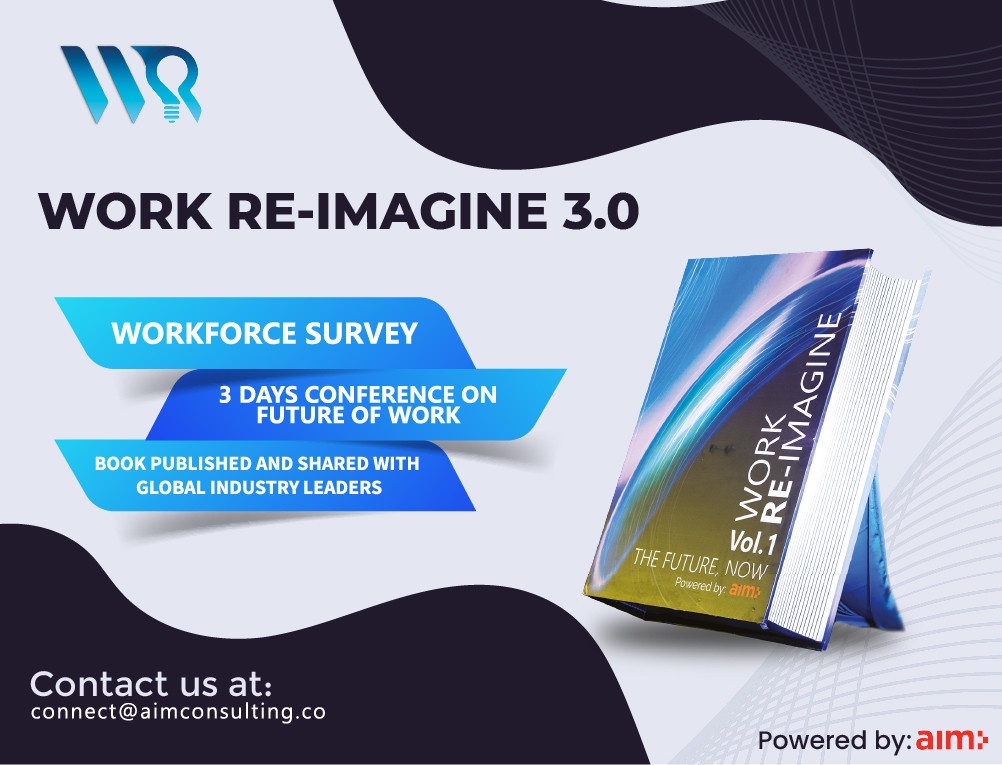 Last but not least, the Work Re-Imagine Summit 3.0 is coming soon to re-shape work practices for a dynamic business world. The platform aims to inspire the workforce across the board. The two-day interactive web conference will focus on the workforce expectations of the industry. To gain a better understanding of the pulse of the industry, a detailed survey will be conducted.
The event will not only introduce people to the new 'normal' at work, it will also guide them in adapting to the changes, as well as ways businesses can lead to better sustainability and growth.
More than 30 international leaders are expected to participate in the panel discussions. The WR 3.0 Book Launch has already been put together by a team of international authors, which will provide an all-in-one solution for any CEO's challenges.
The book will be shared with 500+ Decision Makers in Pakistan. Participants can pre-register to become part of the WR study in 2022.
---


Make your next event stand out by partnering with AIM Consultancy

Dedicated to delivering world-class solutions with a background working with multinational institutions for over six years, AIM Consulting has conducted groundbreaking research in understanding audience psychology, attention spans, virtual presentations, sub-conscious cravings, engagement methodologies, curating, and embedding important actions into the minds of audiences.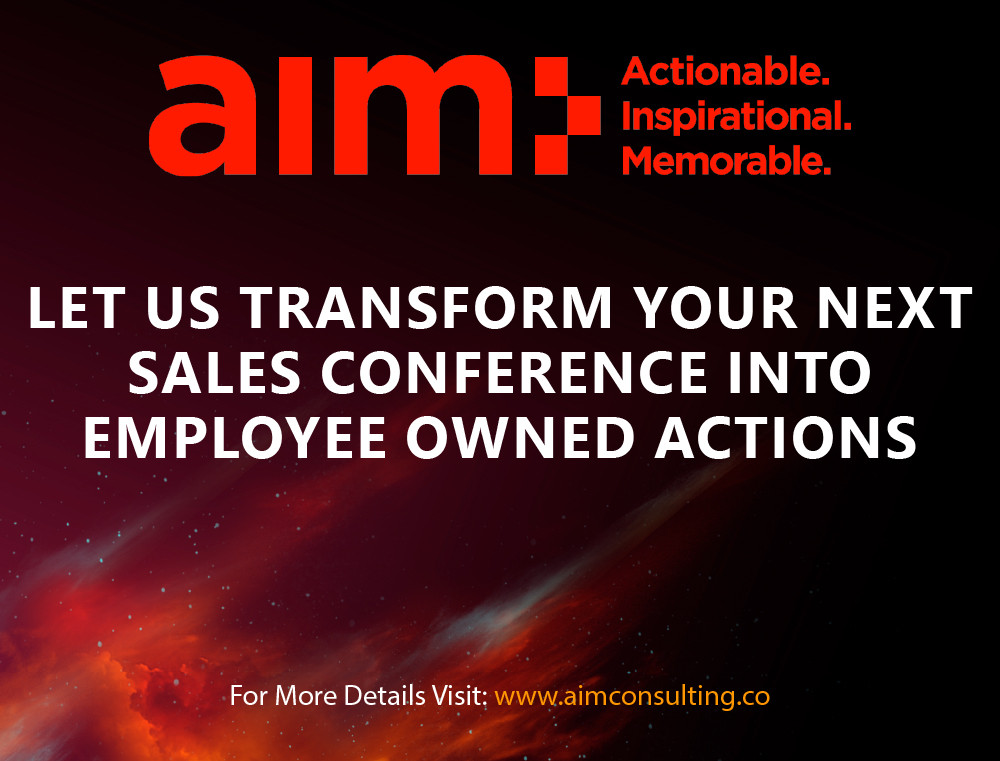 Whether you're planning an annual sales conference, strategy implementation, or customer-focused events, AIM is ready to turn your business events into fully immersive memorable experiences. Visit the profile to learn more about organisation's narrative and recent projects.

Interested in embedding your business strategy? Get in touch with AIM Consulting!
COMMENTS
Comments are moderated and generally will be posted if they are on-topic and not abusive.
For more information, please see our Comments FAQ