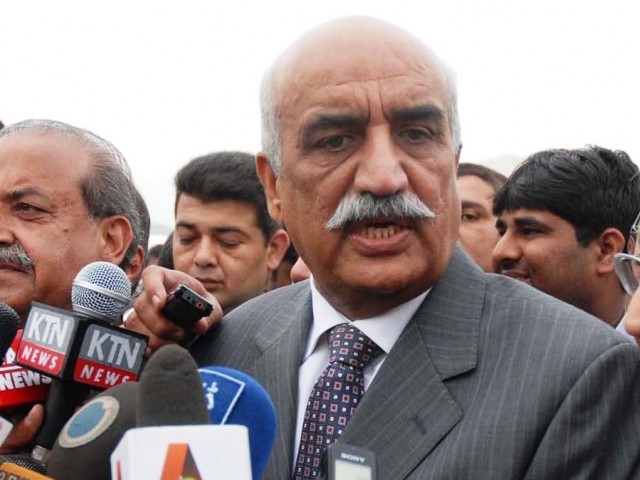 ---
Pakistan Peoples Party (PPP) senior leader Syed Khursheed Shah on Sunday said the opposition parties will submit a no-confidence motion against Prime Minister Imran Khan on March 8 -- the day PPP's long march is expected to reach Islamabad -- or March 9.
In an informal conversation with journalists, the PPP lawmaker said the opposition has the support of enough lawmakers to send the premier packing. He said in order to save the state, the prime minister will have to go home.
He said the opposition will try to make sure that the 'umpire' stayed neutral. According to Shah, the opposition will also file a no-trust move against National Assembly Speaker Asad Qaiser, adding that all such no-trust motions will succeed as the opposition has the support of required lawmakers.
Read: Opposition's ultimatums nothing but empty threats: Fawad
A day earlier, Khursheed Shah said that 13 lawmakers of the lower house had made their decision regarding the no-confidence move as they no longer wanted to bear the burden of PM Imran's "failures".
Meanwhile, as the threat of a vote of no-confidence looms, Imran is expected to visit a major ally of the government, the Muttahida Qaumi Movement-Pakistan (MQM-P), in three to four days. It is learned that the prime minister might visit the MQM-P's Bahadurabad office during his visit to Karachi on March 9.
Premier unperturbed
However, PM Imran on Saturday threw down the gauntlet to the opposition parties for bringing a no-confidence motion against his government, saying that he had confidence in the party's lawmakers and homework was complete to defeat the opposition parties' move.
While challenging the opposition parties that have long been threatening the government with long marches and no-trust motion, sources revealed, the prime minister had said that the opposition was more than welcome to test the waters by going ahead with their move to oust him.
Read More: PM's ex-spox Nadeem Afzal Chan formally rejoins PPP
In meetings with party's lawmakers, the sources said, Imran, while discussing the government's strategy about no-confidence motion, emphasised that "everything was fine" and that he had full confidence in the lawmakers of the Pakistan Tehreek-e-Insaf (PTI).
COMMENTS
Comments are moderated and generally will be posted if they are on-topic and not abusive.
For more information, please see our Comments FAQ