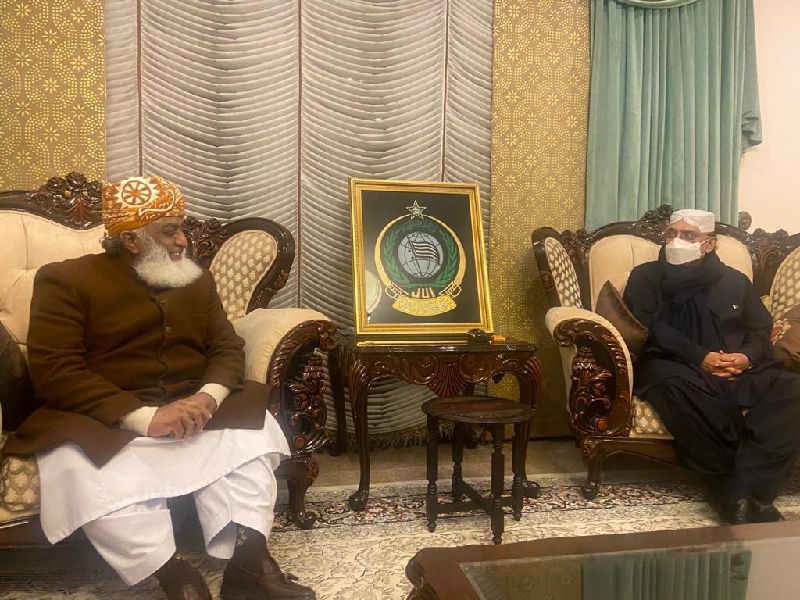 ---
ISLAMABAD:
Pakistan Democratic Movement (PDM) Chief Maulana Fazlur Rehman said that the draft of the no-trust vote against the PTI-led government has been prepared and the motion will be tabled in the National Assembly within the next 48 hours.
"We will move the no-confidence in a day or two... we have a support of majority [of lawmakers]," announced Fazl following a three-hour-long meeting with PPP co-chairman Asif Ali Zardari in Islamabad on Thursday.
Responding to a question, he expressed hope that the allies of the PTI government might support the opposition's no-trust vote to oust Prime Minister Imran Khan.
However, a joint statement issued following the meeting between the two opposition leaders did not mention any date for the no-trust vote.
The communiqué said that it was decided in the meeting that further consultation with the opposition parties will be held on the matter.
The official statement also said PML-N President Shehbaz Sharif also participated in the discussion via telephone and added that the final date for tabling the no-trust motion was to be decided in today's meeting but it was deferred for a few days as the latter fell ill.
Also read: Opposition 'ready' to file no-trust move
It added that the opinion of legal experts on the no-confidence motion has been sought and both the leaders also discussed the draft of the no-trust move.
On Thursday, opposition parties claimed that had managed to muster the support of enough lawmakers to oust the PTI-led government and they are expected to move a requisition for the National Assembly session on Friday (tomorrow) to move a no-confidence motion against Prime Minister Imran Khan.
Sources said a nine-member opposition committee had completed its preparations to file the no-trust motion.
Talking to The Express Tribune, a PML-N leader, requesting anonymity, maintained that the opposition had around 180 members by its side. However, the party leader refrained from giving the exact figure.
The leader further said Maulana Fazl had been given the go-ahead by Zardari as well as the PML-N leadership to proceed with the no-confidence move.
COMMENTS
Comments are moderated and generally will be posted if they are on-topic and not abusive.
For more information, please see our Comments FAQ