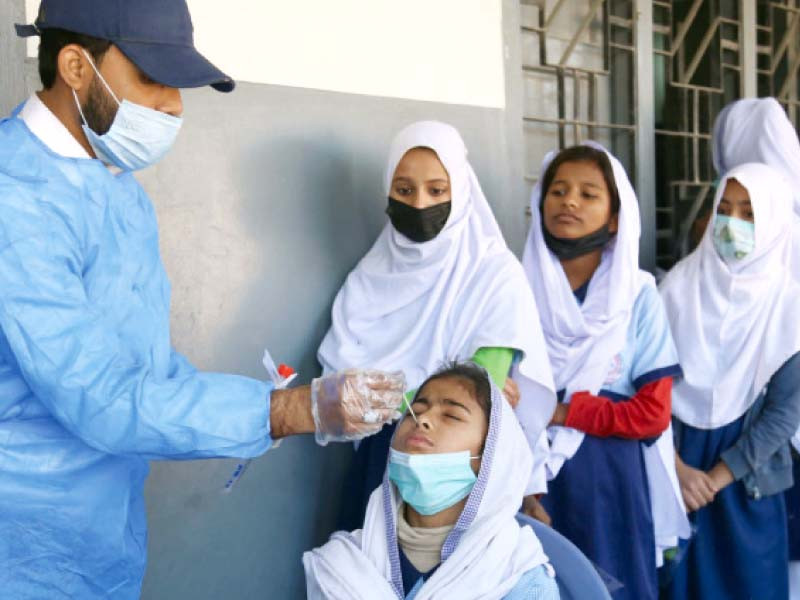 ---
ISLAMABAD:
The National Command and Operation Centre (NCOC) said on Wednesday that 70% of the students between the ages of 12 and 17 have been fully vaccinated, a major achievement in the government's efforts to tame the coronavirus pandemic.
The NCOC, which served as the nerve centre of the government's unified effort against the global pandemic, also said in its daily update of the disease that national Covid positivity ratio dropped to the pre-fifth wave levels, while the single day tally of new cases continued to stay under 1,000.
The government launched the vaccination campaign among the students in order to keep the educational institutions open. The forum said 70% students between 12 and 17 years of age had been fully vaccinated.
Read Chinese scientists design cocktail antibody to treat, prevent Covid
According to the forum the country had a population of 11.3 million between that age group. Moreover, the NCOC said that 86pc of students had received at least one dose of a coronavirus vaccine.
The daily update of the disease said that 765 new cases were detected in the last 24 hours, raising the country's overall caseload of the infectious disease to 1,510,986. The forum said the national positivity ratio was 2.23%.
According to the NCOC, 22 Covid patients breathed their last during the last 24 hours, raising the death toll since the emergence of the pandemic in the country two years ago to 30,218.
According to the forum, the hospitalisation of critical patients also fell below 1,000. It said in its daily update of the disease that 2,307 patients made full recovery overnight, reducing the number of active cases to 35,523, including 981 patients in critical care.
COMMENTS
Comments are moderated and generally will be posted if they are on-topic and not abusive.
For more information, please see our Comments FAQ