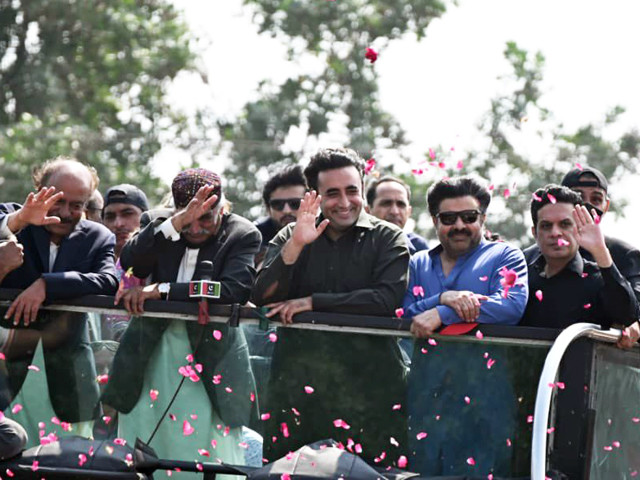 ---
GHOTKI:
PPP Chairman Bilawal Bhutto Zardari on Wednesday launched a tirade against Prime Minister Imran Khan saying the countdown of the premier has begun and that he would flee to London after quitting his office.
Addressing his party's long march in Ghokti, the scion of Bhutto dynasty maintained that the lives of people in the country had been made 'miserable' due to the economic policies of the government.
Referring to PM Imran's oft-repeated slogan of "tabdeeli" (change) and "naya Pakistan" (new Pakistan), Bilawal said the masses had experienced quite the contrary to what the premier had promised in the past.
"The slogan of change has come to the fore in the form of 'catastrophe'. This is not new Pakistan but an 'expensive Pakistan'," he said.
He hailed the residents of Ghotki for not voting for PTI, saying PM Imran had to face his first defeat in 2018 general elections from the district.
In a veiled reference to the establishment, the PPP chairman said that a party which formed government with the "people's vote" was always concerned about their welfare but the one which came to power with the "help of an umpire" was never bothered about issues.
He called PM Imran a "puppet" premier, saying he was now seeking the support of the establishment.
Read Bilawal throws down gauntlet to Imran
"[PM] Imran Khan has made everyone's life miserable. He has robbed us of our economic and democratic right."
Bilawal lamented that the youth in the country were unable to fetch jobs despite the fact that they were educated.
"It is the media's job to criticise [PM] Imran-led government. Who are they to ask the media not to censure them?" he asked.
"Today there is hopelessness everywhere. People had pinned their hopes on the wrong person," he added.
"What would be the state of economy when the farmer of an agriculture country goes to bed hungry?"
The PPP chairman vowed to send the "selected" and "puppet" prime minister packing and termed the decrease in petrol and electricity prices a "drama".
"They (PTI-led government) think that we could not recognise them but it is their mistake. People have lost their trust in the government," he said.
"Now the countdown of [PM] Imran Khan has begun. The jiyalas after reaching Punjab in large numbers will have a 'big show'," he added.
Bilawal stressed that bringing a no-confidence motion against the premier was their democratic right, which they would exercise.
"The person who is sitting on the premier's chair does not have a future. [PM] Imran Khan will flee to London after quitting his office."
COMMENTS
Comments are moderated and generally will be posted if they are on-topic and not abusive.
For more information, please see our Comments FAQ