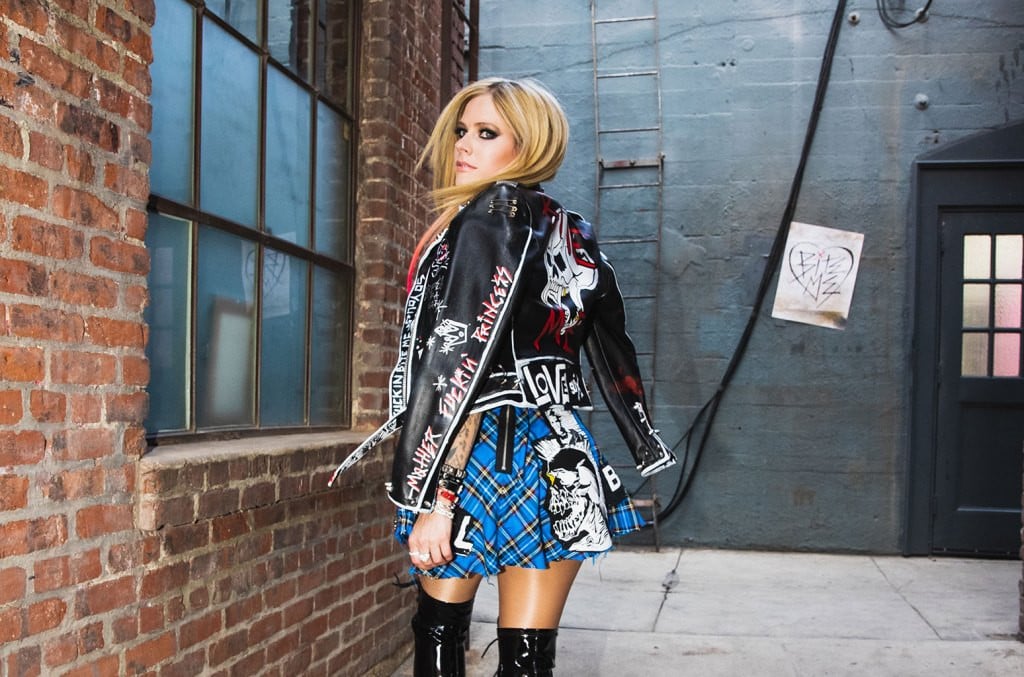 ---
If you're a 90s kid, you couldn't help but relate to the queen of pop-punk, Avril Lavigne. The artist rose to fame with her blockbuster first album, 2002 hit Let Go, which became one of the most listened to collections for Millenials. Her musical prowess with chart-topping tracks, I'm With You, Complicated, Sk8er Boi - you name it - was nothing if not a testament to how this young girl from Ontario was destined for bigger things.
Avril had taken over the music scene in her own rocking way.
Let Go proved to be one of the most popular albums of all time. What many didn't predict at that time was how the 2002 famous album was just the beginning for the then 18-year-old girl. With her heavily kohl-rimmed eyes, poker-straight hair and unabashed attitude, Avril was here to stay.
Almost 20 years later, the now 37-year-old singer has recently released her seventh studio album, Love Sux and it doesn't seem like she's ready to slow down. "I kind of just got together with my friends and made a really fun record," she tells Glamour. "I didn't want it to be serious or anything…. I just wanted it to be a good time and write songs for the live show."
The award-winning artist adds, "I'm happy that people are loving and appreciating [pop punk] music right now. It's always been a part of who I am and where I started, musically. This has been my vibe, always, and it's cool to see a younger generation discovering the OG bands and seeing all the collaborations that are happening right now. It's a really fun time in music, for sure."
While her latest music has circled back to her My Happy Ending era, Avril discusses how her 'vibe' has evolved over the years. Divulging into some of her most famous songs, the Naked crooner shares the stories behind her famous numbers. "Complicated has a lot of meaning to me. It was a life-changing experience. I sang the song one time, in one take. [Producer Lauren Christy] was like, 'Cool, you're done.' That's really rare. It was just Lauren and myself. No one else was there."
She goes on to add, "When we were writing Complicated, I thought, This is totally a song that could be on the radio. I remember thinking that in my little brain, being like, 'I can totally hear this.' I felt really good about it. I loved it right away."
Adding on, Avril relays, "The inspiration for it came from how it really bothered me when my male and female friends would be in the world putting on a face and not being true to themselves, but I didn't have anyone in particular in mind when I wrote it. I was a teenager, so it's more about what people are like in general. The same with Sk8er Boi — high school experiences, different groups and cliques, and stuff like that. The song that changed my life completely — I owe a lot to it."
She then spoke about her famous number, Don't Tell Me. "What was cool about this song was that I wrote it while on promo tour for the first album in my hotel room with Evan Taubenfeld, who was my guitar player at the time. So while we were probably working on Complicated, this got written. Maybe even before the first record came out," the Don't Let Me Go singer asserts.
"The song's about knowing when you're being tested and having your boundaries pushed and being a good girl. I think it's so funny that I wrote a song about that. I grew up in a Christian home. I was a good girl—pretty good—and it's about not letting a guy pressure you into doing something you don't want to do."
Avril shared how she wanted My Happy Ending to be the first single for her second album, 2004 famed, Under My Skin. "I still feel it would have been way better, but the label wanted Don't Tell Me," she recalls. "I was like, 'I can write a better song than this. Please let me have more time.; So I went into the studio and was like, 'I'm writing my first single today. I'm writing a hit. That was the day I worked on My Happy Ending.'"
Touting the breakup track as one of her all-time favourites, Avril adds, "It was the first time I experienced having my opinion and then having the suits have their opinion—these males in suits—and then being like, 'No, I wrote a better one. I wrote a stronger one.' Not that it matters now, but My Happy Ending went number nine and to this day is definitely one of my favorite songs. But I did this thing where I was like, 'Okay, I'll listen to them. They know what they're talking about. I guess I back down here. What do I know?' It taught me that I do know. I am good at gauging out of my songs which are the strong ones. I have a good sense for what I should do."
Her 2007 number, Girlfriend, became the most successful on the charts to date. It was her first to reach number one on the Hot 100, and the music video became the most viewed video on YouTube at the time. "When I heard Girlfriend, I knew it was going to be huge, just off the chorus. I took a CD home from the studio and played it for my friends and everyone was like, 'This is going to be the song of the summer.' I haven't really done that with any other song. You can get a really strong sense of songs that are special," Avril says.
She continues, "My second album felt a little darker. It was deeper and moodier. The Best Damn Thing was more fun pop-rock. What's funny, when I think about it, is that my hair went black on the second album and then I went pink on the third. It's just where I was at in my life."
Have something to add to the story? Share it in the comments below.
COMMENTS
Comments are moderated and generally will be posted if they are on-topic and not abusive.
For more information, please see our Comments FAQ