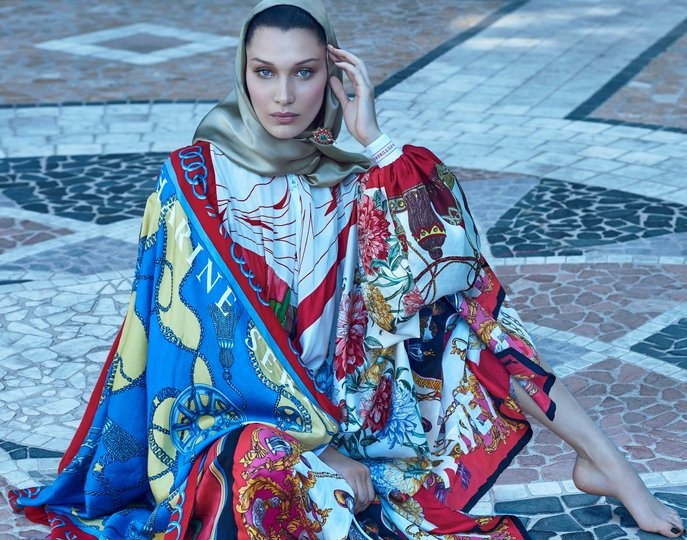 ---
While the head to toe covering has often been glamourised by the fashion industry globally, Muslim women are regularly discriminated against for opting to put on hijabs. To counter that, Bella Hadid recently flaunted her look from Proenza Schouler's runway show from the New York Fashion Week, where she donned an all-black hooded, almost hijab-like attire with her fellow models in variations of the same.
Bella's is not the first hijab-like accessory spotted on a western runway but it occurs at a time where sentiments surrounding the hijab are at an all-time high worldwide. The American supermodel of Dutch-Palestinian descent, thus, followed that up with Insta posts calling out France, India, Quebec, Belgium, and "other countries that discriminate against Muslim women," for their choice of clothing.
The most-liked comment on Bella's NYFW post reads: "Call it what you want but that's multiple hijabs on multiple runways. France, India, Belgium, take a hard look. If we wear what's on the runway, will you let us study?
In her following posts dedicated to the issue, Bella explained how the anti-hijab bills that are in the process of being passed or have already been passed are representative of not only 'Islamophobia' but the deep-rooted misogyny that prompts men to think they can tell a woman, in 2022, what she can or cannot wear. Bella also shared the story of Hoda, a young girl who was attacked because of her hijab.
"Although different forms of the hijab and head coverings are starting to make an appearance in fashion, let's still remember the daily struggle, abuse, and discrimination Muslim women face on a regular basis because of their faith," the model captioned one of the posts on Friday. "Although fashion is a way to push the boundaries and somehow make things more acceptable, I want us to remember where the Hijab resonated from and why it is so important to Muslim women worldwide," she added. "I have seen firsthand the discrimination that POC and Muslim people face on a regular basis in fashion. I know many of my Muslim sisters have faced unfair projections of others. It's biased, prejudice and straight up racist."
In another post featuring reports highlighting the discriminatory objections being raised against the hijab, Bella continued: "With that being said, I urge France, India, Quebec, Belgium, and other countries discriminatory against Muslim women to rethink what decisions you have made or are trying to make in the future about a body that is not yours."
She went onto reinstate that it is not the job of leaders to "tell women what they should or shouldn't wear, especially when it is pertaining to faith and safety." Bella went on, "Hijabi women in France are not allowed to wear their Hijab to school, to play sports, to swim, even on their ID pictures. You can't be a civil worker or work in hospitals with a Hijab. To get an internship, most universities will say, the only way to get one is to take off the hijab. It's ridiculous and really shows how Islamophobic the world is without even acknowledging it."
Quoting her friend Taqwa Binte Ali, Bella concluded, "As my friend said to me 'You know, at the root of it all, all of this is much deeper than Islamophobia. It is pure sexism and misogyny. No matter the countries or the time men always want to control what a woman does.'"
Have something to add to the story? Share it in the comments below.
COMMENTS
Comments are moderated and generally will be posted if they are on-topic and not abusive.
For more information, please see our Comments FAQ