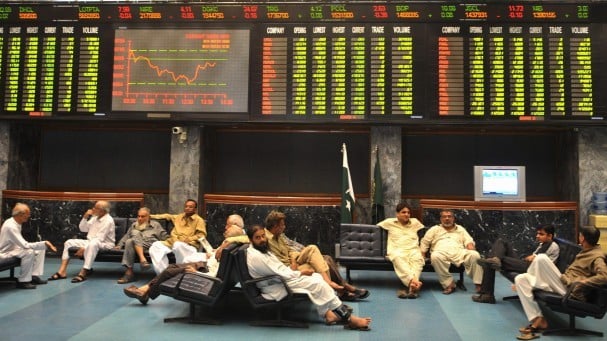 ---
KARACHI:
The Pakistan Stock Exchange staged a rebound on Wednesday but the KSE-100 index rose just 67 points in range-bound trading as investors were wary of surging Covid-19 cases in the country and increasing global crude oil prices.
Trading remained mixed as bulls locked horns with bears to take control of the market. Escalating oil prices sparked fears among market participants of further swelling of the import bill and widening of the current account deficit.
Moreover, investors panicked over rising Covid-19 infection cases and chose to stay on the sidelines, anticipating the introduction of stringent measures by the government.
Following a brief positive open, the KSE-100 index lost ground and entered the negative territory within the initial minutes. From that point onwards, the market witnessed minor ups and downs, however, a buying spree, emerging towards the end, pushed the index from the negative to positive zone.
At close, the benchmark KSE-100 index recorded an increase of 67.28 points, or 0.15%, to settle at 44,955.05.
A report of Arif Habib Limited stated that a range-bound session was witnessed at the bourse due to concerns over rising Covid-19 cases and mounting international oil prices.
Cement sector stayed in the red zone as provisional data for January 2022 depicted a 19% year-on-year decline in overall sales to 3.85 million tons while domestic sales dipped 18% year-on-year to 3.32 million tons, led primarily by the slowdown in construction activity.
In the fertiliser sector, Fauji Fertiliser Bin Qasim made the journey towards its lower circuit due to the announcement of disappointing results, the report said.
Moreover, main board activity remained gloomy. On the flip side, the market continued to trade sideways as it witnessed hefty volumes in third-tier stocks.
In the last trading hour, value buying was observed due to the announcement of corporate results, the report added.
JS Global analyst Neelam Naz said that after two negative sessions, bulls made a comeback as the market touched intra-day high of 45,030 points, before closing at 44,955, up 67 points day-on-day.
Major index movers were TRG Pakistan, Colgate Palmolive, Hubco, Bank AL Habib and Dawood Hercules while major volume leaders were TRG Pakistan, Ghani Global Holdings, TPL Properties, WorldCall Telecom and Cnergyico PK.
Fauji Fertiliser Bin Qasim announced calendar year 2021 earnings per share of Rs4.95. The company did not announce any payout with the result, which kept the stock under pressure as it closed at the lower circuit.
"Going forward, we recommend investors to keep a sell-on-strength stance until the market closes above 45,500," the analyst said.
Overall trading volumes fell to 137.3 million shares compared with Tuesday's tally of 207 million. The value of shares traded during the day was Rs5.36 billion.
Shares of 333 companies were traded. At the end of the day, 130 stocks closed higher, 179 declined and 24 remained unchanged.
TRG Pakistan was the volume leader with 18.8 million shares, gaining Rs4.15 to close at Rs81.29. It was followed by Ghani Global Holdings with 6 million shares, losing Rs0.2 to close at Rs19.67 and TPL Properties with 5.9 million shares, losing Rs0.09 to close at Rs27.52.
Foreign institutional investors were net sellers of Rs221.95 million worth of shares during the trading session, according to data compiled by the National Clearing Company of Pakistan.
COMMENTS
Comments are moderated and generally will be posted if they are on-topic and not abusive.
For more information, please see our Comments FAQ