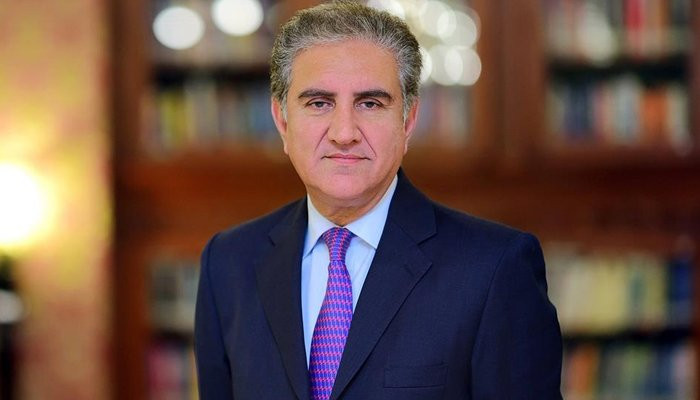 ---
Foreign Minister Shah Mahmood Qureshi said on Tuesday that relations between Pakistan and Russia relations were on a positive trajectory.
A day earlier, Prime Minister Imran Khan and Russian President Vladimir Putin held a telephonic conversation to discuss a range of issues, including Afghanistan, ahead of their likely face-to-face meeting in Beijing next month.
"Pakistan has been part of the Moscow Format and Russian representative attended the Troika Plus meeting in Islamabad," the foreign minister said.
"Russian Representative for Afghanistan Zamir Kabulov also participated in the recently held extraordinary session of the OIC Council of Foreign Ministers in Islamabad."
The country's top diplomat added that both countries held mutual consultations on the humanitarian crisis in Afghanistan and that Pakistan's efforts had resulted in drawing the world attention to the situation in Afghanistan; however, further attention was required.
Read More: Russia, US cast pall on Ukraine talks
"The humanitarian situation is further deteriorating in Afghanistan with the severity of cold weather," he added.
Qureshi further that Pakistan and Russia were developing an understanding on the North-South Gas Pipeline project, which was a significant step for bilateral cooperation in economy and energy.
Furthermore, the foreign minister stated that Russian President Putin's recent statement against Islamophobia vindicates the stance of Pakistan and Prime Minister Imran Khan on the issue.
"This indicates that the two countries are moving ahead at regional and global levels with identical approaches," he said.
Monday's phone call was the second telephonic conversation between the two leaders in four months.
In September last year, the two leaders had exchanged views by telephone after the Afghan Taliban took control of Kabul in August in the wake of the chaotic exit of the US-led foreign forces from Afghanistan.
Moscow and Islamabad share a common view on Afghanistan as they have long buried the Cold War rivalry and now have been making efforts to deepen their cooperation. Both the countries favour continued engagement with the interim Taliban government while at the same time asking the US to lift economic sanctions against the war-torn country.
COMMENTS
Comments are moderated and generally will be posted if they are on-topic and not abusive.
For more information, please see our Comments FAQ