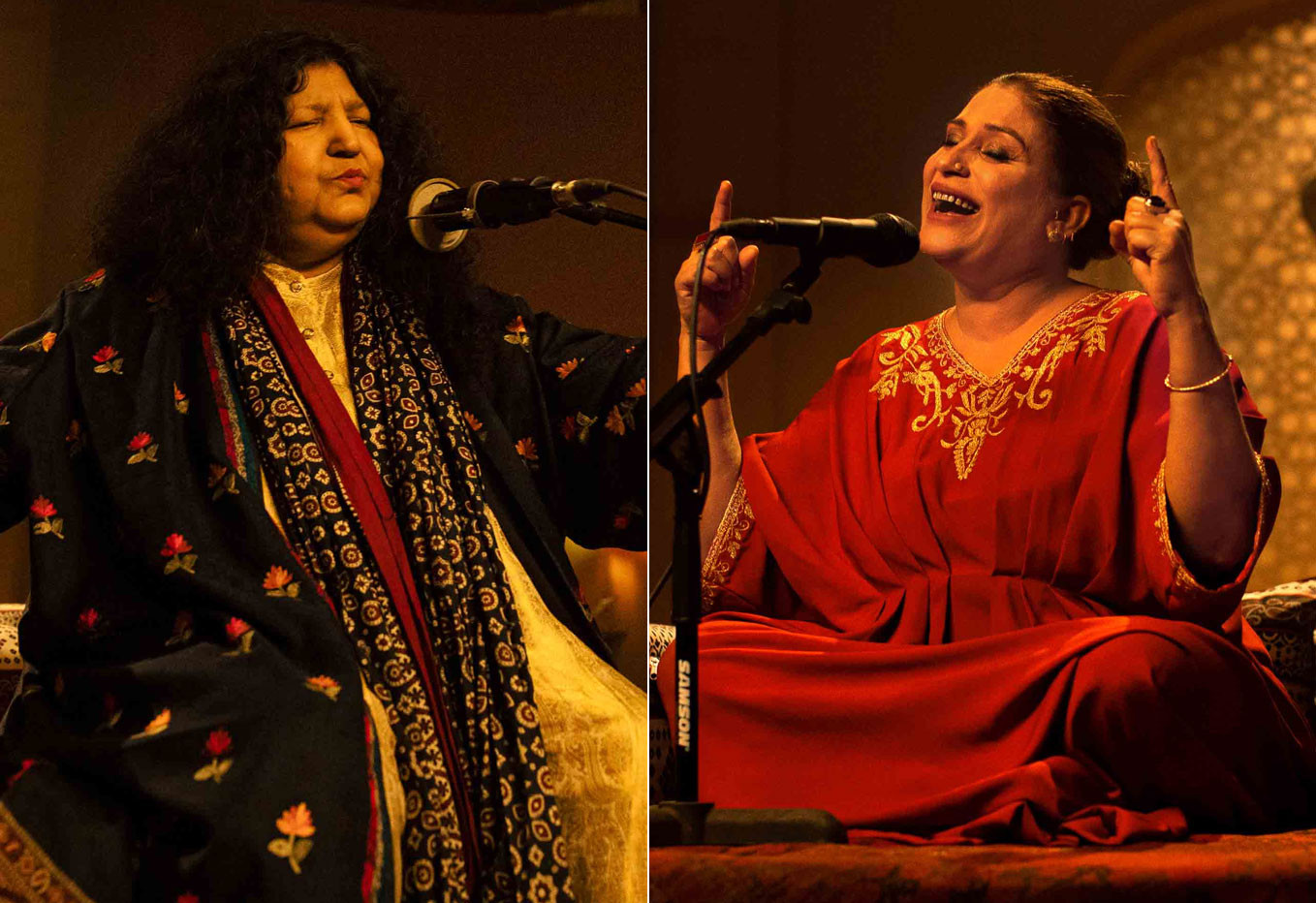 ---
KARACHI:
The magic of Coke Studio is that it paints its walls in colours never placed together before and calls it a pallet. Just splashes of pastels and reds, confusing, controlling, consuming its viewers. The expectations attached to Coke Studio are rarely ever met because the final product either falls flat or exceeds them, which is a sign of a healthy and growing music platform. And for Xulfi, playing safe is rarely ever an option, or so it seems.
Judging from his previous record, everyone had their own expectations from Coke Studio 14 and what it would entail, especially when Rohail Hyatt passed on the coveted throne to the Hum Zalmi hitmaker. But the CS14 opener has proved it was his Call-ing. By bringing together two opposing forces like Abida Parveen and Naseebo Lal to strike a balance, Xulfi has carried forward Coke Studio's legacy while adding something new to it.
Tu Jhoom, the first CS14 song released on Friday, sees Parveen and Lal engage in a spiritual dance of harmonies. The song isn't as loud or aggressive as Xulfi's prior hits but it isn't entirely grounded either. It has a levitating feel to it, perhaps what mystic dreams are made of. True to its name, it takes its sweet time before reaching its zenith and then disperses.
Perhaps the secret to Xulfi's new approach to sound is his growing league of young musicians, including the likes of Abdullah Siddiqui, Sherry Khattak, Natasha Noorani, who are a part of Tu Jhoom's 'Think Tank'. Perhaps the machinery behind CS14 also aims to target younger listeners this time around. Whatever the case, it seems to be working. And Xulfi is to be credited for putting his trust in a new generation of artists.
Tu Jhoom's video is hypnotic, too. But the excessive focus on dancers seems to be taking away from the limelight on musicians. Albeit, it's nice to see they're not being used as props, as witnessed previously on another music show (with no disrespect to anyone). Moreover, the decision to capture Parveen and Lal in a realm other than an enclosed studio space gives both the powerhouses the room to converse. The lights, the props, everything is communicating the lyrical messages.
It's also pleasing to see how Lal, whose voice is often misused by producers, is finally being put to good use and given the recognition it deserves. Her higher registers are complimenting Parveen's lower registers effortlessly and they both seem to have made the perfect sonic pairing. Some may argue that given Parveen's range, she has been 'under-utilised', however, the song isn't as demanding, to begin with. And in this case, the vocal acrobatics towards the end allows both singers to shine.
Lyrically, Tu Jhoom is replete with messages of hope and allows listeners to forget their worries and forgo whatever is out of their control. Soon after the song was released, celebrities couldn't help but praise the maestros for their second-to-none vocal prowess.
Fans were in awe of Parveen and Lal's masterpiece too.
A BTS video of the veterans, shared by Ghazi Taimoor, made rounds on social media as well. Several are blown away by the artists' humility.
Here's hoping the upcoming songs keep things just as interesting!
Have something to add to the story? Share it in the comments below.
COMMENTS
Comments are moderated and generally will be posted if they are on-topic and not abusive.
For more information, please see our Comments FAQ